Amy Poehler Recalls A Hilarious Parks And Rec Deleted Scene At An Ice Rink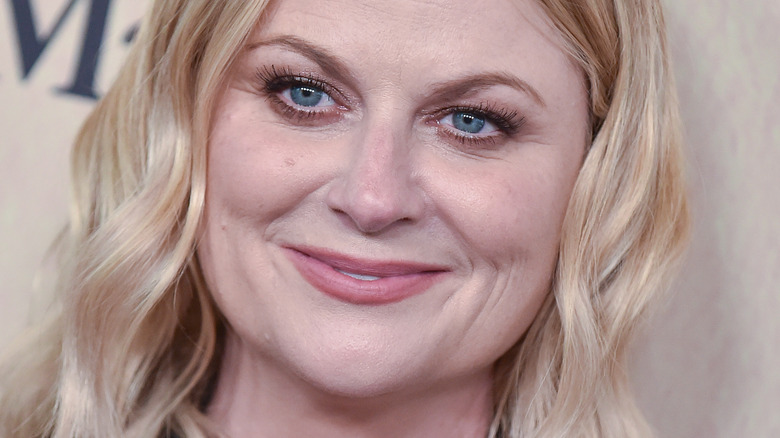 DFree/Shutterstock
Some of the best comedy moments are the ones that are drawn out for such a long period of time that they almost loop back on themselves and become even funnier as a result. From the farts around the campfire in "Blazing Saddles" to Peter Griffin scraping his knee in "Family Guy," the joke can be just one thing stretched out to an unnecessary length and landing perfectly all the same. For the hit mockumentary series "Parks and Recreation," one such gag fit that criteria in the show's 4th season, involving the core cast, a long walk, and a classic Gloria Estefan song that ends up burrowing into your brain.
In Season 4, Episode 11, Leslie Knope's (Amy Poehler) effort to make a comeback as City Council meets a chilling reception when she's forced to take a long walk to a podium in the middle of an ice rink. As Estefan's "Get on Your Feet" plays on loop, Knope and the rest of her team are forced to shuffle like a herd of penguins to make it to the stage in a painfully hilarious fashion. Standing out as one of the funniest moments in the series during its seven-season run, even its lead star Poehler admits that one of her favorite memories from filming that iconic scene didn't make the cut, ending up being a private moment of hilarity just for those involved.
Poehler laughed about getting a little too close for comfort on the ice rink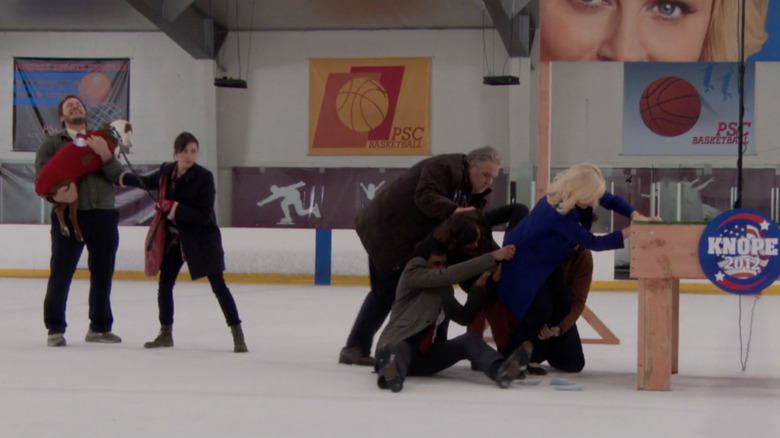 NBC
Appearing on "Late Night with Seth Meyers" in 2015, the cast of "Parks and Recreation" answered fan questions about the show and their time on it. During the brain-picking session with the cast, Amy Poehler recalled that while the episode was a hit upon release, extra laughs were left on the cutting room floor involving herself and her good friend, Nick Offerman, who played Ron Swanson. "Us walking on the ice is just us. Scripted is us just trying to get on the thing," Poehler explained. "One of the things that didn't make it was Ron shoving Leslie, and Nick had his hand basically up my butt [laughs] and trying to push me and was slipping. We were laughing so hard."
While pure chaos unfolded as cast members slipped around and over one another to get to the podium, the result was something the show's creator, Michael Schur, had already mapped out in his head. More importantly, he wanted one of the show's standout moments to mirror one of the most iconic monuments in American history. "The end of that stage direction is that they finally get her up on the platform and it looks like the statue of Iwo Jima, and I remember looking at it in the cut and being like, 'yeah, that's what it is," Schur said. Mission accomplished, then, no matter how many faceplants it may have taken.