Yellowstone Fans Are Loving Monica's Dinner Table Reaction In Season 5, Episode 5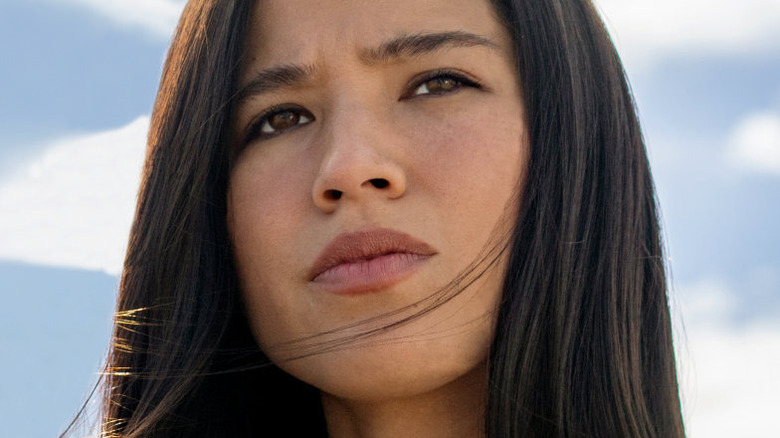 Paramount Network
"Yellowstone" is never a show that is light on drama. Between interpersonal family relationships, land rights issues, political maneuvering, rowdy employees, and an intense need to protect the family ranch, "Yellowstone" is full of bar beatdowns, scheming businesses, and antagonistic siblings. Now, in Season 5, "Yellowstone" picks up with the family patriarch John Dutton (Kevin Costner) becoming the governor of Montana, and with it, tons more issues for the Dutton family to contend with.
Aside from Beth Dutton (Kelly Reilly) getting arrested for starting a bar fight and Jamie Dutton (Wes Bentley) engaging in a relationship with Sarah Atwood (Dawn Oliveri) of the troublesome Market Equities firm, one of the most shocking plots of Season 5 of "Yellowstone" involves the youngest Dutton sibling, Kayce (Luke Grimes) and his wife Monica (Kelsey Asbille). In the very first episode of Season 5, Monica gets into a car accident and suffers the loss of her and Kayce's unborn child. This tragic event takes an extreme toll on both Kayce and Monica, and the two attempt to mitigate the grief by burying the child on the Dutton ranch and engaging in Native American rituals of remembrance. Considering the amount of stress both Monica and Kayce have been going through, a scene in Season 5, Episode 5, titled "Watch 'Em Ride Away," features a Dutton family dinner which finally breaks some of the tension, and fans are absolutely adoring Monica during this moment.
Yellowstone fans are loving Monica's laughter during the dinner scene in Episode 5
Aside from the above plot points, another issue running through Season 5 of "Yellowstone" involves the killing of protected wolves. Although the Duttons have so far avoided most of the blame, there is definitely suspicion cast in their general direction, which causes John to utilize his governor powers to pardon Summer (Piper Perabo), an animal rights activist who has a romantic history with John. In Episode 5, John invites Summer to dinner, and Beth's hostility is immediately apparent and very palpable. At the start of this scene, Summer complains that they are being served duck for dinner, and she questions why they are eating a bird of peace. This causes Kayce to comment that doves taste pretty good, which makes Monica blurt out an awkward and truthful laugh, which is great to see after watching her and Kayce suffer the past few episodes.
Of course, "Yellowstone" fans adored this moment of levity from Monica and wasted no time in taking to social media to express their feelings. On Twitter, @thatboyhersch said, "The dinner I didn't know I needed even Monica is laughing." Similarly, @JaydaPolivick97 stated, "Monica at the dinner table is me lol. My 'Yellowstone' hot take is that people hate Monica way too much for no good reason and like Beth way too much for no good reason." Likewise, @thom_ahs shared the same kind of sentiment, and wrote, "I don't think I've ever related to Monica more in my life than when she laughed at the dinner table at the uncomfortableness of it all."
Some fans think this is one of Monica's best moments
Others were also big fans of this moment in "Yellowstone," with @sourlemonds expressing their feelings and saying that this scene involving Monica gave them life. @TheNail_Momager also thoroughly enjoyed the dinner scene in Season 5, Episode 5, and said, "You know what? I like Monica a little more after she was the honest one and busted up laughing at the dinner table."
Both @heatha_ann and @grouchyhugz made comments showing off that they weren't the biggest fans of Monica, to begin with, with one saying that it was the only time Monica has ever been likable, and the other saying that it was the first time that Monica wasn't the most cringe-worthy person on the show. @toughtotiedown joked that they didn't have Monica breaking first on their "Yellowstone" Bingo card, and quoted a comment on how awkward the entire scene was for both the fans and the characters." 
With this collection of comments involving this Season 5 moment, it seems like some fans enjoyed Monica's honesty and laughter, which helped elevate a very tense family dinner, and pierce the dark cloud that has hovered over Monica and Kayce since the start of this season of "Yellowstone."