Gold Rush Fans Can't Stop Talking About Fred's Absence In Season 13, Episode 10
Fred Lewis has been front and center as a crew leader on Discovery's "Gold Rush," appearing in dozens of episodes since his debut in Season 10, Episode 13. But despite financial difficulties, Fred was back for the first nine episodes of Season 13, helping Parker Schnabel and the rest of the "Gold Rush" team chase its 5,000-ounce goal for the season. Lewis' offbeat and unpolished manner has always lent some much-needed color and flavor to what can often be a relatively drab main cast as they meander through what are sometimes painfully uneventful episodes. 
But in Season 13, Episode 10, "Little Red Rocket," the shaggy-bearded former Green Beret was conspicuously absent and fans certainly noticed. In the episode, Tony Beets' team ran into some technical difficulties early but still managed to find nearly 200 ounces of gold, pushing the season total past the 1,000-ounce mark and Schnabel's lifetime haul of over 50,000 ounces. The team celebrated with a champagne toast, including an extra glass for Parker's grandfather John Schnabel, who died in 2016 at age 96. Parker toasted "all the great people" that had helped him reach the milestone, but no mention of Fred Lewis was made — perhaps due to his meager contributions to the team's haul, particularly in recent episodes. While some fans lamented Fred's absence, others were not at all bothered that the military veteran was not a part of the episode and its milestone celebration.
Reddit commenters had mixed reactions to Season 13, Episode 10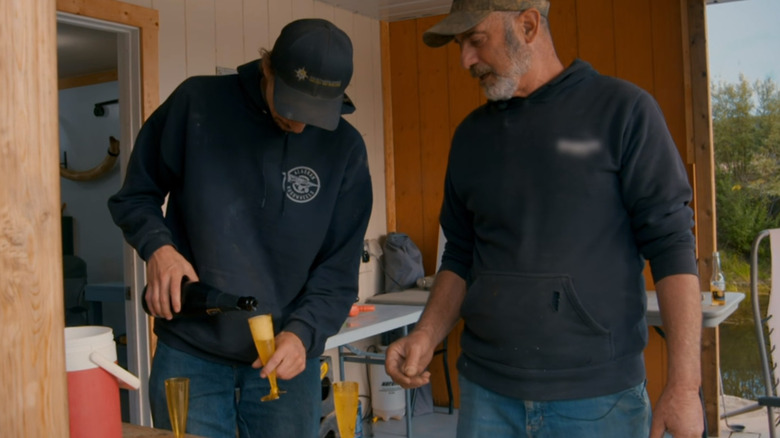 Discovery
In the thread for Season 13, Episode 10 on the subreddit r/GoldRush, u/OgOggilby was one of the viewers who expressed dismay at the lack of Fred in the episode (neither Fred Lewis nor Fred Dodge appeared in "Little Red Rocket"). As u/OgOggilby wrote, "[the] show is monotonous without goofballs like fred. fred and others like him should be the shows main focus. clayton bros. staged bits are hilarious. theirs is some of the stiffest back and forth dialogues ever witnessed."
Fellow fan u/GambleChat agreed, stating, "Fred is the whole show. I say drop the white water and just add an hour to Fred each week." However, there were some dissenters in the comments, including u/Magnificentfloof42, who said, "Main show was thankfully Fred free, yay. White water had Fred Hurt and at least for me Freddy Dodge and Juan Ibarra repeat show. I'll take those two Fred's anytime." 
While Fred Lewis may not have brought in much gold, he has certainly contributed some personality that has helped keep the show interesting. And even though he's a divisive figure among the fanbase, he certainly gets them talking.