Daniel Radcliffe Uses Star Wars As A Template For A Potential Return To Harry Potter
DFree/Shutterstock
Revivals and reboots are commonplace nowadays, meaning that any popular movie series or TV show is eligible to be revisited, as long as a sturdy new storyline exists, the funding makes itself available, and there's interest from the fan base. Of course, there are plenty of sequels and reboots out there that nobody asked for, but as long as creators believe a concept has the potential to make money, it has a fair shot.
Beyond the base criteria of making money and being a strong idea, there's another principle that remakes would do well to uphold, which is that audiences want to see the original actors reprise their roles, although not every reboot has that luxury. In fact, it looks as though the "Harry Potter" series might not.
Daniel Radcliffe, who landed the part of Harry Potter at age 11, has no plans to pick up his wand any time soon. Due to fear that he'd be typecast for his role as the Boy Who Lived, the actor reinvented his career after the final film, with roles in the horror film "The Woman in Black," the dark drama "Horns," the heist thriller "Now You See Me 2," and as Al Yankovic himself in "Weird: The Al Yankovic Story."
When reflecting on his potential return to "Harry Potter," Radcliffe drew parallels between the Wizarding World and another popular fantasy series: "Star Wars."
Radcliffe sees potential for a Harry Potter reboot after a few decades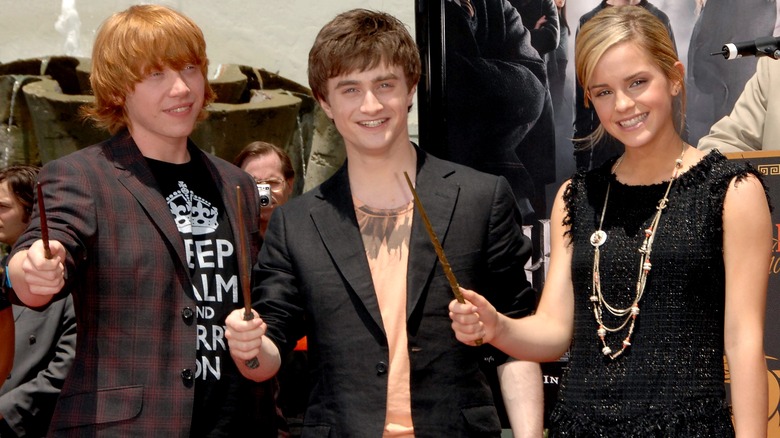 Everett Collection/Shutterstock
Daniel Radcliffe is still seeking a way to distance himself from his old character. "I'm getting to a point where I feel like I made it out of 'Potter' OK and I'm really happy with where I am now, and to go back would be such a massive change to my life," he said in an interview with the New York Times. So perhaps after Radcliffe continues to establish his career, similar to how the cast of "Star Wars" did, he'd be ready to reprise his role as Harry. Or maybe not.
Either way, this is complicated by the fact that J.K. Rowling has yet to pen another title set in the wizarding world outside of the Hogwarts Library books, one of which already has a film series taking place before Harry's time. Instead, fans may see an adaptation of "Harry Potter and the Cursed Child," a play centering on Harry's youngest son, Albus Severus, and his friendship with Scorpius, Draco Malfoy's son. "Harry Potter and the Sorcerer's Stone" and "Harry Potter and the Chamber of Secrets" director Chris Columbus has expressed interest in that possibility (via Variety).
Time will tell, but there's no need to say "Avada Kedavra" on the idea of Daniel Radcliffe returning just yet; after all, Han Solo (Harrison Ford) picked up his blaster again!