Nick Offerman Never Imagined His Parks And Rec Success Would Translate To His Woodshop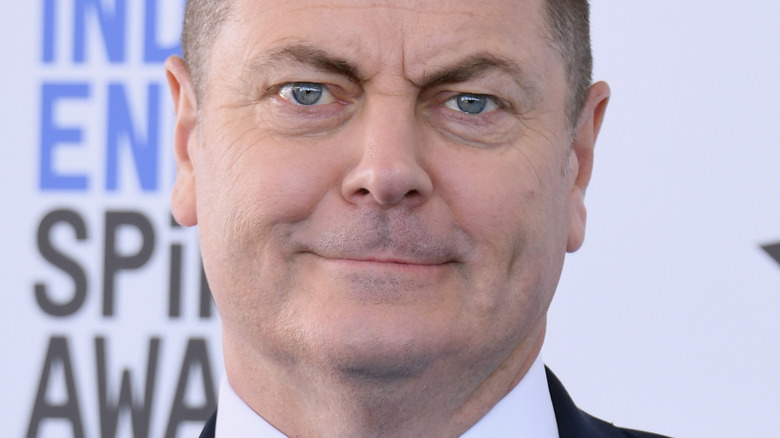 Jon Kopaloff/Getty Images
Nick Offerman's hilarious "Parks and Recreation" character, Ron Swanson, was known for many things. The head of Pawnee's Parks department was very anti-government, loved bacon, had two ex-wives named Tammy, and possessed next-level woodworking skills. His ability to craft canoes, cribs, and rocking chairs was prominently featured on the critically acclaimed NBC comedy (via Rotten Tomatoes). Offerman would have never dreamed those antics would greatly benefit his real-life workshop.
The Emmy-nominated series ran for seven seasons, and in that time, there were several episodes where Ron Swanson proved he was the manliest individual ever to walk the Earth. It's challenging not to be impressed by a guy who built his first chair at the age of five and is so tough it took getting hit by a bus for him to cry. Whether it was eating bacon-wrapped turkey legs or teaching kids extreme survival skills, Offerman's hilarious whisky-drinking personality on the show never ceased to amaze viewers. His time on the series has helped his career a great deal leading to several other roles in shows like "Fargo," "The Great North," and "The Last of Us." Offerman has even been tearing it up on the big screen since "Parks and Recreation" ended with titles on his resume that include "The Founder" and "Sing" (via IMDb). But it isn't just Offerman's acting career that has benefited from the "Parks and Rec" craze as another one of his passions has also seen some very positive results.
Ron Swanson's woodworking antics have helped Offerman's real-life business
It turns out that the series' success not only boosted Nick Offerman's career but also helped his actual woodworking business. "It changed my life in a massive way," Nick Offerman said in an interview in 2015 (via "Parks and Recreation" on YouTube). "And it's even done my woodshop a lot of good by incorporating the shop and my woodworking into the show. It's brought us a lot of attention and allowed me to promote handcrafting in this country and encouraging people to, in a Swanson-esque way, put down their gadgets and make things with their hands." After watching Offerman's character produce such masterful works of wooden art for so many years, it makes sense that fans would be interested in getting their hands on actual Ron Swanson-made products like furniture, whisky coasters, cutting boards, and even wooden holiday cards through Nick Offerman's own website.
Some may think it was a coincidence that both Offerman and Swanson share a love for handcrafting in the realm of woodworking, but it was certainly not by chance. Offerman told GQ, "They made him a woodworker because I, like Ron's shop on the show, is my actual shop in real life. And his canoes, I made those canoes and stuff like that."
While many "Parks and Recreation" fans will never have what it takes to be a Pawnee Ranger or be able to rise the ranks of the Swanson Pyramid of Greatness, it is nice to know that people that enjoyed the show can buy a canoe from Nick Offerman and absolutely pretend they are worthy of receiving such a noble gift from Ron Swanson.