Gold Rush's Parker Schnabel Explains Why The Wash Plant Doesn't Have A Remote Kill Switch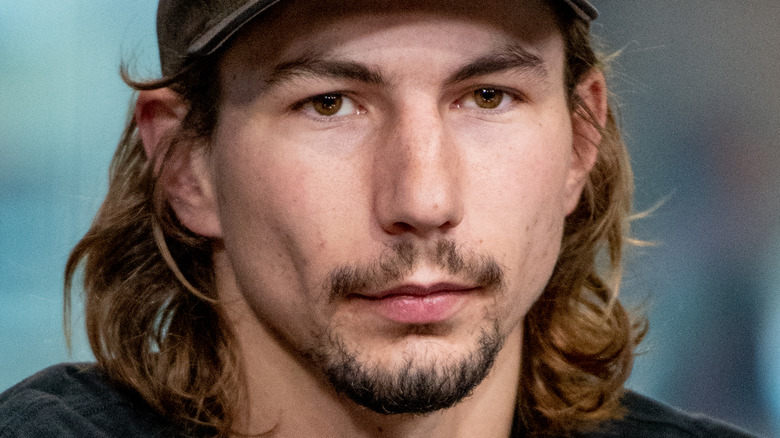 Roy Rochlin/Getty Images
Mining for gold. It's an age-old dream for many, and as Discovery's "Gold Rush" proves, it's a dream that continues to this day. As Discovery puts it, Season 13 is all about the Old Guard versus the Greenhorns. Parker Schnabel, Tony Beets, Fred Lewis, and brothers Brandon and Brady Clayton are among the miners racing towards a piece of that golden pie in Yukon, Canada.
Many people may remember the old gold mining photos from their school history books showing men using pans to sift for gold, hoping to strike it rich. But today's modern gold miners use equipment that's much larger — and probably more efficient — than a single pan. Time is money for these professionals, and the modern business of gold mining includes equipment maintenance, as well as keeping track of permits and timelines, not to mention braving the elements of the Yukon.
Of course, it's important for these teams to know how to properly use each piece of equipment and know when something just isn't right. Efficiency is the name of the game in the race against time, and having an automatic kill switch on the equipment does seem like it could save them a little time if any issues were to arise. But Schnabel has explained why adding an automatic kill switch on the wash plant may not actually be the best option for the gold mining teams.
Schnabel explained that installing an automatic kill switch could complicate the mining operation
Parker Schnabel has been on "Gold Rush" for more than a decade. According to Discovery, Schnabel is focused on expanding his operation in Alaska in Season 13. While working to expand his business, he also spends time helping fans understand what goes into these gold mining operations. 
On the r/goldrush subreddit, u/Standard-Development questioned why the wash plant doesn't have an automatic kill switch. "Every time there's a problem with a wash plant, someone jumps out of a wheel loader and runs like an idiot to shut it down before any major damage is done. Would it be that hard to install remote kill switches that could be triggered by anyone with a task close to the plant?" Schnabel responded with the username u/GOLD__DIGGER. He pointed out that while they have thought about this, their remote work area, coupled with the short mining season, is why they've held off. "An electrical system wired to a remote is fairly simple, but not simple enough to not add the potential for malfunction," Schnabel wrote. "Also, you wouldn't be able to get everything off without a complicated system (water and power) so you have to do the running regardless."
Additionally, he mentioned the idea of adding electrical valves for water, which he said would still be a complicated process. Schnabel added that they only bring what is absolutely needed to their sites, noting that simplicity is key when mining for gold.