Disney Teases Avatar: The Way Of Water At CCXP With 18 Minutes Of Footage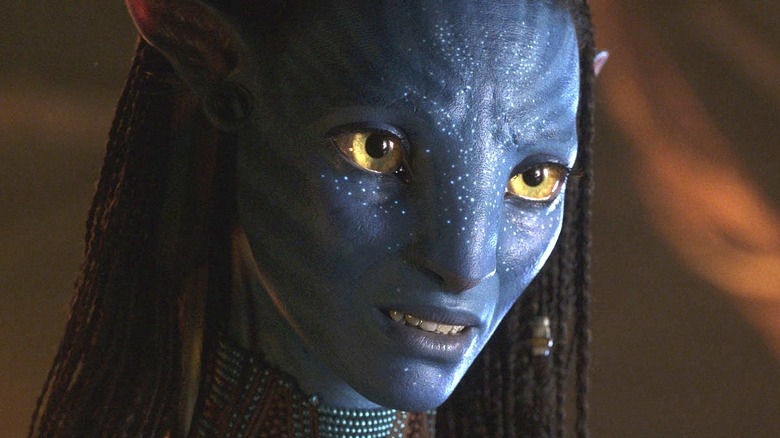 Disney
We're about two weeks away from "Avatar: The Way of Water," and it still feels like this movie is never going to arrive. The highly-anticipated follow-up to 2009's "Avatar" takes us back to Pandora, where things have definitely not calmed down. The Omaticaya and the aquatic Metkayina clans will come together to fight a common threat — the Resources Development Administration (RDA) and the very alive Colonel Quaritch (Stephen Lang).
Since May, three trailers have dropped for the film, along with some shorter clips, and we've got a pretty good idea of how "The Way of Water" is going to look. It's no surprise that it's even more visually stunning than the first "Avatar," but just how incredible it all is remains to be seen. Well, some people know just how amazing it is, as those who were lucky enough to attend the "Avatar: The Way of Water" panel at CCXP were treated to 18 minutes of footage from the film. From what we can tell, this was not one giant segment but different movie clips compiled together. The reactions from some who were there will get you even more hyped for the film's debut.
Avatar: The Way of Water takes a deep dive in first clips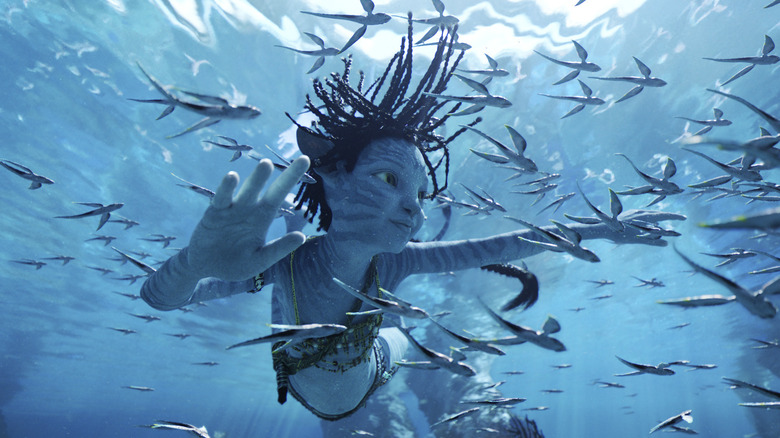 Disney
According to a journalist from IndieWire (via their Twitter), "Avatar: The Way of Water" is going to blow our minds. "WOW, you guys are not ready for this masterpiece. Few movies ever will, but this truly changes film forever. Cannot go into spoilers... let's just say see this day 1," they wrote, adding, "and yes, James Cameron does it again. This will be one of, if not the best movies ever made. A fitting end setting up what's next, long live avatar franchise!"
Well, as if there was any doubt, we now know that the sequel is going to blow us out of the water. Collider reports that these 18 minutes of footage were not chronological and that from what was shown, it looks like "The Way of Water" will heavily feature the stories of Jake (Sam Worthington) and Neytiri's (Zoe Saldana) children. The footage also focuses on Jake, who will be set off by the incoming invasion — somewhat repeating plot points from the first film.
A lot of what was shown at CCXP was underwater footage from the "Avatar" flick, and it seems like James Cameron really nailed what he was going for — as if there was a doubt.
"Avatar: The Way of Water" lands in theaters on December 16.