Drew Carey Originally Hoped CBS Was Calling Him For CSI Instead Of The Price Is Right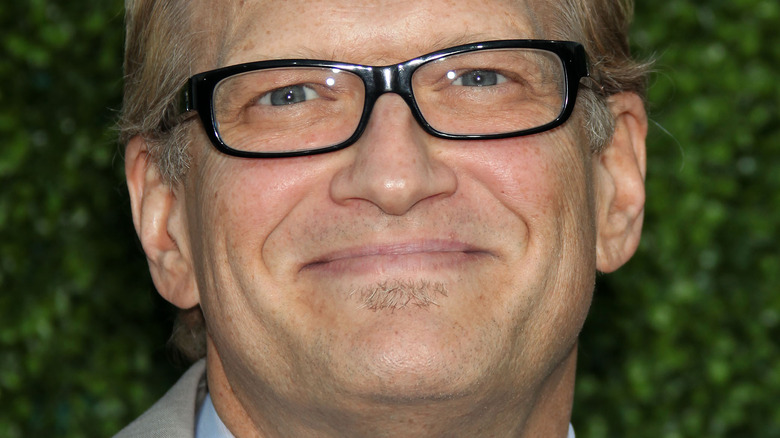 DFree/Shutterstock
For over 30 years, Bob Barker served as the face of CBS' popular game show "The Price Is Right." From his rapport with contestants to his push for animal welfare, it was hard to imagine someone else filling his shoes when he announced his retirement. At first, it seemed as though comedian Rosie O'Donnell would helm the long-running program, but it wasn't an ideal match. As reported by TV Guide, O'Donnell's suggestions of a set makeover and firing Barker's Beauties in exchange for hunky male actors didn't go over so well with producers. Additionally, she didn't want to move her family to the west coast.
This left the door wide open for Drew Carey, of "The Drew Carey Show" fame, to land the coveted gig. In fact, he received the job offer only 15 minutes before his 2007 "The David Letterman Show" appearance, during which he announced the "done deal." However, serving as host of a game show wasn't something that Carey had envisioned himself doing. "I really never thought my safe space would be on a soundstage, wearing a mic, cameras on me constantly, and with millions of people watching. But that's what 'The Price Is Right' is for me," he told Deadline in 2021. "I love it."
Despite embracing the experience of "The Price Is Right," from the excitable contestants to the glitzy sets, this wasn't the gig Carey initially hoped CBS was offering him. Rather, he envisioned something a bit more dramatic.
Drew Carey had goals of landing small acting roles
Over the course of 16 seasons, "CSI: Crime Scene Investigation" has welcomed a number of celebrities to guest star. However, Drew Carey isn't one of them.
In an interview with CBS Mornings, Carey said that after the conclusion of "The Drew Carey Show," he began taking acting lessons with the goal of landing small roles. Therefore, when his agent called to inform him of a recent conversation with CBS' casting department, Carey thought his goal was coming to fruition. "I was like, 'Oh, maybe they want me for 'CSI' or something like that,'" he recalled. "And when he said 'Price Is Right,' that was the opposite of what I was thinking."
At first, Carey was not interested in the job. However, after a few weeks of thinking it over, Carey warmed up to the idea of hosting "The Price Is Right." He told Kokomo Tribune, "You have stewardship over an American institution. You get to keep it afloat and kind of reshape it a little bit. I could never have seen the things I would have liked about it when I first got the job. I knew it was going to be good, but you can't know when you first start how great it's going to be."
Plus, Carey still got to fulfill his dream of playing a small role in a network drama. On "NCIS" Season 15, Episode 16, Carey plays John Ross, a former Marine Sergeant who's wrongly suspected of murder (via Entertainment Weekly).