Is Dan's Story About The Man Who Made Friends With A Grizzly Bear From The Conners Season 5 Episode 9 Real?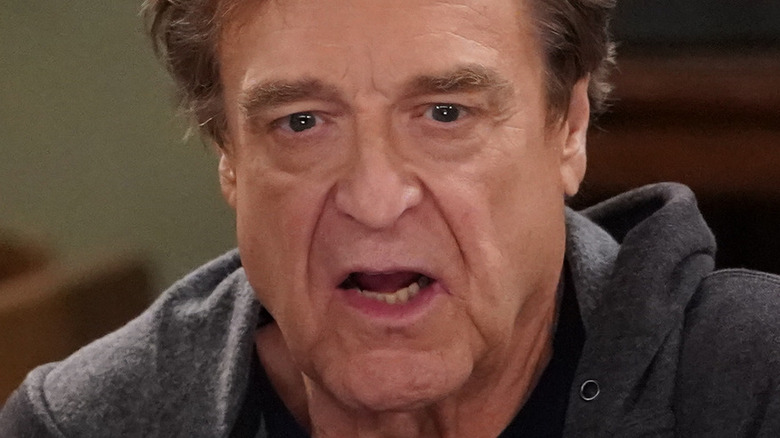 ABC/Eric McCandless
The following article contains spoilers for "The Conners" Season 5, Episode 9 — "Crumbs and Couch Surfers."
During their latest episode, the Conner clan finds themselves learning how to get along with others the hard way. Darlene Conner (Sara Gilbert) moves into a brand-new house with Ben (Jay R. Ferguson), Becky (Lecy Goranson), Mark (Ames McNamara), and Beverly Rose (Charlotte Sanchez). She quickly finds it hard to relax and let her family enjoy and break in the nice things they now have access to. Meanwhile, Harris (Emma Kenney) brings home her new love interest, who turns out to be a bit of a freeloader who's using both her and the Conner family abode for succor and support — déjà vu to an old "Roseanne" storyline involving Darlene and her first husband, David (Johnny Galecki).
While Dan Conner (John Goodman) discusses Harris' relationship with Kai with Louise (Katey Sagal), Louise insists that she can handle it because she and Harris are getting closer. Dan tells her a story about a naturalist with poor personal boundaries. "You remember that guy who thought he was building a special relationship with the grizzly bears?" Dan asks. "He said, 'I'm your friend!' What the grizzly bears heard was, 'pull my head off! it's delicious!'" It's quite a terrifying tale and leaves the listener wondering if such an incident happened in real life.
Dan's story is definitely real
The story Dan Conner makes reference to in this episode is definitely a real-life — and very tragic — tale. He's most likely referring to Timothy Treadwell, a documentary filmmaker, and naturalist who adored grizzly bears and spent much of his time in Alaska living among them and other animals. Treadwell, who founded Grizzly People, an organization dedicated to protecting bears, was eaten alive by a bear in Katmai National Park in Alaska, approximately on or around October 5, 2003, in an attack that was captured on audio tape. Also killed was his girlfriend, Amie Huguenard. The bear was subsequently killed and autopsied, during which human remains and bits of clothing were found in its stomach (via Wolfsongnews).
Treadwell, who appeared on numerous talk shows and published a book entitled "Among Grizzlies: Living with Wild Bears in Alaska" before his death, came under fire from both local park officials and other naturalists for his tendency to humanize the bears he studied and getting far too close to his subjects physically (per Reader's Digest). His tragic story was captured by filmmaker Werner Herzog in the documentary "Grizzly Man." If you're curious about Treadwell's real-life travails, the film is available on Tubi as of press time.