A Haunting In Venice- What We Know So Far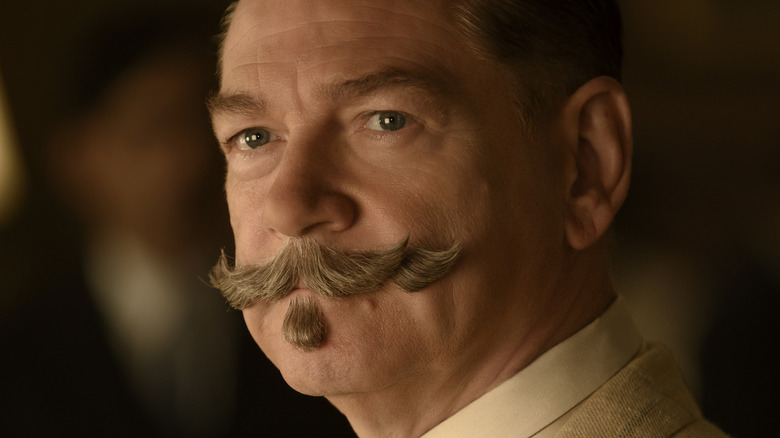 20th Century Studios
Fans of Agatha Christie rejoice! Another mystery by Christie will be hitting the silver screen next year, just in time for fall festivities to begin. As part of the beloved Kenneth Branagh series, this third sequel follows "Murder on the Orient Express" and "Death on the Nile," which adapted the classic detective stories of the same name in 2017 and 2022, respectively. 
This upcoming film has a different name from its source material, so audiences may be curious to see if the title is the only separation from the book. While the mystery being adapted has been seen in a few television iterations, it is completely new to the movie scene so fans of Christie and mystery fanatics will be delighted to see how this adaptation explores the famously mustached Hercule Poirot in another adventure of intrigue and suspense. Here are all of the details for 20th Century Studios and Disney's upcoming "A Haunting in Venice."
When will A Haunting in Venice be released?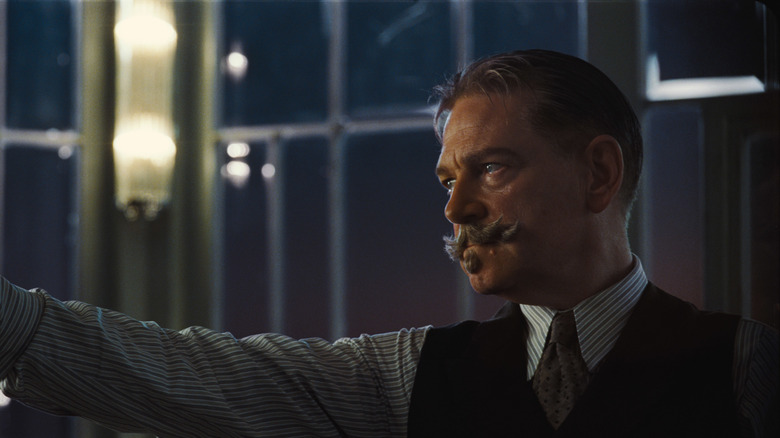 20th Century Studios
"A Haunting in Venice" is slated to release on September 15, 2023, and like its predecessors, it will be released exclusively in theaters. According to The Hollywood Reporter, filming was set to begin on October 31, 2022. Filming will take place at Pinewood Studios (per Variety) near London, and there are also plans for some on-location shoots in Venice as well. Dates for that shooting schedule are currently unavailable.
For now, the September 15, 2023 release date belongs exclusively to "A Haunting in Venice," with no other major debuts competing with it. Other major September debuts include "The Expendables 4," "The Nun 2," and "The Equalizer 3." It certainly will be the month for sequels in 2023.
What is the plot of A Haunting in Venice?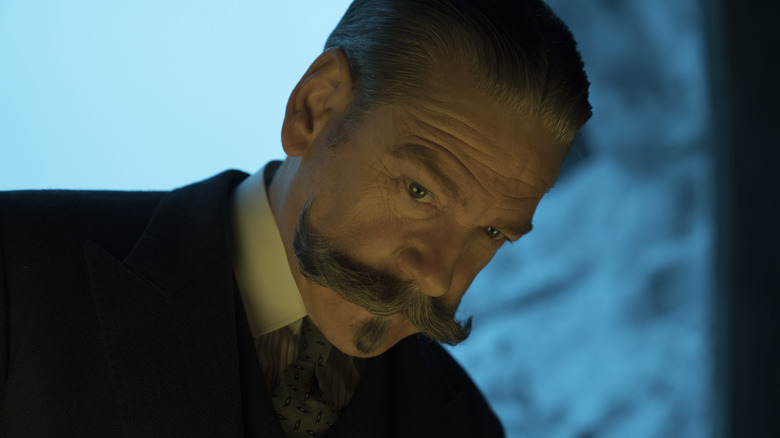 20th Century Studios
"A Haunting in Venice" is inspired by Agatha Christie's 1969 novel "Hallowe'en Party," but how closely it will follow the source material is unknown. Per, The Hollywood Reporter, the film's logline reads, "Now retired and living in self-imposed exile in the world's most glamorous city, [Hercule] Poirot reluctantly attends a séance at a decaying, haunted palazzo. When one of the guests is murdered, the detective is thrust into a sinister world of shadows and secrets."
If the film stays truthful to the novel, the first victim will be a 13-year-old girl who winds up dead after revealing she witnessed a murder. But will she be found dead in a tub of apples like in the novel? We'll see. Since this novel hasn't been adapted in this way before, there is endless potential for how it could be rendered on the big screen, and Branagh is quite excited about its potential. 
Who is starring in A Haunting in Venice?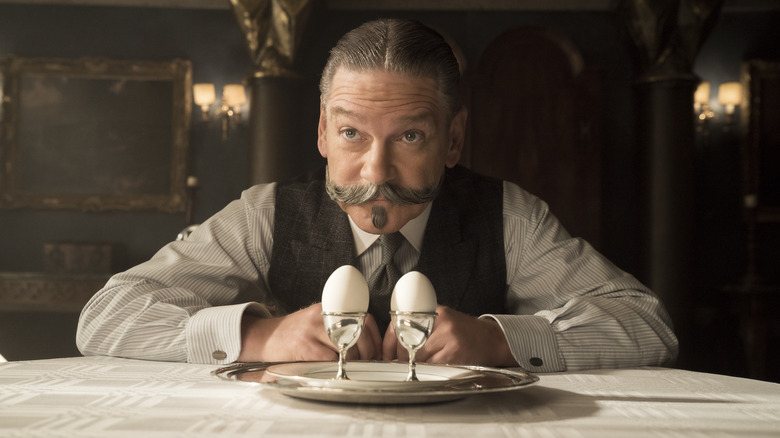 20th Century Studios
While everyone knows that Kenneth Branagh will be returning as the director and as the main detective Hercule Poirot, mustache and all, there are a few other familiar and beloved actors accompanying Poirot's latest adventure, as well as some newer faces. Joining him is another star-studded cast, similar to previous adaptations in the ACU (Agatha Christie Universe).
Michelle Yeoh, Jamie Dornan, Tina Fey, Kyle Allen, and Kelly Reilly are the biggest names attached to the project at this time, but which character each is playing is unknown. Lesser known talent who will also appear in "A Haunting in Venice" includes Camile Cottin ("House of Gucci"), Jude Hill ("Belfast"), Ali Khan ("The School for Good and Evil"), Emma Laird ("Mayor of Kingstown"), and Riccardo Scamarico ("Master of None").
Place your bets on who the murderer (or murderers) is now, and stay away from the novel if you want to avoid spoilers.
Who is directing A Haunting in Venice?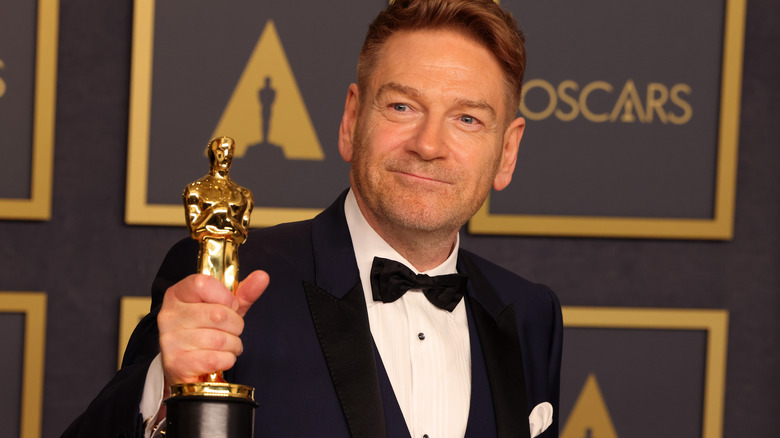 David Livingston/Getty Images
Returning to the helm of yet another Agatha Christie adaptation is veteran actor and director Kenneth Branagh. As previously mentioned, Branagh directed "Murder on the Orient Express" and "Death on the Nile," while also starring as the lead, Hercule Poirot. The actor-director expressed his excitement for the upcoming mystery film. "This is a fantastic development of the character Hercule Poirot, as well as the Agatha Christie franchise," he said. "Based on a complex, little-known tale of mystery set at Halloween in a pictorially ravishing city, it is an amazing opportunity for us, as filmmakers, and we are relishing the chance to deliver something truly spine-chilling for our loyal movie audiences."
Outside of the ACU, Branagh is no stranger to directing. He's helmed "Thor," 2014's "Cinderella," "Jack Ryan: Shadow Recruit," and "Belfast," to name a few. The latter earned the director an Oscar for best original screenplay at the 2023 Academy Awards.
Where to watch other movies in the Hercule Poirot universe
While one isn't required to watch Kenneth Branagh's other films to understand the upcoming "A Haunting in Venice" installment, having a mystery movie night has never left anyone unhappy. But if you want to brush up on Poirot's sleuthing, you're in luck as "Murder on the Orient Express" and "Death on the Nile" are available online.
"Murder on the Orient Express" is currently not on any streaming site, but you can buy or rent it on digital platforms like Amazon, Apple TV, Redbox, and Google Play. This is likely to change soon, so double-check before spending any cash.
And for those with a subscription to Hulu or HBO Max, the sequel film "Death on the Nile" can be found on either streaming service. If not, fear not, for the film is also available to rent or buy on the aforementioned digital platforms.