5 Best And 5 Worst Things That Happened At The Oscars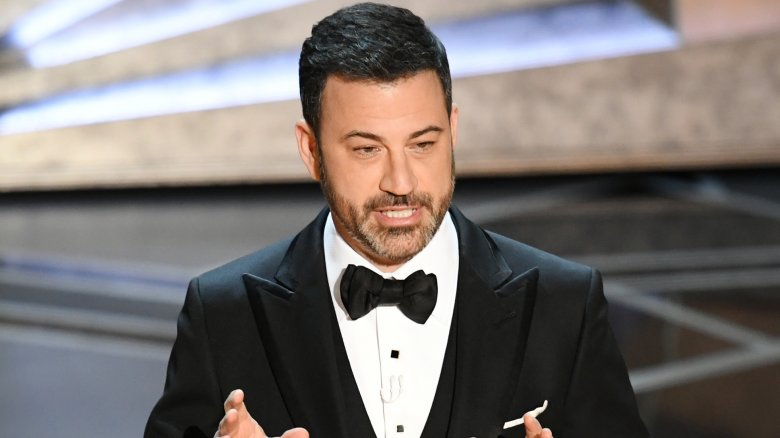 Getty Images
The 2018 Oscars have come and gone. The ceremony brought us a whole lot of laughs, a few cringeworthy moments, and a bunch of solid jokes about a jet ski. We'll go ahead and say it: this year was a lot better than most. We were treated to some great presenters, a stellar host, and a slew of genuinely incredible movies that we were thrilled to see honored under the Oscar banner. That said, at the end of the night, some moments stood out more than others. 
No Oscar ceremony is ever going to be perfect, but this year's definitely had its lulls. At the same time, we got to see some bona fide titans of cinema finally take home Oscars, commemorating decades-long careers in their fields as well as the stellar work they did for cinema in 2017. With this in mind, we've pulled together five highlights from the Oscar ceremony — as well as five moments we found a bit less than stellar. Here are the five best and five worst things that happened during the 2018 Academy Awards ceremony.
Best: Jimmy Kimmel
Nobody really tunes in to an awards ceremony expecting the host to come away as the most memorable part. In fact, Oscar hosts are at their most memorable when they're bombing. To be a great host at the Oscars is a tricky balancing act, perpetually hovering between making sure people at home and in the audience are entertained without making yourself the center of attention and distracting from the awards themselves. Jimmy Kimmel found that balance gracefully this year.
You really only get one moment to shine as an Oscars host, and that's in the opening monologue. Kimmel's proved exceptional. It's been a turbulent year in Hollywood — and America — and Kimmel didn't shirk from discussing this frankly. He used his platform to call to attention a multitude of good causes and important social issues. Additionally, he managed to be funny while doing it. 
When he wasn't championing social justice, Kimmel introduced one of the best recurring bits the Oscars have ever seen — a brand new jet ski, offered as a prize for the Oscar winner who kept their speech the shortest. The best part? It actually paid off, with Phantom Thread costume designer Mark Bridges being paraded out onstage in a lifejacket as the ceremony ended. Finally, Kimmel closed out the night as only he can: saying something disparaging about Matt Damon. 
Worst: The tech presentations
Ultimately, it's important that the Oscars grants airtime to categories like these — the ones paying tribute to the scores of talented but decidedly non-famous individuals who work in the more under-appreciated facets of filmmaking, without which movies simply wouldn't be the same (or even be possible). On the other hand, it's hard to understand why, over the last 90 years, the Academy producers have yet to find a way to make these segments more palatable.
The tech awards are always the most boring part of the show, and it's because every year, the producers fail to give the audience at home a reason to care about them. It's not as simple as sticking a charismatic presenter in a segment (and some of the folks rounded up for the 2018 ceremony verged on the downright boring). Viewers are often given very little context for what some of these awards mean or why they're impressive. It makes the segments drag and it only gets worse when they're all stacked back to back, as they were in this ceremony after the Best Supporting Actor presentation. Hopefully, whoever produces the show next year will find a way to make these legitimately important and interesting fields of cinema more engaging to viewers at home.
Best: Best supporting actors
Anyone who gets nominated for an Oscar has clearly done some incredible work in their field to warrant it. This year, that seemed especially true. Every awards season is going to have its frontrunners that overshadow some of their fellow nominees, but if you look at the talent nominated for the 2018 Oscars, it's hard to not be blown away by the magnitude. Acting categories proved especially jam-packed with magnificent performances this year, but it's the nominees for Best Supporting Actor that really stuck out.
The nominees read like a list of the most excellent actors working in film today. Sam Rockwell received acclaim for his winning turn in Three Billboards Outside Ebbing, Missouri, but it's hard to think of a role he hasn't shone in. His costar Woody Harrelson is one of Hollywood's most reliable actors and has never phoned it in, even in the types of blockbusters some stars use as paycheck gigs. Christopher Plummer is one of cinema's all-time great actors, and Willem Dafoe is the kind of singular performer whose distinct style and demeanor can never be replicated. Finally there's Richard Jenkins, arguably the single most under-appreciated actor of the last 30 years. He's quietly, humbly one of the best actors in the world, the kind that handles comedy with the same deft grace as tragedy and seems to find new ways to impress with every role. 
Worst: That vague movie montage
If you watch the Oscars, it's safe to say that you love movies. There's no reason you'd sit through a nearly four-hour awards ceremony about movies if you didn't. Furthermore, a good montage is a ton of fun. That's something the Oscar producers tend to do very well every year, putting together epic collections of iconic moments in cinema. Everyone loves a good montage — but it really isn't quite clear what anyone was supposed to get out of the first one that aired during the 2018 Oscars.
The segment was meant to commemorate 90 years of moviegoing in the Oscar era, but failed to really make any sort of coherent point. Other montages throughout the night focused on everything from the history of the portrayal of the military in film to great acting performances of the last 90 years. The "90 Years of Oscars" segment, on the other hand, was far less focused and instead felt almost like an overlong parody of the kind of montages usually trotted out at subpar ceremonies. It'd be pertinent to center segments like these on moments that remind us why the audience loves cinema, rather than making them feel like a large billboard (three billboards?) that just reads YOU LOVE MOVIES.
Best: Guillermo del Toro
There might not be a working director on Earth who loves movies — or making movies — as much as Guillermo del Toro. His cinematic oeuvre is filled with palpable joy — not only for the stories he's telling, but the craft and form itself. That love proves infectious. Everything from Pan's Labyrinth to Pacific Rim feels like such a labor of love that even when he stumbles, you still understand what he was going for on an emotional level. Seeing del Toro walk away with Oscars for Best Director and Best Picture for The Shape of Water felt particularly special.
Del Toro thrives in genre fiction, specifically sci-fi, horror, and fantasy, genres often maligned by mainstream awards ceremonies. The Shape of Water isn't by any means a departure from those genres; if anything, it's more steeped in them than his earlier efforts. It's a melodic, passionate ode to creature features and genre fiction that feels like del Toro's purest, most magnanimous expression of his love for cinema. In short, it's the exact kind of film that you'd expect to get snubbed come awards season. It didn't.
Del Toro easily could have gone his entire career without getting this nod. Luckily, The Shape of Water proved too singular a cinematic experience to ignore.
Worst: It felt too long (even with the jet ski)
The most memorable segment of the 2018 Oscars ceremony had to be the recurring bit about the jet ski Kimmel promised (paraded out by Helen Mirren) to whichever winner gave the shortest acceptance speech. It was a genuinely funny bit, made even funnier by the fact that the man who gave the shortest speech actually took it home with him. That said, it warrants mentioning that the speeches aren't what needs trimming.
Maybe Kimmel and his writers aren't aware, but the winners and the speeches they give are kind of the whole reason a lot of people watch the Oscars to begin with. Film lovers don't tune in for the five-minute montages reminding the folks at home of all the movies they've ever seen. They don't watch for the weird PR stunts where celebrities surprise unsuspecting viewers in a theater. And they definitely don't watch it to see a ten-minute opening monologue. The speeches, the winners, and the nominees are why people watch the Oscars, and an extra 20 seconds on a speech isn't something viewers mind. It's all the overly long segments surrounding them that make these things feel like they run an hour longer than they do.
Best: Maya Rudolph and Tiffany Haddish
Presenting the smaller awards of the evening at the Oscars has got to feel like an uphill battle. For one thing, you're talking about awards that most of the viewers at home don't care about. No slight to any recording junkies out there, but it seems unlikely that too many people who watch the Oscars know or care about the difference between sound design and sound editing (and they have to sit through award presentations for both!). The eternal Oscar presentation struggle seems to be finding a way to make these awards more palatable for the viewers at home. The 2018 Oscar ceremony offered at least one potential solution: just have Maya Rudolph and Tiffany Haddish present all of them.
The two ladies presented the awards for Best Live and Animated Short Films, and had the jokes loaded up and ready to go from the minute they walked onstage holding their shoes in their hands — Haddish opening their presentation with, "We're so happy to be here, but our feet hurt." From there, they dropped killer jokes left and right while managing to maintain a light, brisk pace for a slower part of the ceremony. They were so great that it isn't hard to imagine having them come back as the hosts of the Oscars in 2019. If they can drop anything half as funny as Haddish's "white people with clipboards" line, it could be an all-time classic Academy event.
Worst: The winners were too predictable
Film fans everywhere ended Oscar night rightly thrilled for well-deserved wins by 2018 honorees like Guillermo del Toro, Jordan Peele, or Frances McDormand. Really, every winner at the Oscars very much deserved their moment, and seeing so many talented folks take home awards for stellar work in their field was incredible. That being said, with awards season lasting nearly three months and the Oscars serving as the be-all, end-all finale, it's tough not to feel like everything was just a bit predictable.
No one needed another Moonlight/La La Land mishap, and no one's calling for a return to the days of Crash winning Best Picture. On the other hand, everything seemed to go according to plan as far as the winners went. Every single major award went to the same person and/or movie it's gone to at every other awards ceremony for films released in 2017. It made the evening feel a bit too predictable and routine. With not a single upset or controversial win, there's not much to talk about as far as the Oscars go this year. While it's great to see deserving winners, it's hard not to miss that a little bit.
Best: Roger Deakins finally gets a win
It's very rare for someone generally regarded as the single most talented person in their field to go their entire career without winning the most prestigious accolades their craft offers. In terms of cinema you may have to go as far back as Alfred Hitchcock to find a comparable instance of an indisputable all-time great who also never won an Oscar. Fortunately, the 2018 Oscars saw this remedied for the field of cinematography. All-time great director of photography Roger Deakins finally took home an Oscar for his work on Blade Runner 2049.
The most shocking thing about Deakins' win is that it didn't happen a decade or two ago. There's not a single film on his résumé that doesn't look breathtakingly stunning. He's a frequent collaborator of the Coen Brothers, Sam Mendes, and Denis Villeneuve, among others, and from his early work on films like The Shawshank Redemption to his shockingly incredible tear over the last several years that includes work on Skyfall, True Grit, and Sicario, Deakins is a true master of cinema. Deakins is the best director of photography of his generation, and seeing him finally take home the award he's deserved for so long felt like a genuinely special moment. 
Worst: Gael Garcia Bernal's performance
It's probably safe to say that few Oscar viewers tune in looking for tremendous musical performances. We have the Grammys a month or so prior to the ceremony to satiate our need for showboat spectacles of musical talent. Granted, music produced for films can be incredible, and all the nominees for Best Original Song in 2017 were great; it could only be entertaining to watch them be performed by the musicians and actors responsible for them. That being said, Gael García Bernal's rendition of "Remember Me" from Coco left a great deal to be desired. 
The production design of the performance was admittedly stellar, with bright, flashing lights and killer stage design throughout. And Coco is great — as is the original recording of the song. Unfortunately, Bernal didn't quite bring his A game to the performance. It felt shaky, unrehearsed, and middling at best — sometimes almost sounding as though he was singing the song for the first time. Again, this is the Oscars — it would be unreasonable to expect musical perfection from every single performer, especially ones like Bernal who don't play music live every night for a living. Nonetheless, it was definitely one of the show's weakest moments.