Why Harry Cooper From The Blacklist Looks So Familiar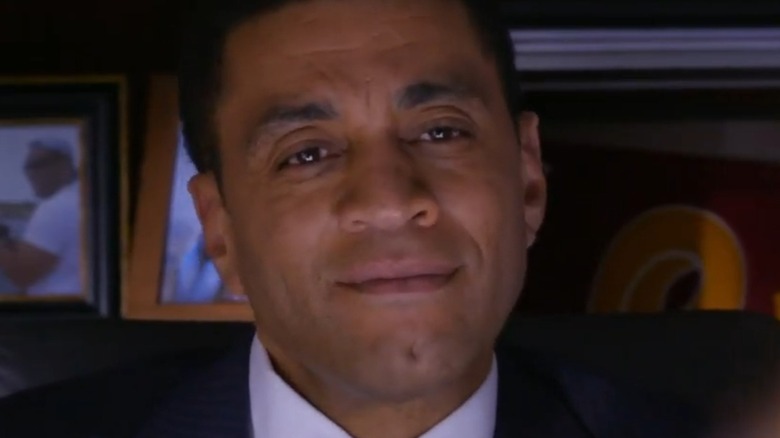 NBC
"The Blacklist" is one of the most significant dramatic hits that NBC scored in the 21st century, thanks to its propulsive, ever-renewing story of good and evil intermingling in increasingly complicated ways. The series, which Jon Bokenkamp created, tells the tale of Raymond "Red" Reddington (James Spader), a former U.S. Naval Intelligence officer who has been one of the FBI's most wanted fugitives for decades until one day he turns himself in out of the blue and reveals that he's been compiling a list of criminals so dangerous and slippery that not even the government is aware of them — criminals they need his help to catch.
Since it began airing in 2013, "The Blacklist" has been consistently noted for the strength of Spader's central performance, in a role tailor-made to spotlight his seedy, mischievous, morbidly enrapturing charisma. But the series would not go for as long as it has been without a solid supporting cast to bounce off of Spader as Reddington. And one of the most talented actors out of that cast is the veteran performer who plays Harold Cooper, assistant director of the FBI's Counterterrorism Division, who acts as the head of the Blacklist task force and holds final authority over each week's complex cases. You may have seen this actor in various screen roles over the years; here are a few of the most notable ones.
Harry Lennix broke out in Robert Townsend's The Five Heartbeats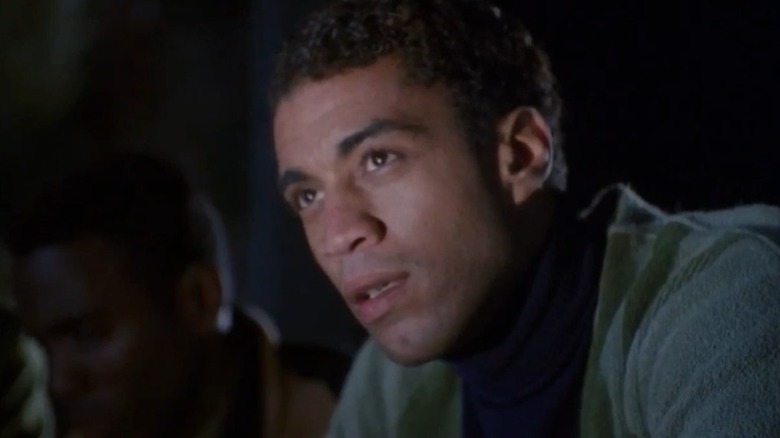 20th Century Fox
A Chicago native, Harry Lennix began his multitudinous acting career on the stage, performing in theaters across the city while working a day job as an elementary school substitute teacher (via Speaking of Stories). He eventually crossed over onto the screen, appearing in minor roles in films like "Bad Boys" and "The Package" and a litany of TV movies. But in 1991, with "The Five Heartbeats," he broke through in a big way.
Directed by and starring famed American comedian and entertainer Robert Townsend, "The Five Heartbeats" tells the story of The Heartbeats, a fictional sixties vocal group with a trajectory that mirrors and references those of several icons of African American music, from the Temptations to Four Tops to Wilson Pickett to James Brown. The film became a classic over the years and still stands as one of the most fondly remembered American films of the nineties to be helmed by and centered around Black people. Although "The Five Heartbeats" is primarily told from the point of view of Townsend's character, Donald "Duck" Matthews, plenty of room is allotted to the stories of each of the group's five members, including Terrence "Dresser" Williams, the smooth and fashionable bass singer who also initially serves as The Heartbeats' choreographer. It was the first significant screen role for Lennix, who was offered the part directly sometime after meeting Townsend (via Blackfilm.com).
He played Aaron in Julie Taymor's Titus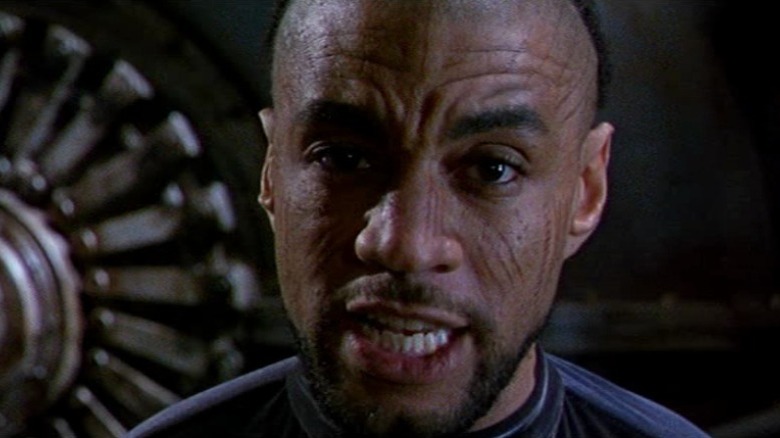 Searchlight Pictures
During his time as a theater actor, specifically after moving to New York City (via Speaking of Stories), Harry Lennix struck up a fruitful creative partnership with legendary American theater director Julie Taymor, appearing in her 1994 production of William Shakespeare's "Titus Andronicus" in the role of Aaron.
Later, in 1999, when Taymor crossed over to theatrical film direction with her lavish, maximalist screen adaptation of "Titus Andronicus," titled "Titus," she brought Lennix back on board to reprise the same role he'd mastered on stage. Once again, Lennix played Aaron the Moor, an aide and secret lover to Tamora, Queen of the Goths (Jessica Lange), who gets brought to Rome as a prisoner alongside Tamora and her sons after general Titus Andronicus' (Anthony Hopkins) victory against the Goths. A genius of manipulation and political orchestration, Aaron soon ingratiates himself into Roman society and begins to carry out a dastardly scheme to tear apart the Andronicus family.
Although "Titus" is a film too gruesomely violent and morally murky on all ends to have space for a proper "villain," Aaron is a purely and unabashedly evil character that he still stands out as the clear antagonist — and Lennix throws himself into the role with gusto. "Titus" itself was controversial as an adaptation. Still, Lennix's performance earned him widespread critical acclaim, not to mention a Chlotrudis Award nomination and a Satellite Award win for best supporting actor (via IMDb).
He was part of the star-studded cast of Ray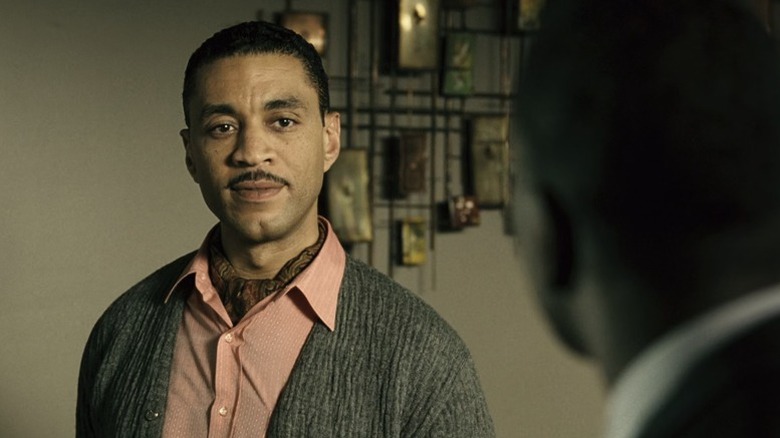 Universal Pictures
The musical biopic film has been ushering in something of a revival in recent years, with films like "Bohemian Rhapsody," "Rocketman," and "Elvis" having brought the genre back to the top of the box office. But, before that, there was a lull of several years in which films telling the life stories of famous musicians were not such a hot item. And before that, we had an earlier "golden age" of musical biopics in the early-to-mid-2000s — when films of the genre routinely became hits, won significant awards, and dominated the national conversation. Out of all such films of that era, the most iconic one may be 2004's "Ray," scripted by James L. White and directed by Taylor Hackford, which tells the story of Ray Charles.
The main attraction in "Ray," so to speak, was the seismic, career-redefining performance of Jamie Foxx as Charles, who won a well-deserved Academy Award for the role (via IMDb). But many actors around Foxx also made a strong impression in the star-studded film, one of which was Harry Lennix. Appearing relatively late in the movie, Lennix plays Joe Adams, the announcer and disc jockey who joins Ray Charles' tour and makes a series of controversial management decisions on his behalf, ultimately coming into friction with Ray's bandmates and even his longtime manager Jeff Brown (Clifton Powell), whom Ray eventually fires.
He starred on Dollhouse as Boyd Langton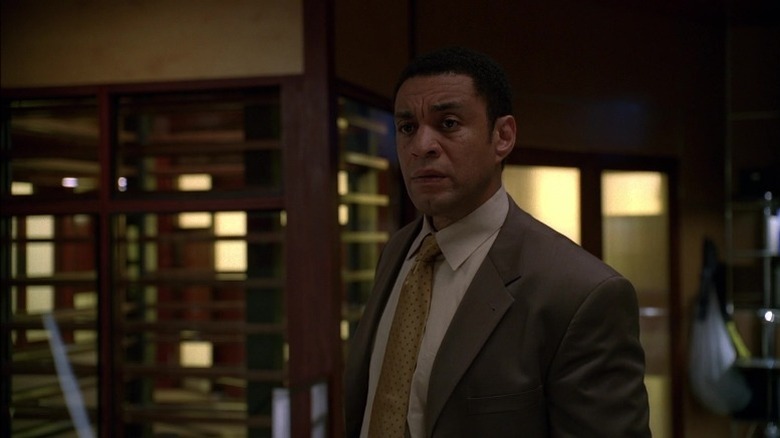 Fox
Even though it only lasted for two seasons, Fox's "Dollhouse" can still be cited as one of the most memorable network sci-fi series of the past couple of decades, thanks to its intriguing plotting, unique look, and mind-blowing concept. Set in a cyberpunk Los Angeles in an unspecified future, the series follows an organization known as the "Dollhouse," which erases the memories and personalities of people known as "dolls" or "actives" and rents them out to wealthy clients, imprinting customized characters onto each to suit the customer's needs. The actives have supposedly joined the enterprise voluntarily for five years while their original personalities are stored away on hard drives — but, of course, all may not be as it seems.
The protagonist of "Dollhouse" is Echo (Eliza Dushku), an active who begins to remember small bits of her "past lives" and subsequently develops an independent, wipe-resistant personality  — potentially placing the entire operation in jeopardy. But equally important to the series is Echo's handler at the Los Angeles Dollhouse, Boyd Langton, who Harry Lennix plays. A former cop with a foggy past, Boyd has moral qualms with the Dollhouse's activities and does all he can to keep them tethered to some semblance of ethics. Throughout the series, we learn that he is a much more complex and crucial character than he initially appears to be, thus giving Lennix plenty of opportunity to shine.
He's been playing Calvin Swanwick, a.k.a. the Martian Manhunter, in the DC Extended Universe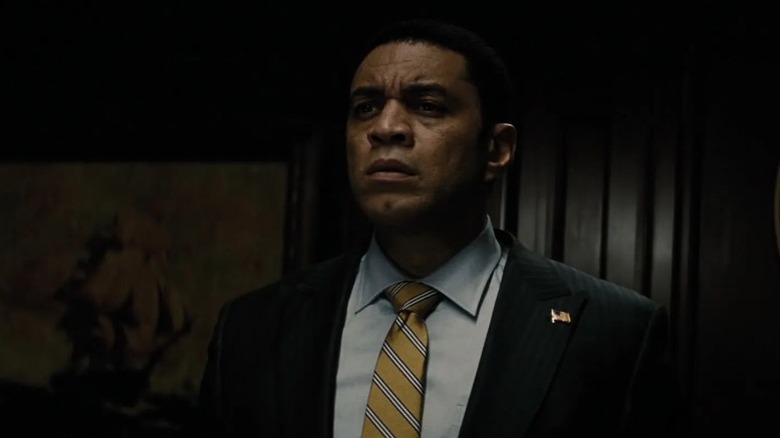 Warner Bros.
The most visible role in Harry Lennix's career may be that of Calvin Swanwick in the DC Extended Universe films. Introduced in "Man of Steel" as a lieutenant general and the deputy commander of the United States Northern Command, Swanwick has a memorable scene in the film that finds him interrogating Superman (Henry Cavill) while the Kryptonian is allowing himself to be held under custody by the government.
Between the events of "Man of Steel" and "Batman v Superman: Dawn of Justice," Swanwick gets promoted to Secretary of Defense. While initially antagonistic towards Superman and Lois Lane (Amy Adams), the character takes on a more sympathetic role in "Batman v Superman," becoming friends with the heroes and aiding them in the defeat of Lex Luthor.
Later it is finally revealed that Swanwick is, in fact, J'onn J'onzz, a.k.a. the Martian Manhunter, a fan-favorite DC Comics character. The last survivor of the Martian race, he has the power to shapeshift. He turns out to have been posing as a human and working in the U.S. Department of Defense to steer humanity toward doing good without having to step in and intervene directly. The ending of Zack Snyder's "Justice League" promises that the character will be much more directly involved in future installments — so look out for Harry Lennix to become an even bigger star.