The Most Disturbing Collections On Hoarders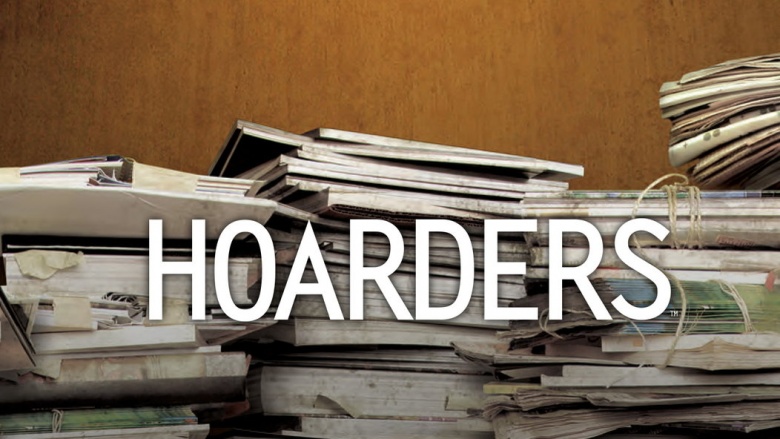 Hoarders remains one of A&E's most watched series, documenting the enormous struggles and treatment of real people suffering from compulsive hoarding disorder. The show walks a fine line, allowing viewers to rubberneck on the squalor and dysfunction of other people's lives while experts attempt to treat their conditions and create lasting change.
The show debuted in 2009 and launched its eighth season in January 2016, giving fans enough footage to start hoarding their favorite episodes. We've sifted through years worth of cases to bring you some of Hoarders' strangest scenarios.
The cat lady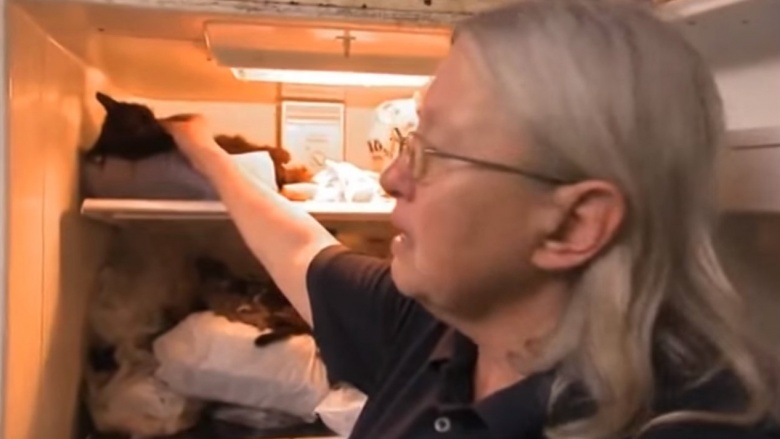 Terry hoards cats. When a crew in hazmat suits enters her home in Hanover, Illinois, they find about 50 felines living in so much feces that the resulting ammonia makes some of the kitties eyes pop out. She used to spay her adopted strays but ran out of money. As conditions worsened, the multiplying cats started dying of disease and neglect, but Terry truly believes she's doing something good. "I have this feeling in me that I'm helping save something," she says. It gets worse. Terry holds onto the deceased cats too—more than 100 corpses. According to Gawker, she keeps the carcasses (including cats, a cardinal, a bunny, mice, chipmunks, squirrels, and unidentified roadkill) in her fridge, hoping to eventually cremate them. In one of many nightmarish scenes during the episode, Terry snuggles with a kitten's corpse before placing it in the fridge.
Terry's family believes her problems stem from the sudden death of her father when she was a child and a misguided belief that she could have saved him. She originally had over four dozen cats at her home, and all but 18 had to be euthanized during the intervention, Gawker reports. The Hoarders team went in and cleaned up the house, cremated the dead cats, and helped her take an important step in letting go with an ash-scattering ceremony. Viewers are assured Terry will be monitored to make sure she doesn't start hoarding felines again.
Too many teddy bears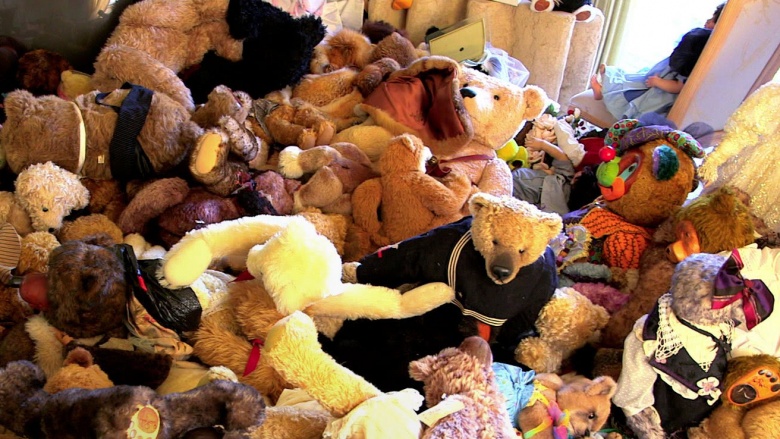 Did that last story make you want to curl up with a teddy bear and rock yourself to sleep? Fear not, we've got just the hoarder for you. Say hello to Jackie, whose 4,000 square foot house in San Francisco is stuffed with $1 million worth of teddy bears. Imagine wading through an ocean of snuggles. Jackie's collection is so massive, she thinks thieves are hiding in her den and kidnapping her most valuable bears.
Her teddy stockpile was bankrolled by the massive severance package she received upon leaving her career as a computer programmer, but the money has run out. Jackie's family called the Hoarders team to help reprogram her lifestyle. By the end of the show, the crew fills three trucks with teddy bears to be auctioned, concluding what Jackie calls, "the first day of the rest of my life." According to the episode's epilogue, she requests that all the bears be returned to her before the auction gets underway, but she does agree to continue therapy. If Mr. Burns could let Bobo go, so could you, Jackie.
Food hoarding goes Eggstreme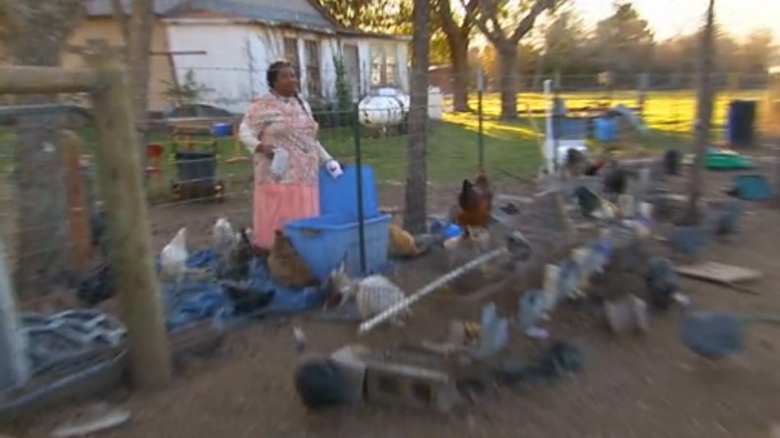 What came first in this hoarding scenario: the chicken or the egg? It's irrelevant once you witness the dire condition of Constance's mobile home in Texas. Her "fresh egg" business brings a new meaning to free-range animal husbandry. The chicken flock has overtaken her house, and rotting eggs lay unrefrigerated throughout. "Miss Connie" connects her hoarding to her impoverished childhood. "I know how to make food last a whole year if I have to," she says. A rotten egg is a rotten egg, no matter how much salt and pepper you put on it.
When Constance's trailer is deemed unlivable, the Hoarders team hatches a new plan. A nearby business donates and delivers a refurbished double-wide to her property. Though the experience was emotionally taxing for Constance, she told the Freestone County Times it was "a blessing in disguise." She has reportedly made tremendous progress through therapy, no longer hoarding eggs or allowing chickens inside her home, which is eggcelent.
Welcome to Randyland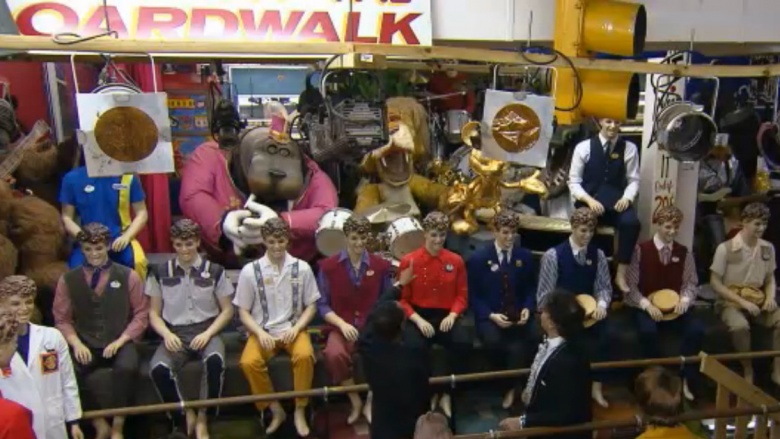 Walt Disney had Disney World. Milton Hershey had Hersheypark. Randy, from the beachside town of Wildwood, NJ dreams of "Randyland," his very own amusement park, featuring millions of dollars worth of hoarded boardwalk paraphernalia. His impressive collection includes thousands of wooden pinball machines, vintage arcade games, tickets, tokens, and an army of mannequins that have been made to look like their owner. Randy says his "Randys" will be the park's icons. Unfortunately, his collection takes up way too much of his living quarters.
The Hoarders team helps Randy move a portion of his assemblage to a space in Wildwood's Boardwalk Mall called the "Remember When Retro Arcade." Though opening a bigger attraction is still his dream, the arcade is a positive step in the right direction. While Randy's dream of spreading the fun of yesteryear to children and nostalgia to older folks is great, having an army of mannequins that look like you sounds like something a comic book villain would do to trick Batman.
Escaping the rat race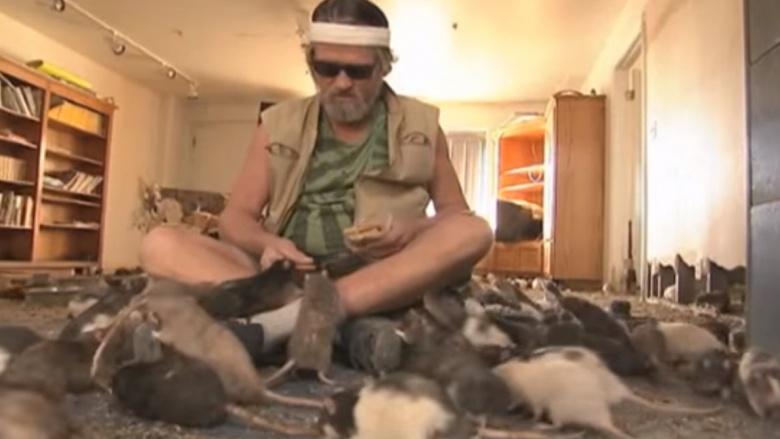 Brace yourself, the following recap is not nearly as light and entertaining as "Randyland." Glen of Llano, CA has a rat problem. Glen collected and bred so many uncaged rodents that he can no longer live in his home. He's retreated into a shed in his backyard. Of course, the shed has rats as well. He sleeps upright in a chair to keep the rodents from pulling out his hair to make nests. "They're in furniture, up in ceilings, in the walls, in the mattresses, everywhere," he says. "They're totally out of control." Over the course of the episode, the Hoarders team is touched by Glen's backstory and his willingness to accept help and make positive changes. Dr. Robin Zasio, a psychologist, determines the military veteran feels tremendous guilt, responsibility, and grief associated with his wife's sudden death from a heart attack in 1989. He began to view the rodents like family, but never intended to take it this far.
The Hoarders team partners with several rescue organizations to remove about 2,500 rats, finding new homes for the vast majority of them. The psychologist even adopts two. Glen is left with just two caged rats, Commander Whitehead and Captain Brown Bottom. A follow-up visit confirms that his recovery is going well, and his pair of pets has not multiplied. Though Glen's dilapidated home and weary heart need some repair, he's no longer stuck in a mousetrap.