Rory McCann On Game Of Thrones' Final Moment Between The Hound And Arya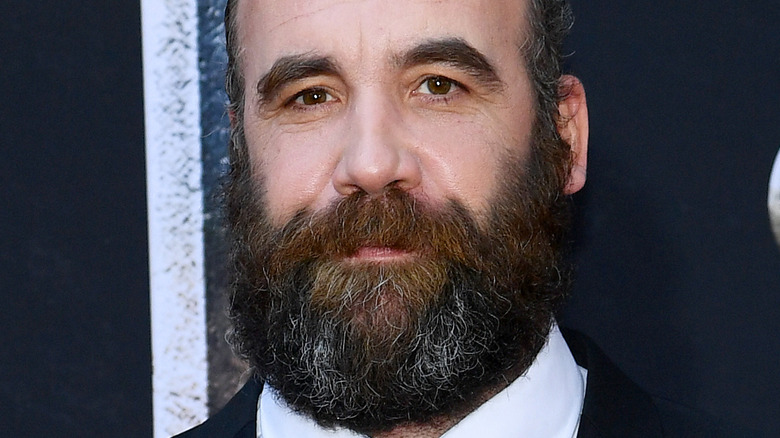 Dimitrios Kambouris/Getty Images
"Game of Thrones" fans were stunned by the fate of several beloved characters in the series' final season, including the villainous Queen Cersei Lannister (Lena Headey), her twin Kingslayer brother Jaime (Nikolaj Coster-Waldau), and the Mother of Dragons herself, Daenerys Targaryen (Emilia Clarke). Viewers were even more surprised by the character development of surviving characters and their new roles in the Seven Kingdoms, like Bran Stark's (Isaac Hempstead Wright) coronation as king. One delightful turn, though, was for the vicious savior of the realm, Arya Stark (Maisie Williams), who averted her own demise by walking away from revenge and instead choosing life.
After spending some time doing mystical assassin training overseas in Braavos, Arya returned to Westeros to execute her deadly new skillset. Her delicious butcheries of deserving enemies like Walder Frey (David Bradley), Meryn Trant (Ian Beattie), and the wormy Petyr "Littlefinger" Baelish (Aidan Gillen) were so satisfying. Arya's lack of remorse and her penchant for violence was elevated by her unlikely pairing with Sandor "The Hound" Clegane (Rory McCann). 
Though fans yearned for Arya to finally cross Cersei's name off her bloody kill list, many were relieved when she left the crumbling castle as Daenerys unleashed her dragon fire rampage. In a rousing speech, Sandor Clegane convinced Arya to live life better than he did. The Hound was consumed by revenge against his brother who christened him with his ghastly scar. In a stirring interview, actor Rory McCann shares his delightful experience working with Williams and his thoughts on Arya's fate.
Rory McCann has moving words for his reunion with Maisie Williams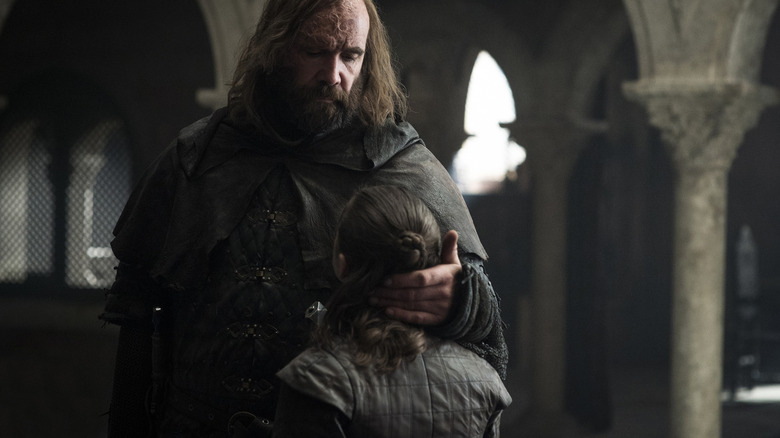 Helen Sloan/HBO
Actor Rory McCann reflected on his experience as Sandor "The Hound" Clegane with HBO, particularly his emotional moment with Arya Stark. He shared that he was delighted to see The Hound and Arya's heartwarming exchange after their characters parted ways in Season 4: "We've been on a hell of a road trip together. Arya's completely different from the little girl the Hound first met. There's a real respect for her. In that scene, there's a dragon above us, things are tumbling down, but he's trying to get one last message through to her: she doesn't need to live her life full of hate and anger, there can be another way. It's too late for the Hound, he's decided." His retrospection on his own life spares Arya from a grisly fate and sets her on a course of healing.
The actor continued by emphasizing how much he enjoyed sharing the screen with Maisie Williams: "Working with Maisie has been magical. I still can't quite believe that amongst all the politics of this big story we were almost allowed our little road trip on the side. It's definitely one of the happiest jobs I've ever had. I love working outside. So it brought back great memories working with her. She's a fantastic actress and she kept me on my tip-toes that's for sure." This is encapsulated beautifully in their final scene together as Sandor saves Arya's life and sets her on a course of healing and self-discovery.