Kumail Nanjiani Responds To Kingo Easter Eggs Hidden In The Guardians Of The Galaxy Holiday Special
The roughly 40-minute-long "Guardians of the Galaxy Holiday Special" premiered to streaming service Disney+ on November 25, effectively serving as the latest chapter in the Marvel Cinematic Universe's "Guardians of the Galaxy" franchise. Of course, rather than significantly complicate "Guardians" canon, as its title suggests the special is largely a Christmastime diversion, functioning as more of a fun-focused Marvel side story than plot-essential viewing.
Naturally, being that it's a Marvel product, the "Guardians" Christmas special is full of Easter eggs. For example, in a scene filmed on Los Angeles' Hollywood Boulevard, the Guardians pass by the iconic TCL Chinese Theatre, in front of which are the handprints of some real-life Avengers actors. Director James Gunn also included some DC Easter eggs in the "Guardians Holiday Special," seemingly in acknowledgment of his new job as one of the DC Extended Universe's architects.
Some viewers, meanwhile, may have noticed posters for a couple of movies starring Kingo, the Eternal portrayed by Kumail Nanjiani in the "Eternals" film. Just after the "Guardians" Christmas special premiered, Nanjiani himself happened to share what he thinks about the fact that his character pops up at a couple points in "Guardians" special's background.
Kumail Nanjiani thanked James Gunn for Kingo's pseudo-cameos in the Guardians Holiday Special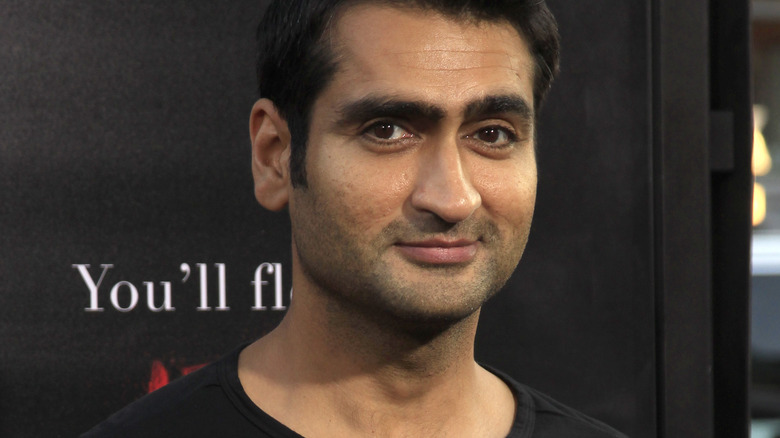 Kathy Hutchins/Shutterstock
Shortly after the "Guardians of the Galaxy Holiday Special" premiered on Disney+, Kumail Nanjiani shared his reaction to its inclusion of two Kingo posters. First, Nanjiani praised the special overall, tagging director James Gunn in his comments. Then, Nanjiani thanked Gunn for incorporating Kingo, quote tweeting a Thai Marvel Cinematic Universe fan account that shared images of the Kingo movie posters that appear in the special. "And a special thanks to him for including posters for TWO Kingo projects in there," Nanjiani wrote.
Ultimately, Kingo's inclusion in the "Guardians" Christmas special makes sense in spite of the character's complicated status after the events of "Eternals" — as "Eternals" reveals, Kingo is both a superhero and a world-famous movie star, suggesting filmgoers in the MCU would remain plenty interested in his movies no matter his presence or lack thereof in their world.
In a November 2022 interview with Collider, Nanjiani shared that's unsure of whether or not Kingo might turn up in a subsequent MCU film or TV show. Nanjiani feeling grateful for Gunn's decision to include Kingo posters in his "Guardians" Christmas special, then, makes perfect sense given his uncertainty about whether or not he might join the cast of an MCU project in the future.