12 Great Movies Like Home Alone That Are Perfect For The Whole Family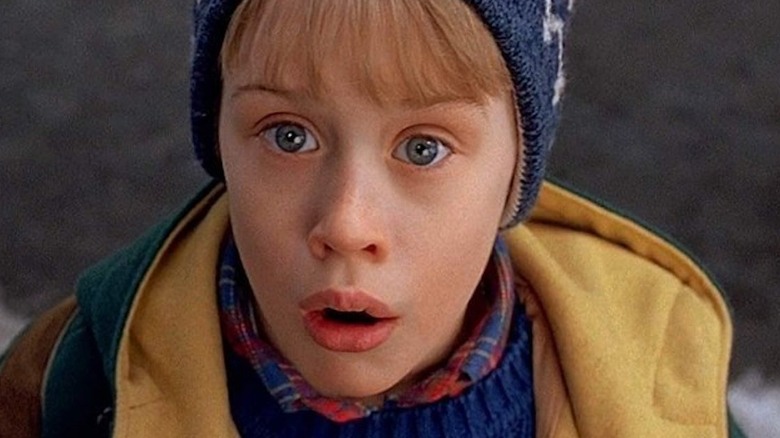 20th Century Studios
Every generation has its iconic Christmas classic, and "Home Alone" took the crown from "A Christmas Story" for an entire generation of children who grew up in the late 1980s and early '90s. Providing the signature role for young star Macaulay Culkin, the 1990 film was directed by Chris Columbus and written by John Hughes, whose coming-of-age movies in the '80s had to that point been focused on disillusioned teenagers. But Culkin instead played a precocious eight-year-old named Kevin McCallister, who wakes up Christmas morning to discover his family has left for vacation without him.
All alone with no supervision, Kevin is delighted and does everything an unsupervised kid would until he's suddenly confronted by a pair of bumbling burglars. Using his wits, his will, and plenty of homemade booby traps, it's up to Kevin to keep the crooks at bay, and by the time his parents return, audiences will be in stitches from wall-to-wall laughs, with plenty of moments full of Christmas spirit, too.
Since its 1990 debut, plenty of films have tried to recapture the magic of "Home Alone." While most have failed spectacularly, there are some movies that we'd recommend if you're looking for something new after your umpteenth viewing of the John Hughes masterpiece. We've wrapped up 12 of them that would be perfect for the whole family.
Uncle Buck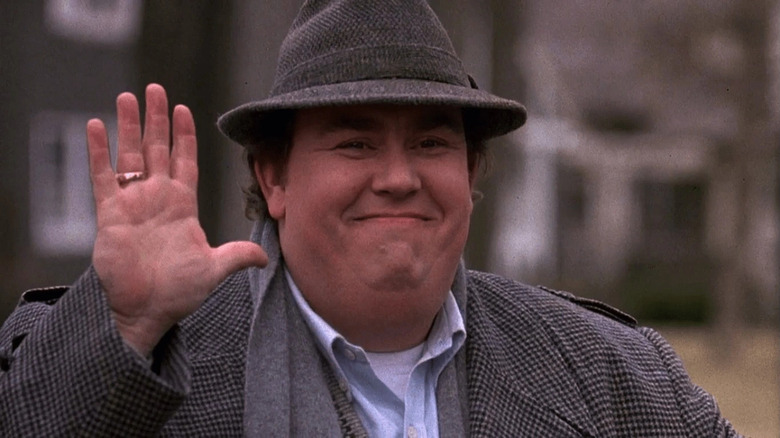 Universal Pictures
The breakout film for child star Macaulay Culkin, who'd turn around a year later and play Kevin McCallister in "Home Alone," is this 1989 classic was then a vehicle for superstar comedy legend John Candy. A light-hearted family film with a bit of an edge, it was directed and written by John Hughes — who also penned "Home Alone" — and continued his departure from the coming-of-age teen romance dramas he'd made earlier in his career. 
Candy stars as the eponymous Uncle Buck, an unemployed, chain-smoking, hard-boozing man. He drives an old broken-down Mercury Marquis Brougham, is something of a compulsive gambler, and struggles to keep his relationship with longtime girlfriend Chanice (Amy Madigan) afloat. Suffice it to say, Buck isn't the first person who comes to mind when brother Bob (Garrett M. Brown) and his wife need a babysitter. But when a family emergency strikes and he has no other options, it falls to the slovenly Buck to look after bitter teen Tia (Jean Louisa Kelly), smart aleck Miles (Culkin), and rambunctious Maizy (Gaby Hoffman).
Quickly cleaning himself up, Buck finds little Miles an unlikely kindred spirit on his arrival, and plenty of comical hijinks result as Buck takes the kids on adventures and helps them in their troubles. Eventually, even disgruntled Tia warms up to him. Over time, they grow closer as a family, and Buck himself even learns what he has to do to get his own life together.
The Christmas Chronicles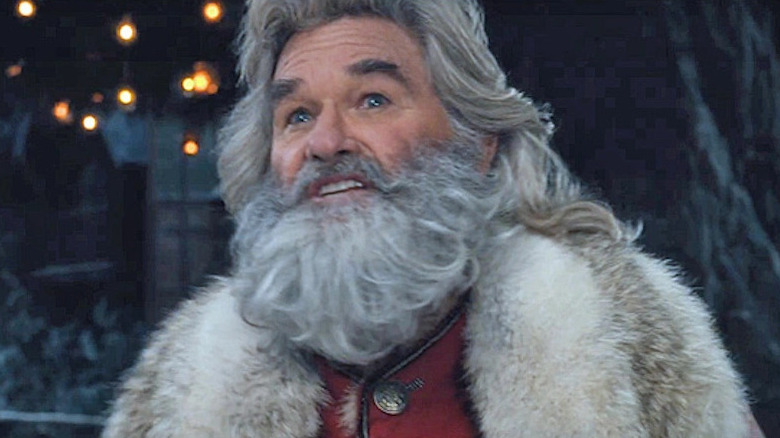 Netflix
It can be tough to craft a new Christmas classic, with so many brilliant holiday adventures in cinema's past. But one broke through in 2018, led by an unexpected choice for the role of Jolly Ol' Saint Nick: "The Christmas Chronicles," from Christopher Columbus, the director of "Harry Potter and the Philosopher's Stone" and, yes, "Home Alone." With his magical touch, the film delights with the same kind of effortless Christmas charm, in a story about some mischievous kids seeking Santa.
Released directly to Netflix, the story sees '80s action star Kurt Russell as a different kind of action hero, playing none other than Santa Claus himself. But as played by the former star of "Escape from New York," this Santa is not the kind, gentle, cuddly old fellow you may be expecting, but is instead a rugged, steely-eyed, fiery veteran adventurer. Normally, he goes about his business on Christmas undetected, but when a pair of mischievous kids are left alone on Christmas Eve, they are determined to prove he's real. 
Unfortunately, when they mistakenly hinder Santa's annual quest, it's up to the two youngsters to help him bring holiday cheer to the world. A charming kid-friendly adventure, it features one of the best movie Santas in recent memory, as only Kurt Russell could pull off, while the casting of his real-life wife Goldie Hawn as Mrs. Claus in the sequel was a stroke of genius. It received a sequel in 2020, and a third may yet be on the horizon.
Jingle All the Way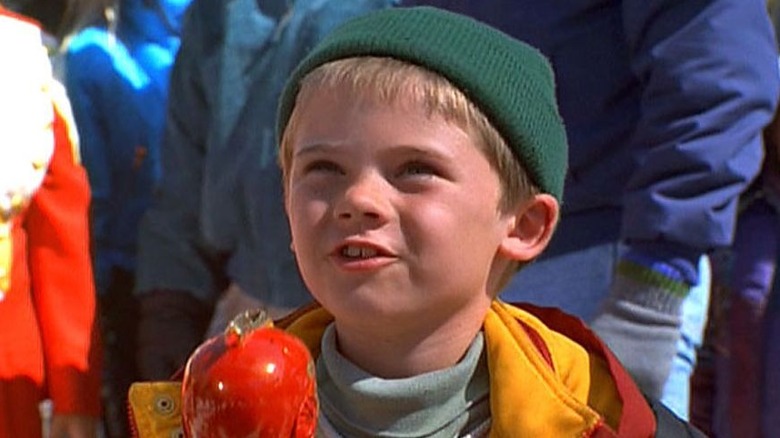 20th Century Studios
If after watching "Home Alone" you're looking for a different story about a quick-witted kid at Christmas, check out "Jingle All the Way," a movie that came more than half a decade later but has many of the same hallmarks, including rival adult troublemakers and a young boy caught in between. The film stars another superstar action hero, this time Arnold Schwarzenegger, who is following up on a string of successful comedies — including "Kindergarten Cop" and "Twins" — with some pure family-friendly holiday fun.
The former Terminator stars as Howard Langston, a dedicated father who is feeling a bit more distant from his family than he'd like. Burning the candle at both ends at work, Langston wants to make up for his absence at home by providing his son Jamie with the best gift he can, and that means getting him the hottest new toy on the market: the action doll Turbo Man. Though he doesn't quite understand the appeal, he knows that it's the hardest toy to find, and local mailman Myron (Sinbad) is his biggest challenger to get one in time for Christmas.
Along the way, Howard must also contend with neighbor Ted (Phil Hartman), who is trying to steal his wife (Rita Wilson), and all manner of shenanigans that threaten to unravel his plans for the perfect holiday. A movie full of over-the-top slapstick family fun, "Jingle All the Way" showcases a father willing to do just about anything to make his kid's Christmas special. 
The Goonies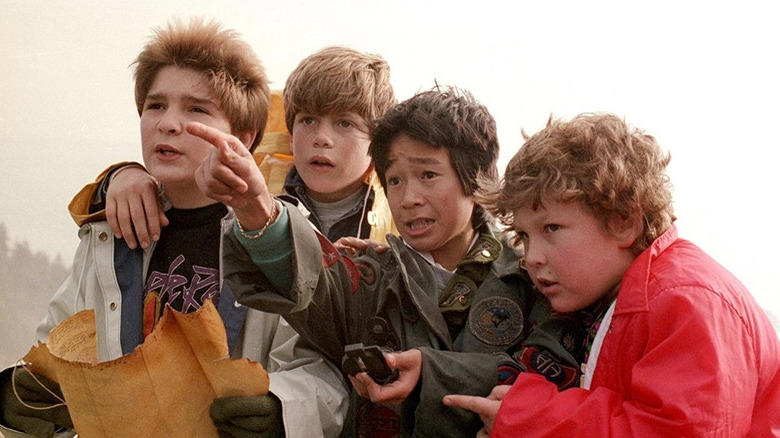 Warner Bros.
In "Home Alone," Kevin McCallister is left to his own devices, and like any kid decides to play grown-up... until some nefarious crooks come calling. The '80s adventure "The Goonies," penned by "Home Alone" director Chris Columbus, is of the same vein and revolves around a group of kids on their own and forced to contend with some rotten criminal miscreants. It may be without the holiday cheer, but fans of the Culkin classic will find the same sense of fun, with a little mystery and suspense thrown in for good measure.
"The Goonies" centers on four best friends: the good-natured Mikey (Sean Astin), wisecracking Mouth (Corey Feldman), geeky Data (Ke Huy Quan), and the bumbling Chunk (Jeff Cohen). When a series of foreclosures threatens to force them and their neighbors from their homes, they set out on a quest to find pirate gold that can save them, rumored to be buried in a hidden cove. But when they are confronted by a group of diabolical thieves, led by the nasty no-good nick Mama Fratelli (Anne Ramsay), the kids — along with Mikey's older brother (Josh Brolin) and his two friends (Kerri Green and Martha Plimpton) suddenly find themselves in a fight for their lives.
A mix of "Indiana Jones" and "Home Alone," this coming-of-age favorite throws in some spooks and scares on top of the family-friendly excitement. Like Kevin, this group of middle-class suburbanites must use their wits and their will, but this time there's a horde of treasure on the line.
Adventures in Babysitting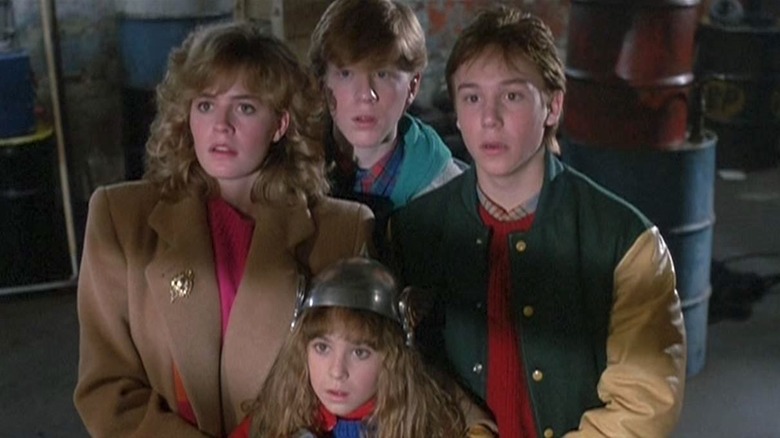 Buena Vista Motion Picture Distribution
There seems to be a running theme in movies from "Home Alone" director Chris Columbus. From "Home Alone" to "The Goonies" and even his "Harry Potter" installment, many are centered on some kids left to battle grown-up baddies on their own. And those weren't the only ones, either, because Columbus also directed the 1987 family favorite "Adventures in Babysitting" — another kid's adventure movie that pits a group of kids against some sinister crooks after their parents leave them on their own. 
This time it's teenaged Chris Parker (Elizabeth Shue), a 17-year-old high schooler who is strong-armed into babysitting eight-year-old Sarah (Maia Brewton). Not wanting to miss out on a night of fun, though, Chris drags Sarah along on her night on the town. But when Sarah's brother Brad (Keith Coogan) and his best friend Daryl (Anthony Rapp) tag along and their car breaks down, the real trouble begins. While romantic tensions are inflamed when Chris catches her boyfriend Mike with another girl, they also get caught up with a gruff mechanic (Vincent D'Onofrio) and an elaborate auto-theft operation that puts them all in danger. 
Full of humor, heart, and a surprising amount of action and suspense for a kid's film, "Adventures in Babysitting" is one of the '80s most underrated movies. It's also D'Onofrio's first time playing a Marvel character of sorts as his mighty hammer and long blonde hair see him mistaken by Sarah as the "Avengers" hero Thor.
Polar Express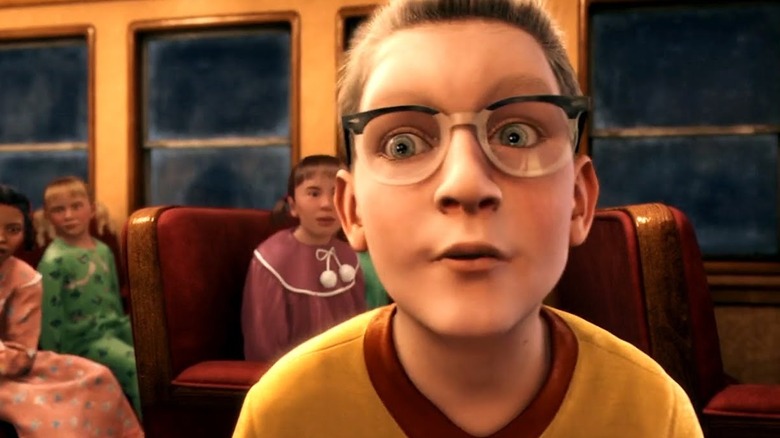 Warner Bros.
Like Christopher Columbus and John Hughes, who joined forces to make "Home Alone," filmmaker Robert Zemeckis established himself as a first-rate producer of family adventures. Between "Back to the Future" and "Romancing the Stone" in the 1980s, and "Forrest Gump" in the '90s, Zemeckis proved he could craft a stylish romp and could push the limits of VFX doing it. In 2004, he'd do it again, with the Christmas family adventure "The Polar Express," based on the best-selling children's book of the same name.
Using cutting-edge motion capture technology and a fully CGI-created world, "The Polar Express" took movie-goers on a wondrous adventure. A modern holiday extravaganza, it opens just before Christmas with a young boy who has grown disillusioned with the winter holiday, and whose belief in Santa is waning. But on Christmas Eve, his house in Michigan becomes the next stop for the titular Polar Express, a magical train with a kind conductor (Tom Hanks), who invites him on a trip to the North Pole to visit Santa Claus himself.
During the boy's long, eventful journey, he learns to see past his cynicism and rediscover the joys of Christmas. Though the digital trickery may look dated today, "The Polar Express" captures the true spirit of the holiday season and is a story that will make anyone believe in magic.
Curly Sue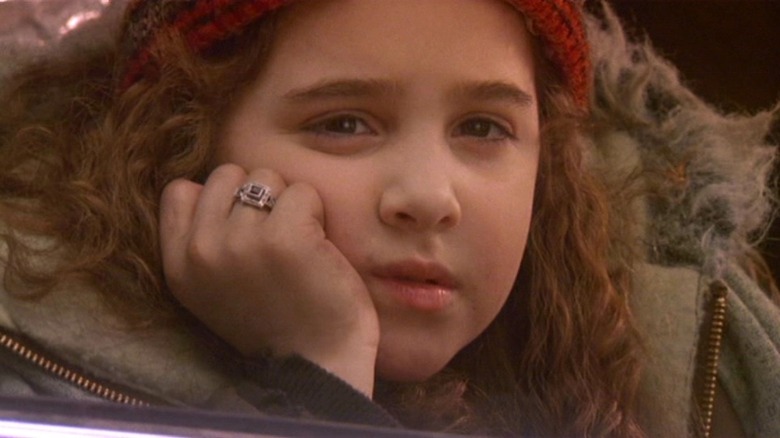 Warner Bros.
One more movie about an upstart kid, and that means another John Hughes caper. This time it's the 1991 comedy "Curly Sue," starring James Belushi, Kelly Lynch, and Alisan Porter as the title character. But this one takes a different route, with the precocious youngster not on her own, but accompanied by her shady foster-father Bill (Belushi). This dynamic duo is a pair of homeless con artists, who get by through small scams that pay for their food and shelter. They're not all bad, but they're definitely not on the up-and-up, faking accidents to get passersby to pay their way.
Their latest target however is Grey Ellison (Lynch), a wealthy attorney they meet after arriving in Chicago. Bill tricks her into buying them food, but when he's injured for real, Ellison puts them up in her home while he recovers, and the three soon become unlikely friends. But when Grey learns that Curly Sue cannot read or write, she implores Bill to let her take custody of her, and Bill reluctantly realizes that his daughter needs a real home. Throwing a spanner into the works is Ellison's hot-to-trot fiancé Walker, who rats the crook Bill out to the authorities, which gets Sue thrown into welfare.
An earnest family rom-com, "Curly Sue" is cute and hard not to like. If you're familiar with John Hughes' movies, you'll likely find this one just as endearing, even if it follows the same blueprint as many of his other movies.
All I Want for Christmas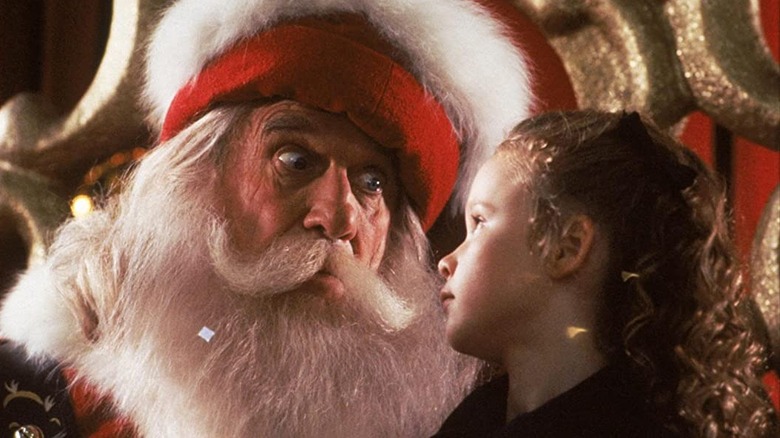 Paramount
A charming holiday adventure, the 1991 family film "All I Want for Christmas" mixes together "Home Alone" with "The Parent Trap" and a little bit of "Miracle on 34th Street" for good measure. The movie stars young a pair of young actors, Thora Birch and Ethan Embry, as two dispirited kids at Christmas time. Harley Jane Kozak and Jamey Sheridan are their divorced parents, and Kevin Nealon is their grouchy new stepfather figure. 
It's just about Christmas, and with their two estranged parents coming together to join them for the holidays, Ethan (Embry) and Hallie (Birch) have only one wish for Santa Claus (played by comedian Leslie Nielsen): They want their parents to get back together. But they can't ask for help from any store Santa, they have to find the real one... the one at Macy's. Now, with the help of a little Christmas magic — and a little bit of family-friendly kidnapping — the two kids come up with a plan to get mom and dad back together.
Though it's a bit more saccharine than "Home Alone," the kids' street-wise attitudes and daring plan will recall shades of Kevin McCallister, and their childish antics are just as laugh-worthy. So if you want something with even more Christmas spirit — and a visit from Santa Claus himself — "All I Want for Christmas" delivers.
Planes, Trains, and Automobiles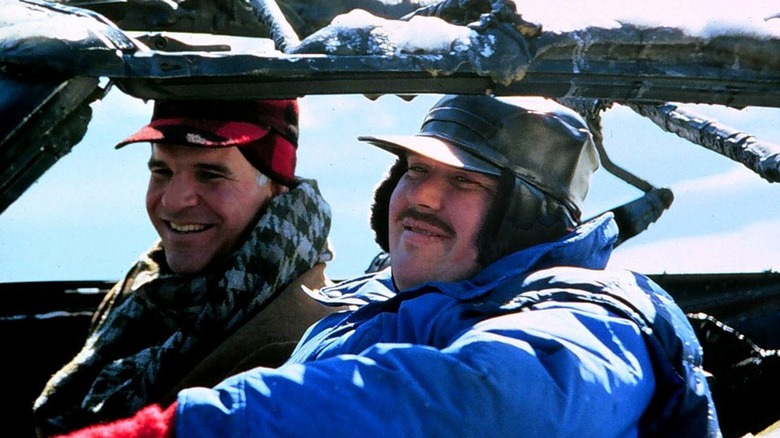 Paramount
Let's hop back aboard the John Hughes for "Planes, Trains, and Automobiles." The 1987 comedy saw the "Home Alone" screenwriter moving beyond the popular teen coming-of-age stories in films like "Ferris Bueller's Day Off," "Pretty in Pink," and "The Breakfast Club," with a story of a bitter, disgruntled adult. It also brought him together with a pair of '80s comedy legends: Steve Martin and John Candy.
Switching out Christmas for Thanksgiving, the film is the story of a high-strung businessman named Neal Page (Martin) who's on a trip to New York for work. But with the holiday fast approaching, he'd like to get home to the family quickly, but a series of circumstances conspire against him, with an annoying, slovenly stranger named Del Griffith (Candy) constantly slowing him down. Eventually, they wind up next to each other on the flight to the Windy City, and yet another series of mishaps leaves them stuck together for good. Now they find themselves going from a plane to a train, to an automobile in an effort to get home, and nothing seems to go their way.
While there's no mischievous tyke this time around, "Planes, Trains, and Automobiles" has all the same kinds of humor and heart as "Home Alone." A classic mismatched buddy story, it features two world-class comics who fill the screen with wall-to-wall holiday laughs, and has become as much a Thanksgiving classic as "Home Alone" is for Christmas.
Jumanji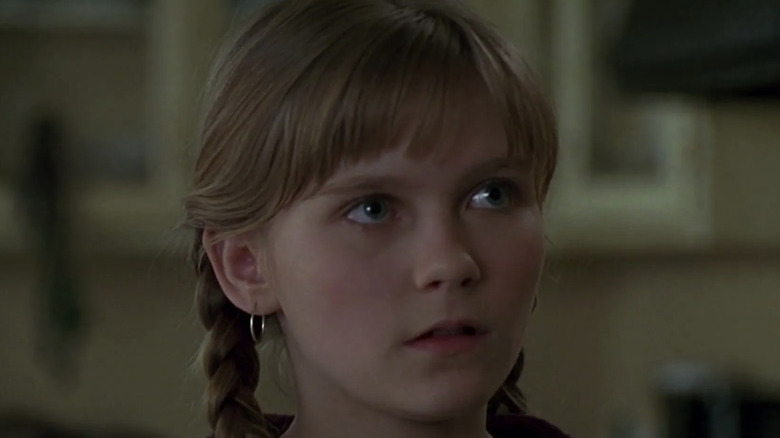 Sony Pictures Releasing
"Home Alone" is a quintessential kid's adventure, and just five years later, "Jumanji" followed it as one of the '90s best. Based on a book of the same name, it featured a cast led by Robin Williams, Kirsten Dunst, and David Alan Grier. It tells the story of a mystical and mysterious board game called "Jumanji" that transports players into a magical fantasy world where they must fight for their lives and brings forth dangers into the real world too.
It all starts in the 1960s when a young Alan Parrish (Adam Hann-Byrd) discovers the game and is inadvertently pulled into a strange new world where he becomes trapped for decades. 30 years later, a new family, the Shepherds, moves into his old home and young Judy (Dunst) discovers the Jumanji game Alan left behind. She plays the game with her brother Peter (Bradley Pierce), and unwittingly releases Alan (Williams), who is now all grown up. But in playing, they've also released a horde of deadly threats into the real world too. 
To set things right, they'll need to recruit Alan's old friends Sarah (Bonnie Hunt) and Carl (Grier) to defeat a dastardly hunter (Jonathan Hyde) from inside the game. A fantastic other-worldly adventure, "Jumanji" was a big hit in 1995, collecting over $250 million at the box office thanks to its incredible special effects and high-stakes adventure. 
Little Monsters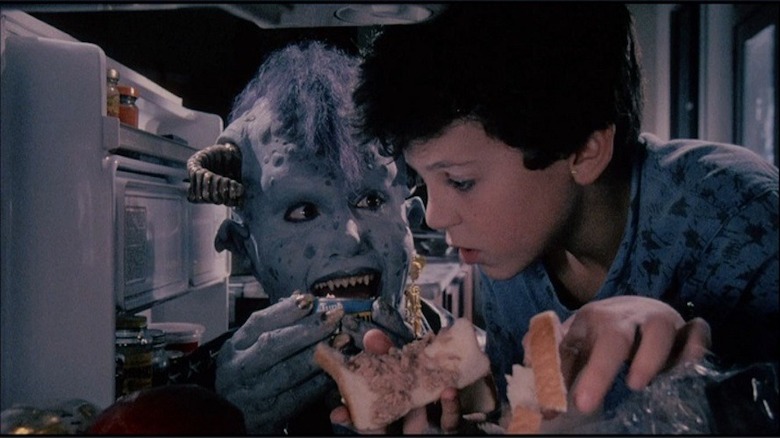 United Artists
If there was a major child star any bigger than Macaulay Culkin in the late '80s and early '90s it would probably be Fred Savage. The young actor came to fame off the back of the hit ABC family sitcom "The Wonder Years," though he'd already had a couple of big screen hits like "The Boy Who Could Fly" and "The Princess Bride." A year after making his debut on his new series though he starred in a wild and zany kid's adventure, the dark fantasy comedy "Little Monsters."
In the film, Savage stars as Brian Stevenson, who like many kid heroes on this list goes off on an adventure without his family. But instead of facing off with burglars, he travels into a fantastic realm of the bizarre, guided there by Maurice, an outcast creature that lives under his bed and frequently comes out to eat Brian's homework and get him into all sorts of trouble. Alongside Maurice, Brian discovers the nether region to be a wonderland where no parents can tell him what to do. And with the guidance of his blue-skinned, two-horned friend, Brian soon becomes his own boogeyman, causing havoc in the lives of his school rivals... and accidentally getting his school crush Kiersten (Amber Baretto).
 Decades before Pixar's "Monsters Inc," the wild world of monsters was explored in "Little Monsters," a dark comedy that will keep the little ones on the edge of their seats.
Dutch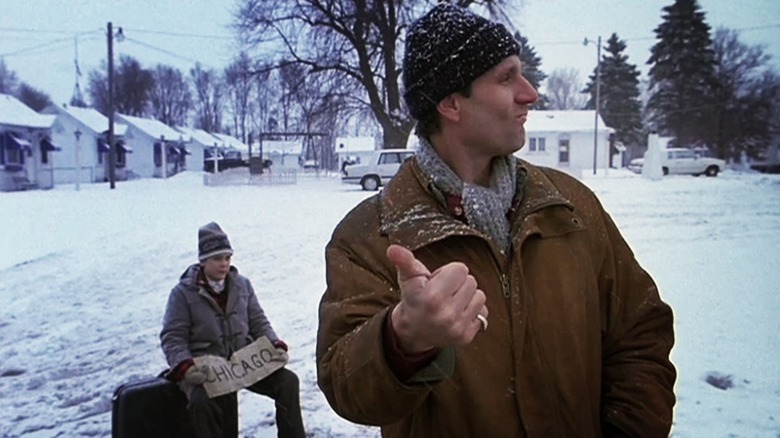 20th Century Studios
There may be no bigger sitcom star from the late '80s and early '90s than Ed O'Neill, who played family patriarch Al Bundy in the outrageous Fox sitcom "Married... with Children." In 1991, he'd be recruited to play the title role in the John Hughes-penned film "Dutch," playing a similarly working-class father, this time to young actor Ethan Embry. Like "Home Alone," this is a story set around a major holiday, and featuring a bratty youngster who goes on a crazy adventure.
O'Neill is Dutch Dooley, the ill-mannered husband to the once-divorced Natalie (JoBeth Williams) and the new father figure to her son Doyle (Embry), who's still not over his parents' divorce. But when Doyle needs to get from Chicago to Georgia for Thanksgiving, Dutch takes it upon himself to pick him up by car and uses the road trip back as a way to overcome his differences with his new girlfriend's son. The snobby snot Doyle, however, is not interested and goes out of his way to make Dutch's journey a living nightmare. Through a series of comical misadventures, though, the mismatched pair eventually do find common ground.
A madcap holiday affair, "Dutch" is basically "Home Alone" if the burglars were related to Kevin, and stuck on the road together. But the real star is the chemistry between O'Neill and Embry, which makes it a family adventure worth watching. (Fun fact: The two actors would re-team later on in their careers as police partners in the 2003 crime comedy TV series "Dragnet.")