Reese Witherspoon, Kerry Washington To Star In Little Fires Everywhere TV Series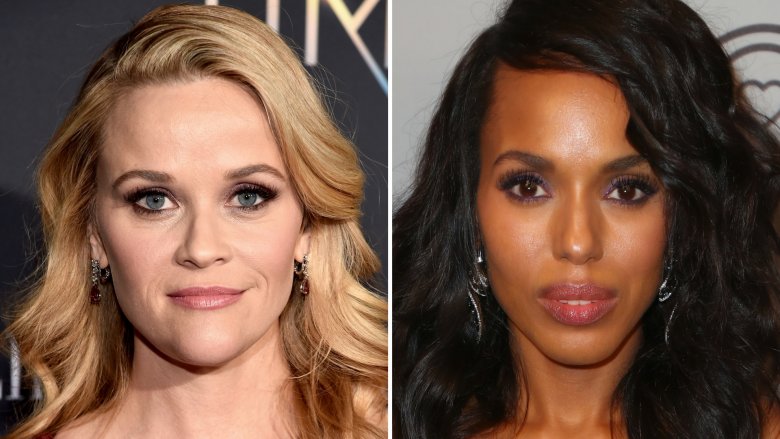 Getty Images
Reese Witherspoon and Kerry Washington are teaming up to take a buzzy book to the small screen. According to The Hollywood Reporter, the pair are set to star in and executive produce a TV adaptation of Celeste Ng's novel Little Fires Everywhere.
Little Fires Everywhere takes place in the small, wealthy town of Shaker Heights, Ohio, which is rocked by the controversial adoption of a Chinese-American baby. Like Witherspoon's popular HBO series Big Little Lies, Little Fires Everywhere starts with a mystery, begging the question of who set a local house on fire. The book was a New York Times bestseller and was named the best book of 2017 by NPR, Amazon, Barnes and Noble, Entertainment Weekly, The Guardian, Buzzfeed, Esquire, The Washington Post, and more. The novel was the September pick for Witherspoon's book club.
The series has not been set up at a network yet, but multiple premium cable networks and streaming services are said to be bidding on the project. The high-profile series has reportedly brought in execs across the board to Witherspoon's Hello Sunshine production company offices, with the company said to have tabled multiple offers already with the goal of hearing everyone out before making a decision. The show will be executive produced by ABC Signature Studios.
Liz Tigelaar will write the script for the series and serve as the executive producer and showrunner. Tigelaar got her start as a writer on Dawson's Creek and has since written episodes of Brothers and Sisters, Melrose Place, Once Upon a Time, Revenge, Nashville, Bates Motel, The Astronaut Wives Club, and Casual. She also created the CW drama Life Unexpected.
There is no word yet on who Witherspoon or Washington will play in the series. Witherspoon has been very busy recently, earning an Emmy win for producing Big Little Lies and starring in the upcoming Disney blockbuster A Wrinkle in Time. Witherspoon is also working on a morning show drama for Apple with Jennifer Aniston and is executive producing a number of other series for the streamer.
Washington, meanwhile, is wrapping up her seven-season run on the ABC drama Scandal, which earned her an Emmy nomination in 2013 and a Golden Globe nomination in 2014. Washington earned another Golden Globe nomination in 2017 for her appearance in HBO's TV film Confirmation, which she also executive produced. Washington also serves as an executive producer on the Facebook series Five Points.
Pilar Savone and Lauren Neustadter are also set to executive produce the series, while Ng will serve as a producer. There is no word yet on a potential premiere date for the series.