The Ending Of Death Wish Explained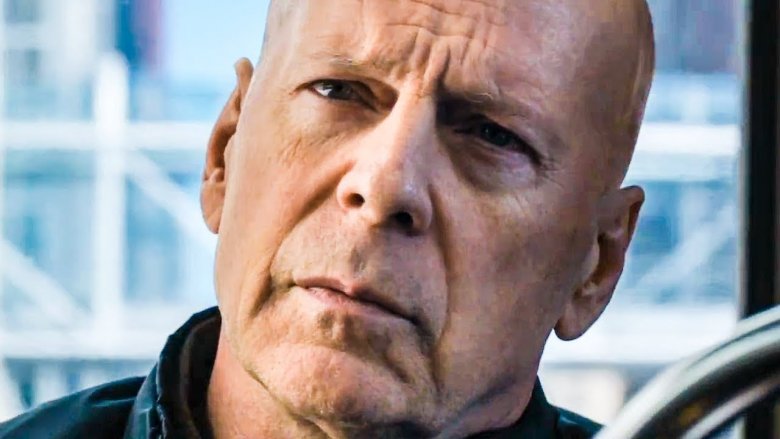 At its heart, Death Wish is a story of revenge, vigilante justice, and a peaceful man pushed to the edge. Bruce Willis plays Dr. Paul Kersey, a surgeon who forges a bloody trail of retribution after burglars put his daughter in a coma and his wife in the morgue. After his first vigilante act, the media labels him the Grim Reaper, a controversial hero who's cleaning up the streets of Chicago, one carjacker at a time.
What comes next is a fairly straightforward tale of revenge, with one bad guy after another falling before the unstoppable force that is Angry Bruce Willis. In a way, it feels like director Eli Roth's take on a superhero — no costumes, no inspirational catchphrases, just lots of blood and exploding heads.
While most of the movie progresses in a linear path, the ending of Death Wish left a few things up to interpretation. Here's what it all meant. Spoilers ahead.
Parental restraint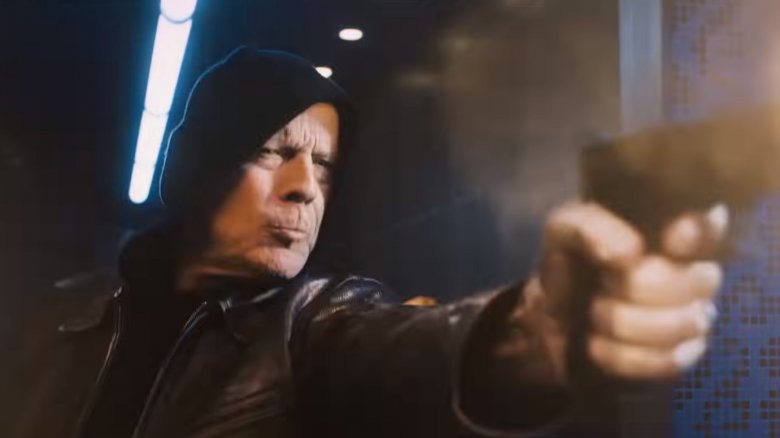 After spending weeks as the Grim Reaper, Dr. Kersey finally tracks down and puts an end to all of his wife's killers — all except one, that is. Knox, the mysterious, psychotic gunman, winds up in the hospital after the nightclub shootout. There, he's more than happy to describe the Grim Reaper to the police, which sends them straight to Kersey's door.
So when Kersey and Knox meet in the hospital elevator, it seems strange that Kersey acts like he doesn't know the guy. In reality, he's probably wound up tighter than a clock spring. He's only playing dumb to keep his daughter, Jordan, from knowing that this is the man who shot her mother. Coming out of a coma and hearing that news is tough enough. No 17-year-old kid wants to know they had a pleasant (if a little awkward) conversation with that killer on the trip down to the lobby. But Kersey obviously knew the whole time, because immediately after getting Jordan home, he jumps into action.
Ready to stop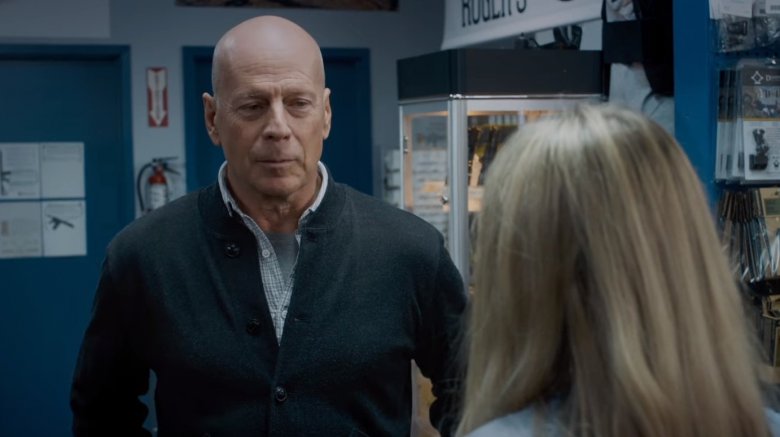 Kersey obviously got a thrill out of playing vigilante, even when he was going after random criminals who had nothing to do with his wife's death. The guy smiles every time someone on the radio calls him a hero. He loves it.
With Jordan out of the hospital, though, even he knows it's time to put an end to the Batman charade. You may have wondered why he decided to go to the gun store and legally purchase more guns when he had a perfectly good hand cannon already, but that was the whole point: He knew Knox would come back for him, and he was planning to deal with the police — and bring closure to the whole thing — after the final confrontation. It'd be pretty fishy if he shot up his intruders with a dead man's Glock.
With a perfectly legal paper trail, the police would have no reason to think he's anything more than a concerned dad protecting his home. But of course, they do think he's more than that...
Gone for good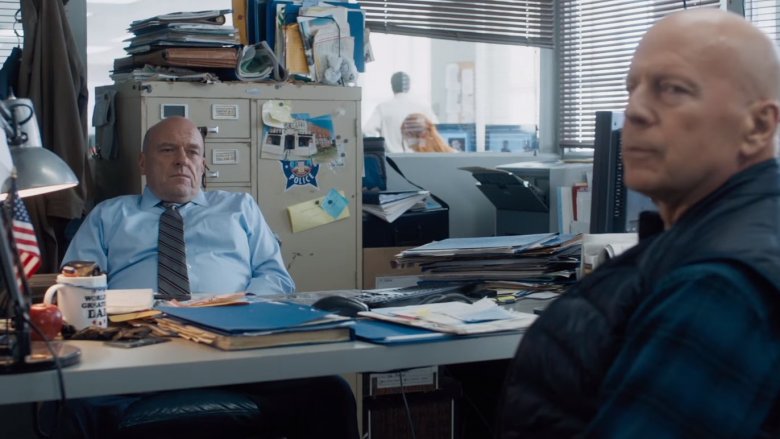 So the shooting's all done, the bad guys are packed on ice, and Detective Raines (Dean Norris) is cruising around looking for answers. We've been waiting for this part the whole movie — Raines was definitely going to figure out that Kersey was the Grim Reaper, but the question was always whether he was going to be a dutiful cop and put Kersey in cuffs, or whether he was going to hint that he knew, wink wink, and look the other way.
Well, we got a definitive answer to that question, but it came in such a vague way that some viewers may have missed it. When Raines is questioning Kersey about his legal guns, he asks if Kersey ever had a Glock. Kersey answers that he had one, but he got rid of it. "For good?" Raines asks. "For good," Kersey replies.
In other words, Raines knows everything. If you remember, the gun Doc K got from the dead thug's body was a Glock. That's the same gun he uses the whole movie to cap all those criminal fools. After this conversation, Kersey and Raines both know that the other also knows, and they're both cool with that. Because that's the moral of Death Wish's story: vigilante justice is a good thing, kids.
Tactical table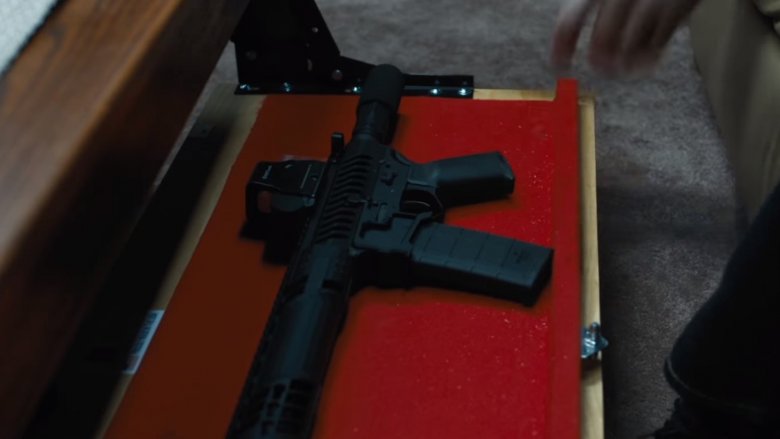 This week's deus ex machina comes from a surprise source — tactical furniture. Right at the moment when Knox is about to shred Paul Kersey on the couch, Knox gets distracted by Jordan's shouts upstairs. Just for a second. But it gives Kersey enough time to kick his coffee table and unlock the secret drawer containing the secret assault rifle, which he then uses to look for gold inside Fort Knox.
You may have been wondering: Where the heck did Kersey get a machine gun table? Well, that goes back to the commercial for the gun store that Kersey watches near the beginning of the movie, when Heather the friendly sales lady points out their collection of "tactical furniture." Apparently, Kersey went all out to safeguard his house, up to and including preparing for the off chance that he'd need to mount a surprise attack while sitting on the sofa in his basement. Hey, you can never be too prepared.
Done not done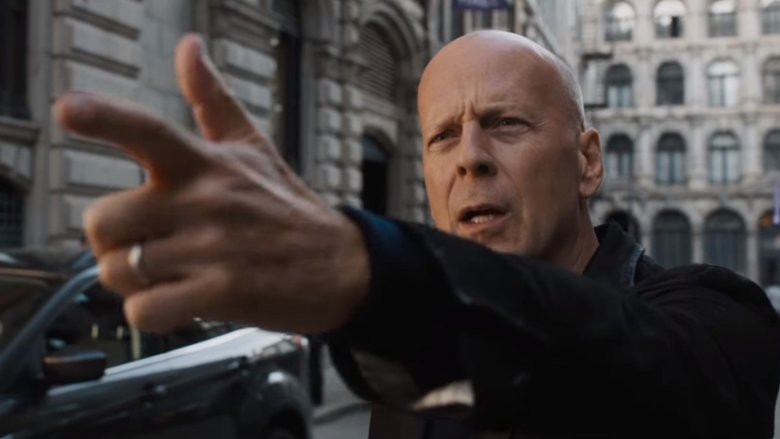 Even after his heart-to-heart with Detective Raines about putting that Glock away forever, Kersey still has a little bit of vigilante left in him. Just a little crumb, stuck to the special place in his heart. The movie ends on Kersey watching a thief take off with someone's luggage. Kersey calls out to him, then levels his finger at the guy, and "Bang!," he drops the thumb hammer on his hand gun. And he does it with a smile.
He lets the thief get away this time (because...okay. Don't call the cops or anything...), but let's face facts here: He's going home to an empty house, with no wife and no daughter, and only the sweet, sweet memory of laying down citizen justice on drug dealers and murderers. Kersey calls out the luggage thief to tell him one specific thing via symbolic subtext: "You're next." Once a vigilante super surgeon, always a vigilante super surgeon.