Deadliest Catch's Sig Hansen Officiated Jake Anderson's Wedding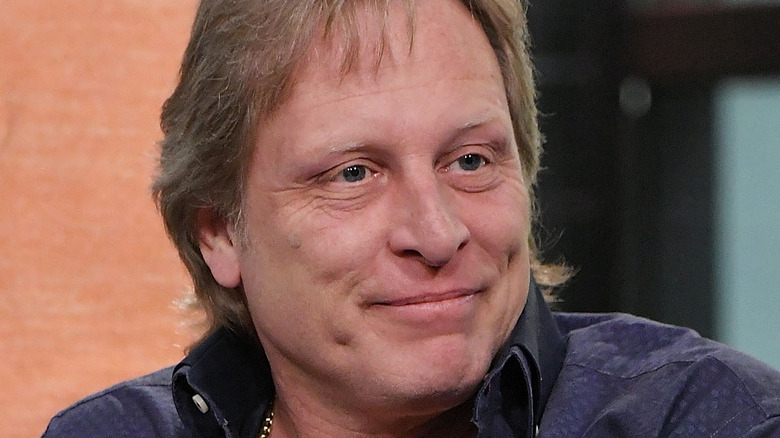 Mike Coppola/Getty Images
We may receive a commission on purchases made from links.
One of the biggest draws of Discovery Channel's long-running reality series "Deadliest Catch" is the captains of the various fishing vessels. These ships compete with one another as they take to the open seas to catch the crabs that make up their precarious livelihoods, bringing a definite prickliness to their crews' relationships. 
There's also a level of camaraderie, though — after all, this is a dangerous job that requires a certain type of personality to be able to thrive in it. Nowhere can you see this dynamic more clearly than with one of the show's OG captains, Sig Hansen, and Jake Anderson, his former protege who later became a captain of his own. 
When Anderson was a member of Hansen's crew, he more than once used terminology associated with family to refer to his relationship with his captain. "I love you like a dad," he told Hansen in a May 2013 episode of the series. This makes it no surprise that Hansen officiated at Jake Anderson's wedding. However, it makes it very sad that the two, in recent years, have shown less of a desire to mend fences.
Jake Anderson married in 2012 and has three sons
Jake Anderson is a colorful character who has experienced many setbacks in his life, including the deaths of his sister and father, both of which occurred during his time on Sig Hansen's F/V Northwestern (via Distractify). He has struggled with addiction, a battle he detailed in his autobiography, "Relapse." 
Of course, life has also brought him good things. In 2012 he married Jenna, a woman he met during a festival in Seattle. Heavy.com, quoting a now-defunct news source, says that Anderson explained the meeting like this: "I was doing shipyard duty, and they had a festival going ... All these people were coming up to get autographs. I had just walked out, and Jenna came up. Her family had jumped off the boat to come and get autographs from us. I autographed [a note to her], 'You're beautiful.'"
Jenna's nieces persuaded her to go back and give Jake her number. During this time, Anderson was living on the boat trying to save money, but the two started calling one another — and the rest is history. The two have since had three children, all boys: Aiden (born 2015), Cadence (born 2017), and Luka (born 2020, according to Distractify).
Anderson told Hollywood Soapbox in 2015 that being a father had given him a new perspective on his work. "I can't do a lot of things that I used to do so freely," he said. "It [being a father] really pushes me to further my career in the wheelhouse, any wheelhouse ... It's so dangerous, and it's so hard on my wife and my [children] that I'm actually really scared."
The wedding happened during a period when Hansen and Anderson were still close
The wedding of Jake and Jenna Anderson took place in 2012. At that time, Anderson was still a crewmate aboard the F/V Northwestern, so his relationship with father figure Sig Hansen had not yet soured. That meant that Hansen acted as officiant at the wedding, according to a post on the official Cornelia Marie Facebook page. While most of the pictures appear to be gone, images from the wedding posted to Twitter by fellow "The Deadliest Catch" castmates, including Mike Fourtner, appeared to confirm this fact.
Of course, fans eventually got to see the wedding themselves on the season 8 finale episode "The Bitter, Bloody End." "Jake Anderson, when he got married, that was a big moment," said Hansen (via TV Insider). Hansen joked that it was the only wedding he had ever attended that had hecklers.
However, it has now been more than 10 years since that moment happened. Anderson, no longer a crew member on the Northwestern, is now captain of his own ship, the F/V Saga. And, at least on screen, his relationship with Hansen is much pricklier than it used to be. Nevertheless, it's clear that Anderson has always felt that his career was shaped by Hansen and he owes much to his former mentor. "Every day on the Northwestern was the happiest day of my life," he said in 2016.