Disney Almost Removed The Little Mermaid's 'Part Of Your World' From The Film's Final Cut
Walt Disney Studios
In 1989, after many years of box office disappointments with Walt Disney's Feature Animations, "The Little Mermaid" swam into theaters and kicked off the Disney Renaissance. There wasn't much hope for the animated film before its release due to the studio's other 1980s feature-length cartoons, but the efforts of CEO Michael Eisner and studio head Jeffrey Katzenberg were finally about to pay off after five years of reimagining the company (via The New York Times). The story of mermaid Princess Ariel and her yearning to become a human and live freely on the surface world took what was best of past Disney animation combined with the sleek and energetic musical numbers and original songs we have come to expect from the studio.
In fact, "The Little Mermaid" was in many ways a musical since so many songs were incorporated into the narrative as the story went on. Tracks such as "Under the Sea" by Alan Menken and Howard Ashman, which won the 1990 Academy Award for best original song, "Kiss the Girl," and the deliciously villainous "Poor Unfortunate Souls" performed by Ursula were particular standouts of the movie's soundtrack. The same could be said for the beautiful ballad "Part of Your World," which now fans are coming to find out was nearly removed from the final cut of the film altogether.
Jeffrey Katzenberg felt children would find the ballad boring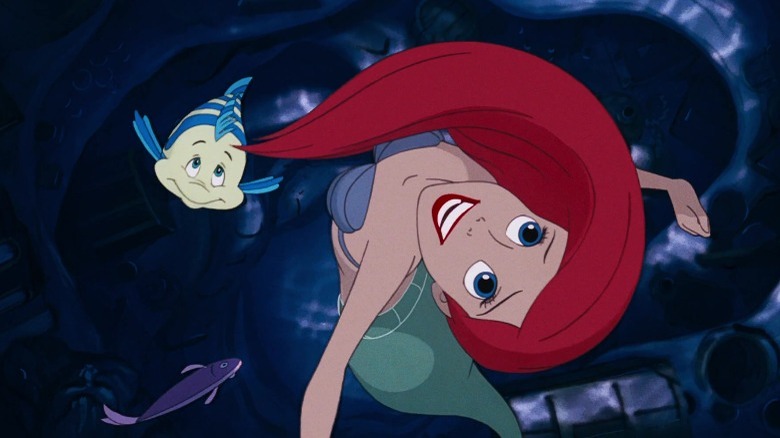 Walt Disney Studios
In a 2019 interview with Polygon in celebration of "The Little Mermaid's" 30th anniversary, actress, singer, and voice artist Jodi Benson, who voiced Ariel in the movie, was asked about Jeffrey Katzenberg's reasoning for wanting to cut "Part of Your World" from the film. She replied, "Howard Ashman basically said [To Katzenberg], 'You're not cutting the song, because I'll walk.' Jeffrey Katzenberg was going to cut it because of the screenings. There were some children that dropped their popcorn and seem to be distracted during the three minutes and 43 seconds. He said they can't hold their attention..." She then revealed how Ashman put his foot down with the executive and explained the song's vitality to the story.
Katzenberg came to The Walt Disney Company in the fall of 1984, as the finishing touches to "The Black Cauldron" — the film that nearly ruined Disney Animation – were being added. He also exercised a solid desire to edit the work of other animators and artisans based simply on audience reaction since the executive ordered cuts to that movie as he felt it scared children in a screening. That film became a box office disaster proving some of his extreme actions were likely warranted. But as far as "The Little Mermaid and "Part of Your World," generations of music fans since the film's release have benefitted from his agreement with Howard Ashman.