What Went Wrong With Pauly Shore's Movie Career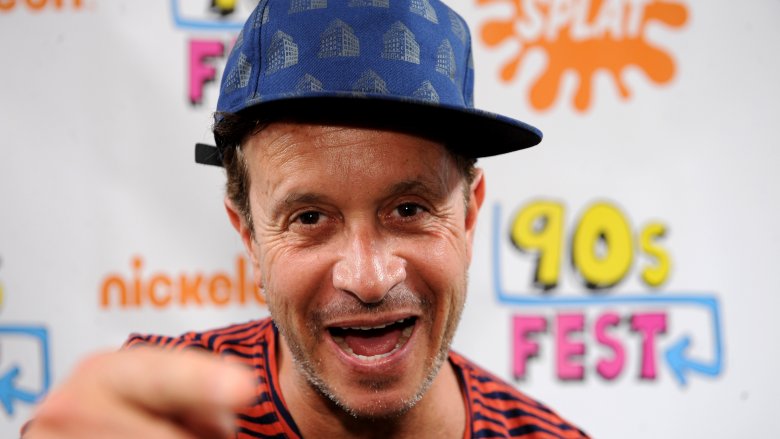 Getty Images
Roughly 25 years ago, Pauly Shore was on top of the world. Son of Mitzi Shore—the owner of Hollywood's legendary Comedy Store—and stand-up comic Sammy Shore, who opened for the likes of Elvis Presley back in the day, Shore used his breakout gig as an MTV VJ as a launchpad into multimedia superstardom. In a few short years, Pauly Shore became a global sensation.
It's safe to say that, for the first half of the '90s, Shore was everywhere. From big hits like Encino Man to his sold-out live stand-up shows to the number of comedy albums he put out, he was impossible to avoid. But something happened on the way to lasting stardom. Almost as quickly as he rose to fame, his celebrity status plummeted, and Shore went from big-screen superstar to C-List personality. What exactly happened? Let's take a trip down memory lane to revisit Pauly Shore's movie career and explore what went wrong along the way.
Everybody loved the Weasel
To say that Shore had an interesting upbringing would be an understatement. He was raised around stand-up comics. At the age of 17, he began to perform stand-up comedy himself. Mentored by the late, great Sam Kinison, Shore's work mostly revolved around his stage persona, a character he'd named "The Weasel." The privileged, slacker stoner persona spoke heavily in surfer-like dudespeak and reflected the late '80s Los Angeles scene he grew up in. Needless to say, it didn't take long before his act gained the attention of MTV.
Shore's professional TV career began in 1989. He started as a VJ with the network — back when the majority of their lineup consisted of music videos — and the popularity of "The Weasel" quickly took off. In 1990, the network gave Shore was was supposed to be a temporary summer show, titled Totally Pauly — but the audience response was so huge, MTV kept Shore on board as host for the next four years. Totally Pauly found Shore doing man-on-the-street interviews, hosting the network's spring break parties, and creating his own comedy sketches.  Not only did the series build Shore's celebrity status, it helped set up MTV for the '90s while appealing to an untapped college demographic.
When the series came to an end in 1994, Pauly Shore's fame was at an all-time high. The success of films like Encino Man and Son in Law helped push his "Weasel" persona into the mainstream. The sky, as it seemed, was the limit.
He became famous too quickly
Pauly Shore's Weasel persona grabbed hold of the mainstream quicker than anyone could have reasonably expected. Not only did the schtick help MTV bring in the viewers, Pauly's alter ego shot him to the top of the box office. It's a fine line to walk, though. All one has to do is look at Paul Reubens' Pee-wee Herman or Andrew Dice Clay for some strong examples on how popular on-screen personas can pigeonhole an actor into a specific stereotype. "My public persona is already defined because my movies hit so hard and they're so big," Shore explained to Vice in 2014. "I was so popular in that style, so everybody thinks that's who I am, and that's who I was. And this is who I am now."
Needless to say, between his work on MTV and the number of projects he had in the pipeline, the general public were constantly given one perspective of Pauly Shore. Cultivating his Weasel character proved to be fruitful for Shore, his agents and managers, and the production companies he was working with. But unfortunately for Pauly, it was all a party ... until it wasn't. He was on top of the world in 1992 and just four years later, his movie career had all but dissolved. "I was so big," he admitted when he appeared on The Joe Rogan Experience. "And I think the bigger you are, and the faster you make it, the harder you fall." 
Too much 'wheezin' the juice'
When Encino Man hit theaters in 1992, it helped to not only solidify Shore's celebrity status, it ushered in a new style of dudespeak into the culture, inspiring young men and women everywhere to incorporate some odd slacker, stoner lingo into everyday conversation. He had become too big for MTV. And Hollywood was calling ... buuuuddy.
"He was like Seth Rogen," Whitney Cummings told The Los Angeles Times. "He was a movie star. He was just one of those guys who was so incredibly famous, like Jason Priestley from '90210.' The Weasel was in the vernacular of our lexicon along with slap bracelets and beanie babies."
One of the problems was, though, the simple fact that he gave audiences too much Weasel, too quickly. After leaving MTV, he did In the Army Now, Jury Duty, and Biodome — a relatively rapid string of comedies, each of which found Shore playing a variation on that same familiar character. With each film, his box office equity dwindled until Hollywood stopped calling. "That's the main thing in this business: Don't become your character," Pauly told The Los Angeles Times in 1994, when referencing the death of his porn star ex-girlfriend Shannon Wilsey, a.k.a. Savannah. "Grow up and learn. Life is your biggest teacher."
The tragic death of his ex-girlfriend put things into perspective
At the height of his popularity, Pauly Shore was dealt an unexpected blow. His ex-girlfriend, Shannon Wilsey — better known as adult film star Savannah — committed suicide at the age of 23. The couple were romantically involved for nearly a year, having split up in late 1992, but remained friends. Just a year and a half later, Wilsey shot herself in the head after suffering multiple injuries to her face brought on by reckless driving that led her Corvette to crash into a tree.
"She was the nicest, most beautiful girl I ever met," Shore told The Los Angeles Times in 1994. "It was a very dramatic thing for me." The tragedy happened at a turning point in Shore's career. He spent nearly half a decade playing the Weasel — whose horny, womanizing, slacker antics had grown a bit tiresome for maturing audiences — and it seemed he was attempting to put this alter ego behind him.
"Pauly's appeal is evolving," Daniel Petrie Jr, director of In the Army Now, told the Times.  "He is growing up, whether he likes it or not, and his audience is growing up with him."
A failed sitcom pushed him further from the spotlight
When looking back on the short-lived Fox sitcom Pauly, it feels as if Hollywood was giving Pauly Shore one more chance to lead a comedy vehicle. The 1997 series followed Shore — who played the rich slacker character Pauly Sherman — as he continually tried to destroy the cringeworthy relationship between his well-to-do father, Edward (David Dukes), and his opportunistic fiancee, Dawn Delaney (Charlotte Ross).  
The series formula here made it seem like Fox was attempting to mirror the success of Married with Children. It was brash, silly, and filled with raunchy humor. The story structure also felt as if it was trying to sponge some sensibilities off NBC's smash hit, The Fresh Prince of Bel-Air, which went off the air a year prior. But while the Fresh Prince character that Will Smith cultivated through his hip-hop career and small-screen work ended up maturing over the years, the character of Pauly Sherman just came off like the Weasel 2.0. 
According to Shore's co-star in the series, Charlotte Ross, the media was partly to blame for Shore's downfall as a viable movie star. "All of the interviews that I did for that show, I spent the first 10 minutes defending Pauly," she told TV Guide. "Thank God I really did like him. The press just ate the poor guy alive. I've never seen anything like that and I'd never wish that on my worst enemy." 
After only five episodes, FOX took Pauly off the air. 
The voiceover world came calling
Pauly Shore played the role of George in three episodes of the Howie Mandel-created animated series Bobby's World. While the gig wasn't steady, the work opened the door to a side career for the actor in animation. In between filming In the Army Now and Jury Duty, Shore voiced the role of Bobby Zimmeruski in 1995's A Goofy Movie. In 2000, he reprised the role in the sequel, An Extremely Goofy Movie.
Audiences may have gotten Weasel fatigue, but the cartoon world continued giving Pauly work and helped him flex a different type of acting chops. In 1997, he played the role of Snivel in Casper: A Spirited Beginning and returned as The Oracle in the Hilary Duff-led sequel, Casper Meets Wendy. He appeared as the voice of Deejay in an episode of King of the Hill and played Justin in 2004's Father of the Pride, opposite John Goodman, Cheryl Hinds, and Orlando Jones. He was Cat in 2009's Dr Doolittle: Million Dollar Mutts and, more recently, he played the role of Pat in the "Squirrels" episode of HBO's quirky animated series, Animals. Pauly Shore may have disappeared from the public eye, but his signature voice has stayed the course.
An attempted movie comeback
By 2003, Shore had all but disappeared from the spotlight. Instead of taking Hollywood's silent treatment as a sign to hang up his hat, he took matters into his own hands and released a low-budget mockumentary titled Pauly Shore is Dead in which he not only starred, he also directed. The plot for the film was pretty straightforward, following Shore as he fakes his own death to regain some semblance of popularity. The movie was chock full of celebs — Ellen DeGeneres, Eminem, Sean Penn, and Britney Spears, to name a few — suggesting Shore was ready for a comeback.
Unfortunately, the critical reception for the film was decidedly mixed. The A.V. Club called the movie "a flailing, potty-mouthed exercise in Postmodernism For Dummies," while CinemaBlend deemed it a "nearly great little nuance filled comedy that could have been a real breakthrough."
Panned or praised, Pauly Shore is Dead is an accomplishment on a different level. It was years before YouTube, Twitter, Facebook, iPhone movies, and Instagram selfies would change the media landscape. And yet, Shore's move to release the movie on his own terms proved once again that artists don't have to wait for Hollywood to come knocking — they can take control of their brand and make content as they see fit.
He's become a content creator
After writing, directing, and starring in Pauly Shore is Dead, Shore began focusing more on self-made projects. In 2009, he released Adopted, another mockumentary, which found Shore traveling to Africa with the goal of adopting a child. 
In 2010, Shore told The Daily Beast his motivation for the film wasn't to parody celebrity adoptions or make Africa a punchline. "Do you want to focus on the dead birds in the Gulf or do you want to focus on the stuff that's off-camera, where kids are playing and everyone's having a good time?" he asked. "Once I got down there [to Africa], I got to see how beautiful it really was."
Since stepping behind the camera on these two films, Shore has continued his directing pursuits. In 2014, he directed the documentary Pauly Shore Stands Alone, which aired on Showtime. He's created and hosted the podcasts Pauly Shore's Interested, Pauly Shore's Random Rants, and Pauly Shore's Podcast Show, which can be viewed in video form on Sony's Crackle streaming service. More recently, Shore appeared as Donald Trump's senior policy adviser, Stephen Miller, in a comedy sketch on Funny or Die.
A return to his stand-up roots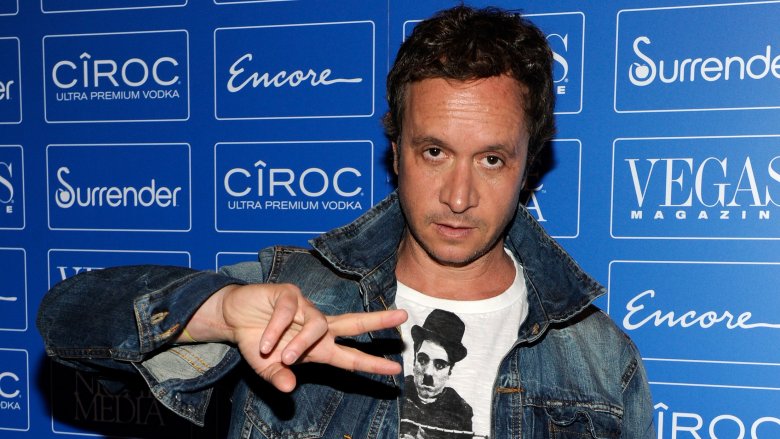 Getty Images
In 2005, Shore starred in the TBS reality series Minding the Shore, which found the comedian attempting to revitalize the Comedy Store for the new millennium. The show only lasted one season, but it helped reconnect Shore with his deep roots in the world of stand-up comedy.
In 2011, he released Pauly Shore's Vegas Is My Oyster and followed that up with 2012's Pauly-tics — which, as you can see from the title, is heavily inspired by political goings-on in America. One way that Shore has distanced himself from his Weasel persona is through this type of political humor. His 2012 special found Shore mingling with the likes of Barney Frank, former RNC chairman Michael Steele, Ralph Nader, and Larry King. The formula is certainly unexpected, but somehow, it works.
Mitzi Shore's legend has also experienced a bit of a resurgence in recent years. The Showtime series I'm Dying Up Here presents a loose account of what life was like at the Comedy Store in the '70s, back when Pauly was just a kid. Pauly grew up around a bevy of comedy legends, so it was only a matter of time before he turned his attention back to the stage. Writer and stand-up star Whitney Cummings commented on this career move to The Los Angeles Times, saying, "'Oh, you're doing stand-up? That must mean you've failed as a movie star.' It never occurs to people that you want to do stand-up as a living."