The Interesting Connection Between The Addams Family And Scooby-Doo
There are several similarities between "The Addams Family" and "Scooby-Doo." First, they are both parts of the horror-comedy genre: while they focus on creepy content, they both do so in a lighthearted, humorous way with happy endings. Additionally, they are both long-enduring franchises that have gone through multiple reboots and adaptations. 
"The Addams Family" began as a series of single-panel cartoons by Charles Addams, many of which were published in The New Yorker beginning in 1938. In 1964, "The Addams Family" became a live-action television series, which later spawned the feature-length films "The Addams Family" (1991) and "Addams Family Values" (1993), as well as an animated series, a Broadway musical, and animated films in 2019 and 2021, and even video games. Most recently, Netflix's "Wednesday" series chronicles the coming-of-age of Gomez and Morticia's daughter, Wednesday Addams, as she attends a new school to develop her psychic powers.
"Scooby-Doo" first aired as an animated series from 1969 to 1985. From 1988 to 1991, a spin-off series called "A Pup Named Scooby-Doo" aired, featuring younger child versions of the main characters. Several other "Scooby-Doo" series and reboots have been created, including "Scooby-Doo and Scrappy-Doo," and "Velma." Additionally, a live-action "Scooby-Doo" film was released in 2002, followed by a sequel in 2004.
Aside from the humorous focus on creepy monsters and their long-enduring statuses, it turns out there are even more similarities between "The Addams Family" and "Scooby-Doo."
Netflix's Wednesday is reminiscent of Scooby-Doo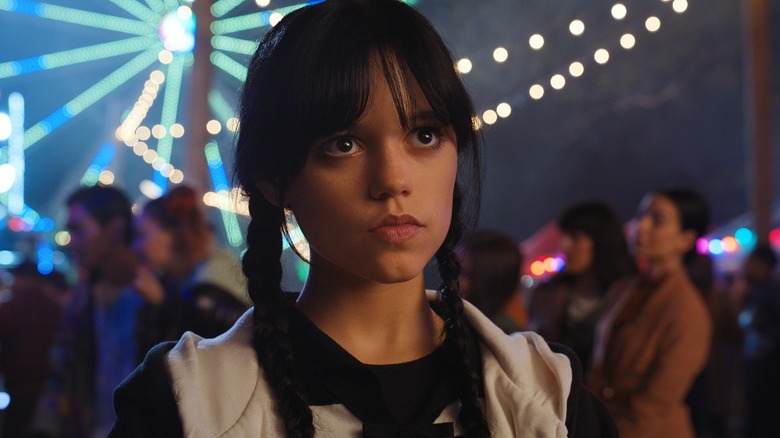 Netflix
In the newest spinoff series based on "The Addams Family," Netflix's "Wednesday," a teenage Wednesday Addams begins attending Nevermore Academy, a boarding school where she will learn about and develop her psychic powers. Although "Scooby-Doo" does not take place at a boarding school and does not involve characters with psychic powers, these two shows have more in common than first meets the eye.
While Wednesday is at Nevermore Academy, an outbreak of murders occurs, and she has to team up with the new friends she has made in order to solve the murder mystery and stop the perpetrator. This bears a strong resemblance to the basic premise of "Scooby-Doo," where a group of teenage friends — one of whom is a talking dog — work together to solve crime mysteries. 
Those who enjoy these shared qualities of "Scooby-Doo" and Netflix's "Wednesday" might also enjoy the crossover film "Wednesday Is Missing," which brings the worlds of "Scooby-Doo" and "The Addams Family" even closer together.
The 1972 crossover film Wednesday Is Missing brings The Addams Family and Scooby-Doo together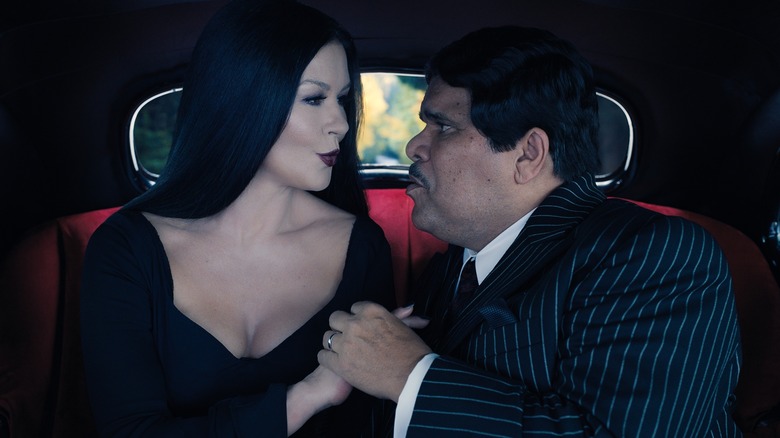 Netflix
Fans of both "Scooby-Doo" and "The Addams Family" would likely enjoy the crossover made-for-TV movie, "Wednesday Is Missing," from 1972. "Wednesday Is Missing" is Season 1, Episode 3 of "The New Scooby-Doo Movies," an animated "Scooby-Doo" series that aired from 1972 to 1973. Although they are not really full-length movies, each episode is an hour long. Each episode includes a special guest who helps the regular gang (Scooby, Shaggy, Velma, Daphne, and Fred) solve that episode's mystery. While some of these special guests were real celebrities providing their own voices, others were fictional characters like Batman and Robin.
In "Wednesday Is Missing," the special guests include members of "The Addams Family." The parents, Morticia and Gomez, want to go on a second Honeymoon vacation, so they get Scooby and his friends to house-sit and babysit while they're gone. However, every babysitter's worst nightmare occurs when Wednesday goes missing. The gang and the remaining Addams family members must work together to solve the mystery of where Wednesday has gone and who has taken her. Of course, like in most episodes of "Scooby-Doo," the villain is wearing a disguise and must be unmasked to reveal their true identity, as well as their motive. 
Unfortunately, the only legitimate way to currently watch "Wednesday Is Missing" appears to be by purchasing the VHS tape.