The Devastating Death Of Game Of Thrones' Wilko Johnson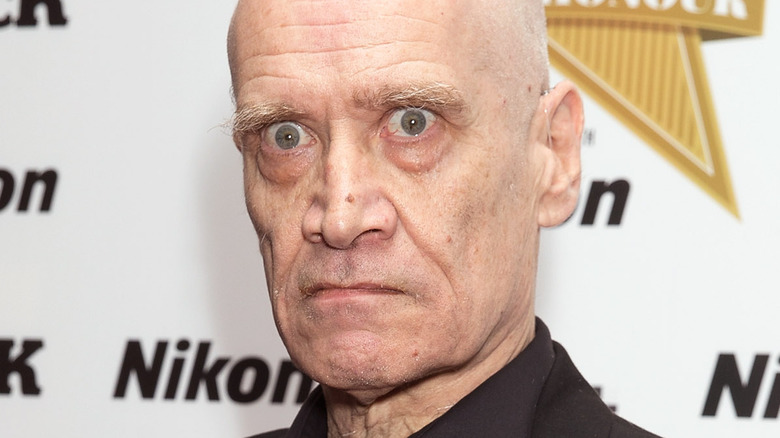 Jo Hale/Getty Images
Wilko Johnson, the legendary British rocker and "Game of Thrones" actor, has passed at the age of 75, according to USA Today. Although the reason for his death has not been officially confirmed at the time of this writing, US News reported that in 2012 Johnson was diagnosed with pancreatic cancer and was given around a year to live. Johnson even turned down chemotherapy and instead opted for surgery, and he found the cancer diagnosis as a new lease on life, saying, "You walk down the street and you feel intensely alive. You're 'Oh, look at that leaf!' You're looking around and you think, 'I'm alive. Ain't it amazing?'"
Born as John Peter Wilkinson on July 12, 1947, and passing on November 21, 2022, his death was announced on his official Facebook page, which said, "Wilko Johnson has died. He passed away peacefully in his sleep at his home in Westcliff On Sea on Monday evening, 21st November 2022. He was 75. Thank you for respecting Wilko's family's privacy at this very sad time, and thank you all for having been such a tremendous support throughout Wilko's incredible life."
Wilko Johnson was a famous musician and played the role of an executioner in Game of Thrones
HBO
Wilko Johnson's original claim to fame was in the trail-blazing British musical group Dr. Feelgood in the 1970s. As a pub rock/rhythm and blues group, Johnson helped develop a unique style that favored finger-picking a guitar as opposed to using a normal pick, and Dr. Feelgood's live album of "Stupidity" hit the number one spot on the United Kingdom's music charts. According to IMDb, Johnson appeared as himself 15 times through varying forms of entertainment, lent his talents to three soundtracks, and had but one acting credit — that of the infamous "Game of Thrones" executioner, Ilyn Payne.
Often acting on the will of Cersei (Lena Headey), Payne looms large in the background, though he doesn't speak a single line of dialogue in the four episodes in which he appears, though for good reason. Speaking with NME in 2016, Johnson said of his prolific role, "It's the first time I've done any acting, but all I had to do was stare at people. Payne had had his tongue cut out, so I just had to glare at people with menace and swing a sword every now and again." Despite his non-speaking role, Johnson left quite an impression on "Game of Thrones," and the character of Ilyn Payne is instrumental in kicking the entire series into high gear by being the hand that executes Ned Stark (Sean Bean). A rather interesting role for a person made famous for being a musician, and the world has certainly lost a talented and multifaceted individual.