Black Panther Tops Wonder Woman At The Domestic Box Office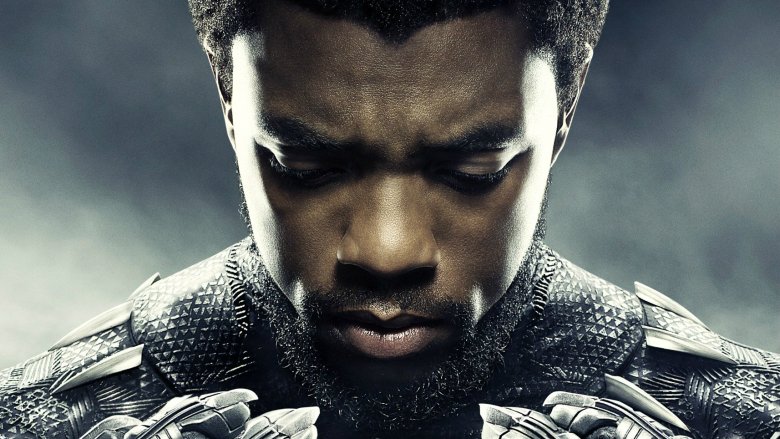 Marvel Studios
Well, that didn't take very long.
After just 12 days in theaters, Marvel's Black Panther has already surpassed DC's blockbuster Wonder Woman at the U.S. box office with $421.8 million, according to Variety. As of today (Feb. 28), it's the 20th-highest grossing movie of all time and there are no signs of slowing down. Black Panther brought in $10.1 million at 4,020 locations yesterday. Meanwhile, it took Wonder Woman 23 weekends to reach $412 million stateside.
The stunning Black Panther, starring Chadwick Boseman as the warrior king of Wakanda, has already made a staggering $748.1 million worldwide. That puts it ahead of Suicide Squad ($746 million), Captain America: The Winter Soldier ($714 million), Justice League ($657 million), and Logan ($616 million). 
Directed by Ryan Coogler (Creed) and featuring an all-star cast that includes Michael B. Jordan, Lupita Nyong'o, Danai Gurira, Daniel Kaluuya, Forest Whitaker, Angela Bassett, Martin Freeman, and Andy Serkis, Black Panther opened with $235 million on Presidents' Day weekend and followed it up with $111.7 million last weekend.
Current projections have the movie making another $55 million to $75 million in North America this weekend, which would be the second or third-best third weekend of all time. The top movies on that list are Star Wars: The Force Awakens ($90.2 million), Avatar ($68.5 million), and The Avengers ($55.6 million).
Black Panther could also become one of just 10 movies to reach the $500 million mark in the U.S. by the end of this weekend. Remember, it hasn't even been out for two full weeks yet, and it certainly seems like the movie will hold onto the throne for a while.
There are a couple of R-rated thrillers opening that could put a dent in Black Panther's totals this weekend: the Jennifer Lawrence spy flick Red Sparrow and the reboot of Death Wish with Bruce Willis. But industry insiders estimate Red Sparrow will come in somewhere between $15 million to $19 million this weekend while Death Wish is only expected to make $14 million to $16 million.