Criminal Minds: Evolution Star A. J. Cook Sees A Huge Benefit In The Streaming Format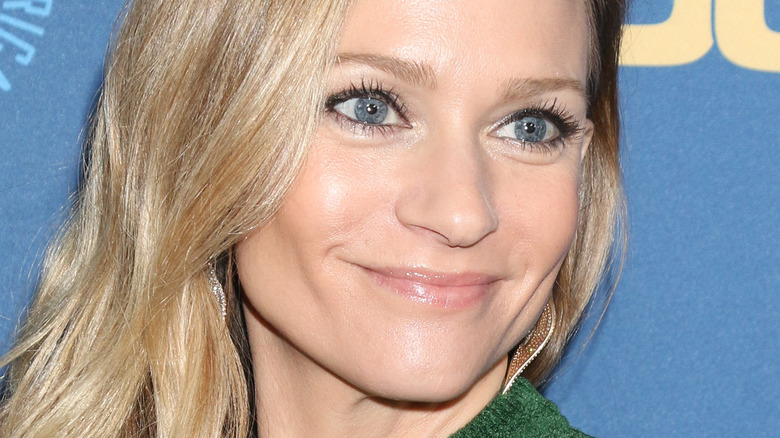 Kathy Hutchins/Shutterstock
If you're not a fan of the long-running CBS procedural "Criminal Minds," then you may not even realize that it was canceled three years ago. But if you are a "Criminal Minds" fan, then the last few years have probably been interminable.
Well, fear not, because the murderous series is back with a reboot – "Criminal Minds: Evolution" — though the "new" series has also been called Season 16. After the hardworking profilers at the FBI's Behavior Analysis Unit (BAU) — including Emily Prentiss (Paget Brewster), Jennifer "JJ "Jareau (A. J. Cook), Dr. Tara Lewis (Aisha Tyler), and fan-favorite Dr. Spencer Reid (Matthew Gray Gubler) — took out the latest unsub (or unknown subject) and celebrated lead profiler David Rossi's (Joe Mantegna) retirement, the original series ended with Season 15, Episode 10 in February 2020. Dwindling ratings contributed to CBS cancelling "Criminal Minds" after 324 episodes, per Variety, in January 2019. But only a year after its "series finale" aired, CBS announced an anthology revival exclusively for its streamer, Paramount+ (which was still CBS All Access at the time), per The Hollywood Reporter. Might as well call it the Tom Brady of television, because that's not a very long cancellation.
The anthology, premiering November 24, will have a serialized focus as the BAU hunts an unsub named Elias Voit (Zach Gilford), who has created his own serial-killer network. Sadly for fans, Gubler is not returning for the reboot. But as Cook recently teased, the streaming format will also feature some differences, which makes its creators and actors happy.
With the streaming format comes more freedom
If Mandy Patinkin thought "Criminal Minds" was dark before, just wait for the reboot. Not only will "Criminal Minds: Evolution" be bleaker in terms of its stories. Aside from that, the freedom provided by a streaming format allows it to go even deeper into the psychoses of the characters — even allowing some curse words. Those are all good things, according to JJ Jarreau actor A. J. Cook.
"This kind of gives us the space to breathe into the characters and the development and the story a little bit more," Cook told TVLine. She appreciated the series' realistic movie-like look, and the opportunity to go in-depth into her character, particularly following the COVID-19 pandemic. "I wanted her to be the exhausted working mom, like everyone was through COVID," Cook said. "We get to see a fuller version of JJ."
Showrunner Erica Messer confirmed this at the Television Critics Association upfronts in September. "It has definitely broadened our scope," she said, via Alex Zalben, about the move to streaming, showing excitement for the new serialized format. "Getting to know an unsub for 10 episodes is something we've never done before." She also appreciates the opportunity for more salty language, adding, "the dialogue feels more authentic." But she also knows not to get too gritty. "I never wanted us to go into full Rated R, extra violence, or something that would feel like a different series," she said. 
As for Mantegna, he seems game for any potential curse words, telling TVLine, "They all knew I was dying to say them anyway."