Why Admiral Stock From NCIS Looks So Familiar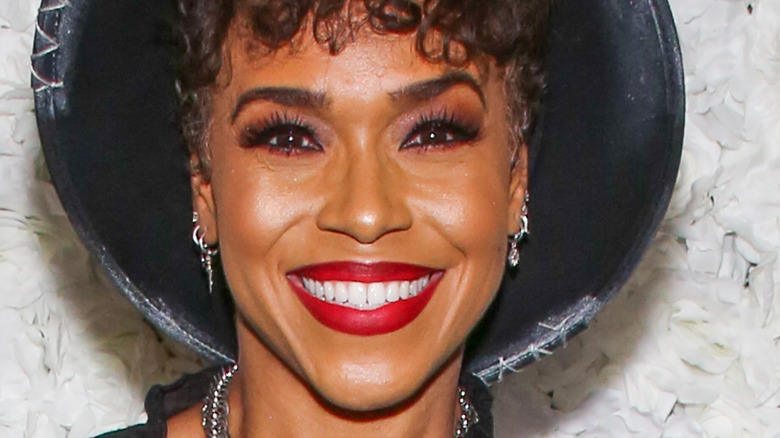 Paul Archuleta/Getty Images
The following article contains spoilers for "NCIS" Season 20, Episode 8 — "Turkey Trot"
Things tend to get explosive during your average episode of "NCIS," but usually not this explosive. During "Turkey Trot," the crew found themselves investigating a bombing that takes place during a 5k fun run. A giant turkey float is the so-called victim, which requires the team to apply their lab skills in an entirely different way. They soon discover that the disaster was caused by a gunshot to the float's gas tank — and they think that it was a failed assassination attempt on the life of Navy Rear Admiral Martha Stock.
But who would want to kill Stock? Could it be Charlie Samuels (David Blue), the suave fiancé of Jess Knight's (Katrina Law) sister Robin (Lilan Bowden)? And if it was, is Stock the actual target of the crime or is something much more dangerous and sinister afoot?
If the actress playing Martha Stock looks at all familiar to you, then you've likely spied her on a kid's program, witnessed her soap opera work, or might even have seen her on another CBS procedural. This is why you might have recognized her.
Gillian White made an impression in the music video world
Gillian White began her career under the name Gillian Iliana Waters in 1994. She was only 19 when she snagged her first part — the lead role in a music video for LL Cool J and Boyz II Men for their single "Hey Lover," where she portrays LL Cool J's girlfriend. White was still a Howard University student when she began acting, and she fondly recalled her time on the set in a November 2018 Facebook post. "We shot for a week in New York and Miami," she explained, speaking about how nervous she was. She recognized her experience on the set alongside another of her early roles — as one of Bill Bellamy's many girlfriends in the film "How to be a Player" — in a September 2022 Instagram post.
Years later, White worked once more with LL Cool J during a guest staring spot on "NCIS: Los Angeles." She portrayed the role of an instructor during Episode 14 from Season 10, "Smokescreen." White said of the 2018 reunion between her and the musician/actor, "All I can say is BLACK DON'T CRACK and we both still look pretty damn good!" she laughed.
She made Xena sing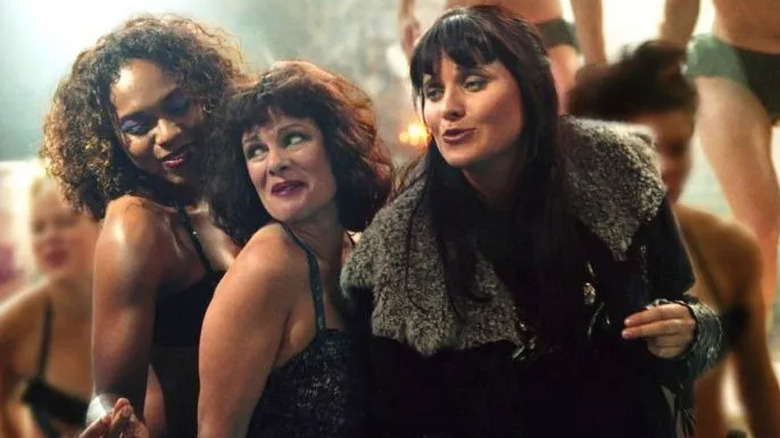 Universal Television Enterprises/Renaissance Pictures
"Xena: Warrior Princess" Fans likely have a huge soft spot for Gillian White — she was Amoria in the iconic musical episode "Lyre, Lyre Hearts on Fire." Amoria is the queen of an Amazonian tribe who's at odds with Draco (Jay Laga'aia) the ex of Xena (Lucy Lawless) and the head of his own band of warriors, over the lyre of Terpsichore, the Greek goddess of music. To prevent bloodshed, Xena thinks on her feet and declares a battle of the bands, with the musical instrument being contested. The competition draws bands from miles around to the nearby town of Melodia. Amoria soon falls in love with Joxer (Ted Raimi), a friend and sidekick of Xena. that angers Gabrielle (Renee O'Connor), who is usually the object of Joxer's affection. A fight — both physical and musical — soon erupts.
While this is the only time Amoria is ever seen on the show, White was a huge fan of the character. She told KGET that Amoria is one of her favorite roles of all time. "I had so much fun on that show," she said. "The fact I got to go to New Zealand to shoot it and it was such a great cast."
She ran a con on Days of Our Lives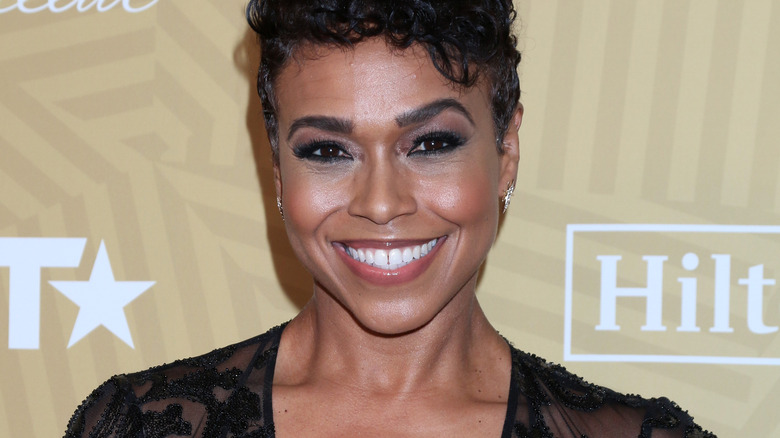 Kathy Hutchins/Shutterstock
During Gillian White's next most intriguing role, whatever happened in Las Vegas stayed in Las Vegas. She portrayed Cassandra "China Lee" Arvin on "Days of Our Lives" in 2007. Her character conned the then-nerdy and virginal Nick Fallon (Blake Berris) into an impulsive wedding in the wake of his suffering a head injury during a bombing. Nick comes to realize he's made a horrible mistake in marrying this uncouth, fortune-hunting stranger and tries to worm his way out of the marriage, but while China is willing to let him go, she's also got some legal troubles of her own. While she heads off to the pokey, Nick finds himself watching her sons, Demarquette (Jalen Stokes) and Artemis (Kwesi Boakye), for the ensuing 30 days. 
Nick and the boys bond, but eventually, China is released. Once China leaves jail, she gives Nick the annulment he seeks, then admits the boys aren't her sons but are in fact just wards she's been watching for a powerful, unknown man. She leaves him to deal with the kids. While White's appearance on the soap was quite brief, it was nonetheless a memorable one, and it definitely impacted Nick's long-term storyline.
Sam knocked her out on Sam and Cat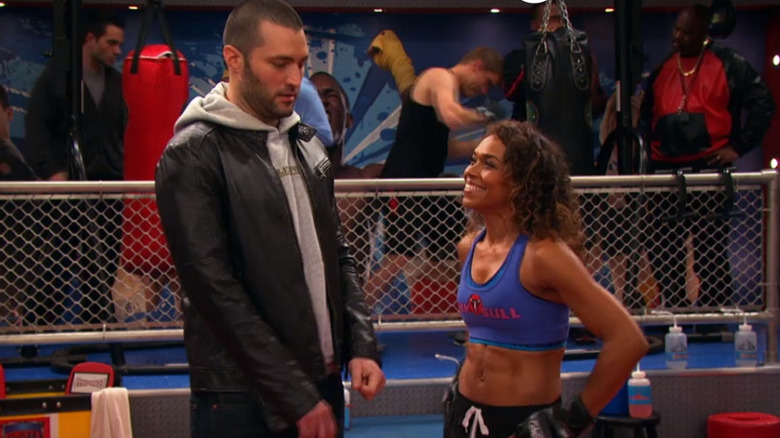 Nickelodeon
Among the many guest spots Gillian White took on in the ensuing years was the very memorable role of Rita Rooney on the Nickcom "Sam & Cat." Rita is a tough girl bantamweight MMA fighter in the mold of Ronda Rousey, and she's picking on Goomer (Zoran Korach), Sam (Jennette McCurdy), and Cat's (Ariana Grande) gentle giant of a friend. One thing leads to another, which leads to Sam knocking Rita out cold. 
Rita demands revenge in the form of a one-on-one fight with Sam, forcing Sam to train herself for combat, something Sam absolutely hates because it requires healthy eating and healthy living. But it turns out that Rita and Goomer might have a romance blooming, and Sam's knockout punch may have complicated things something fierce. Will Sam's appetite or her fists win out in the end?
It's a role that's completely distinct for White and it allows her to show off her athletic prowess as well as her acting chops. White — who's married to Michael Jai White — has taken on multiple action-heavy roles as her career has gone on, including the lead in the 2021 film "Take Back," co-starring her husband and Mickey Rourke.
She captured attention of Tyler Perry in The Oval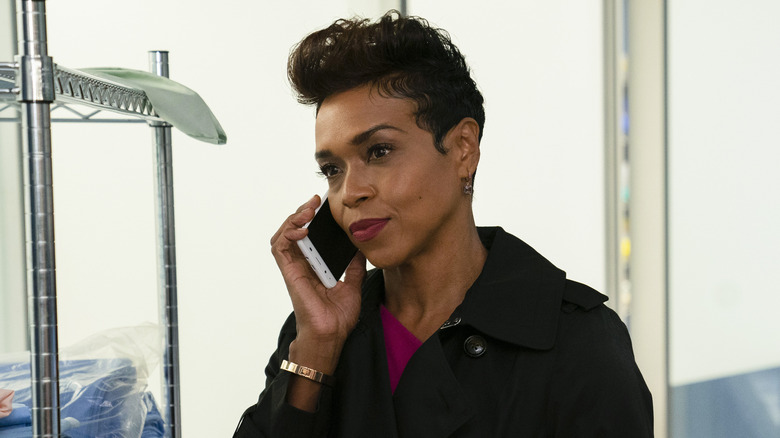 Charles Bergmann/BET/Tyler Visions LLC
That's also Gillian White as Diane Wilmont, the U.S. Press Secretary to President Hunter Franklin (Ed Quinn) on BET's soapy drama "The Oval." It's Diane's job to try to keep the Franklin family at large on point and in the game, including Hunter's wife Victoria (Kron Moore) and their son Jason (Daniel Croix) and daughter Gayle (Paige Hurd). The series focuses on both the Franklin family and the staff who keep the White House running during their regime. Conflicts occur between staff and first family as they all try to settle into this new, high-pressure but opulent world.
Diane is a no-nonsense and tough-hewn woman who works hard and keeps her head up in all situations and does what she must to keep the press satisfied and the family safe. Diane appears 10 times during the show's first two seasons, but she has not popped up in either Season 3 or on the currently-airing Season 4. Fans will have to keep tuned in to find out if she pops up during the remainder of the 4th season.