Jim Carrey Once Pitched A Found-Footage Horror Comedy That Never Came To Be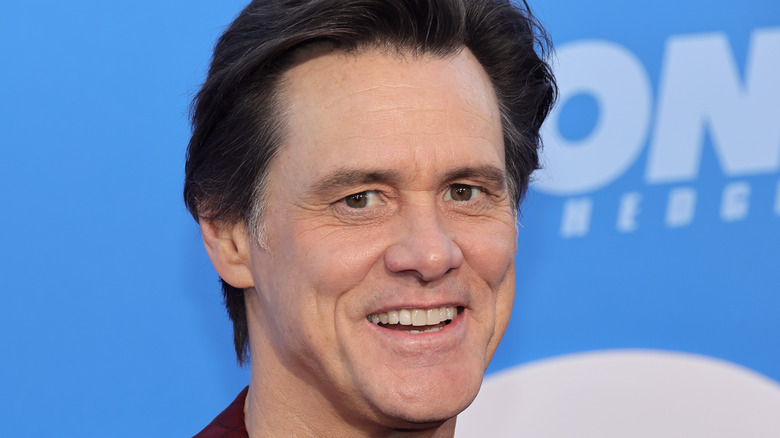 Kevin Winter/Getty Images
Jim Carrey, an actor who has been working since the 1980s, is, arguably, known for his comedy films more than anything (although he has given some very memorable dramatic performances, such as with "Eternal Sunshine of the Spotless Mind," amongst others). One of those comedies that Carrey is most known for is "Dumb and Dumber," a 1994 buddy comedy in which he starred alongside Jeff Daniels. Directed by Peter Farrelly, the film follows the dumb but well-meaning friends, Lloyd Christmas (Carrey) and Harry Dunne (Daniels), as they travel across the country to return a briefcase they think was left behind by accident — when the briefcase was actually full of ransom money.
The film was successful and remained popular over the years, eventually leading to a sequel, "Dumb and Dumber To," in 2014. And, as it turns out, the making of "Dumb and Dumber To" almost led to a found-footage horror comedy; here's what Carrey pitched.
Jim Carrey wanted to film a horror film on the set of Dumb and Dumber To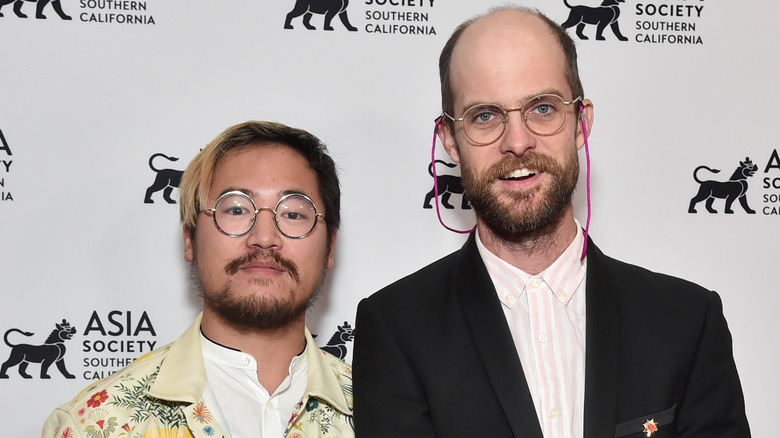 Alberto E. Rodriguez/Getty Images
The writer-directors of "Everything Everywhere All at Once," Daniel Kwan and Daniel Scheinert, recently participated in The Hollywood Reporter's Writers Roundtable (alongside the likes of Jordan Peele, Rian Johnson, and more), during which they revealed an interesting anecdote about a pitch they received from Jim Carrey before they had even made their first film ("Swiss Army Man," which came out in 2016).
Kwan explained that Carrey had just seen "Paranormal Activity" when he reached out and told the filmmakers that it had inspired an idea. Kwan continued, "He was like, 'I haven't seen anyone do that — but with comedy. And I have this great idea.'" Carrey went on to explain that they had some weird experiences — such as doors swinging open and people getting hurt — while filming "Dumb and Dumber" at the Stanley Hotel (where Stephen King had gotten the idea for "The Shining"). Kwan elaborated, "[Carrey continued], 'We're going to shoot Dumb and Dumber To, and I want you guys to do a found-footage horror comedy on the set. While we're filming, you guys are going to make a feature-length, behind-the-scenes video that slowly becomes a horror film.' We're like, 'OK, we're in. This is amazing.' We wrote a whole outline and were really excited."
Unfortunately, the idea didn't end up panning out in the end, as producers were skeptical that they could get the studio to agree to let them shoot a movie while another movie was being shot. So, sadly, we'll never get to see the meta film that could have been.