Who Are The Celebs In The Guardians Of The Galaxy Holiday Special's Map To The Stars?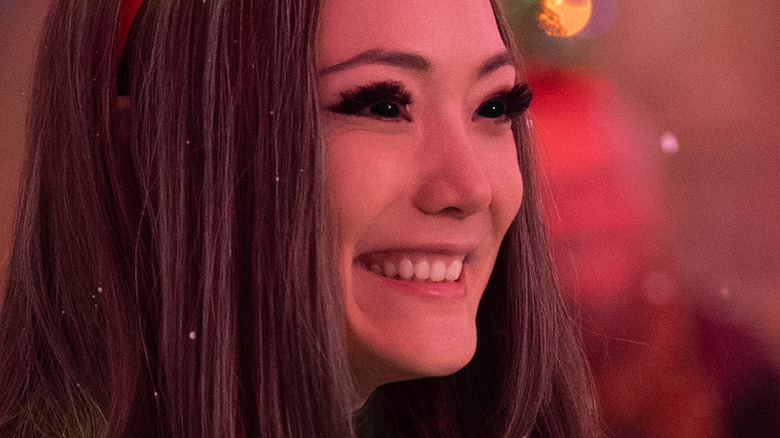 Jessica Miglio/Disney+
Contains spoilers for "The Guardians of the Galaxy Holiday Special"
Quill's (Chris Pratt) sadness is the driving force behind "The Guardians of the Galaxy Holiday Special." Mantis (Pom Klementieff) takes on the task of cheering up her brother (yes, her half-brother, it seems) and decides the best way to do it is to bring him the greatest gift of all time — Kevin Bacon. She and Drax (Dave Bautista) travel to Earth hoping to find the "Footloose" star, but it's not an easy road to get there.
Drax and Mantis have a time on Earth, where they pose with fans in front of the TCL Chinese Theater before getting obliterated in a club with Earthlings. The duo gets defeated on their quest and sits drunk on a curb before a woman lets them know they can find Kevin Bacon's house on a celebrity homes tour map. Mantis and Drax now have all they need to find Quill's hero, thanks to the detailed map which highlights some other celebrity homes.
The Map to the Stars actors are all connected to the GOTG family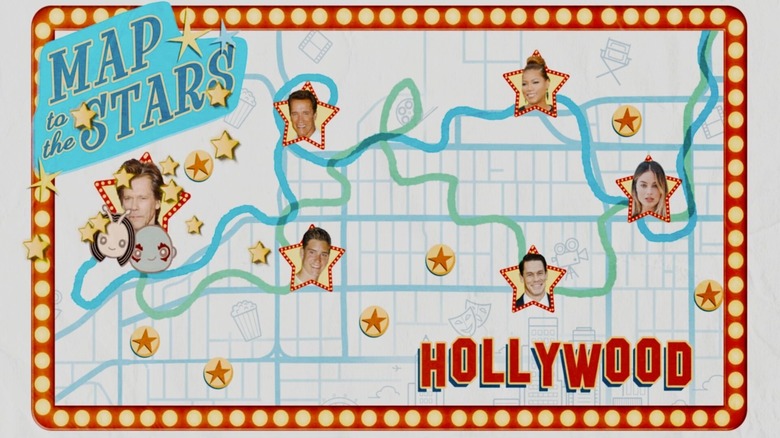 Disney+
We get to see the Map to the Stars graphic, and a few famous faces pop up in a fun animation to denote where their house is. The first is Margot Robbie, who worked with James Gunn in 2021's "The Suicide Squad." Next is Queen Latifah, who has no connection to Gunn but did work with Kevin Bacon in "Beauty Shop. John Cena follows, who has famously worked with Gunn on "The Suicide Squad" and HBO's "Peacemaker."
After Cena, Arnold Schwarzenegger's icon, who is Chris Pratt's father-in-law, pops up. Pratt married Katherine Schwarzenegger in 2019. Following the Governator is "Saved by the Bell" star Mark-Paul Gosselaar. Gosselaar's photo is a throwback compared to the others and seems like a funny addition to the map. The "Franklin & Bash" alum worked with Dave Bautista in 2015's "Heist," but if all these connections actually mean anything remains to be seen. This is a James Gunn project, after all, and we're sure none of these celebrities' mentions are coincidental.
"The Guardians of the Galaxy Holiday Special" is now playing on Disney+.