Donnie Wahlberg Says The Mention Of His Sons' Names In Blue Bloods Season 13 Was A Coincidence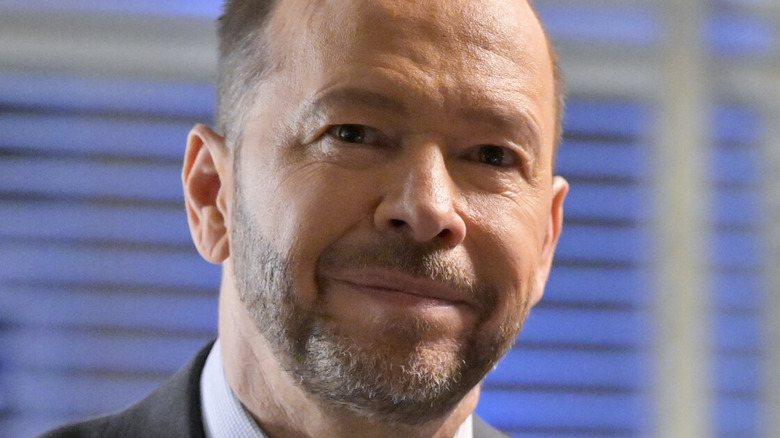 John Filo/CBS
Contains spoilers for "Blue Bloods" Season 13, Episode 6 — "On Dangerous Ground"
Fighting crime family style. It's the formula that has kept "Blue Bloods" going strong on CBS for more than a decade. The crime drama follows the Reagan family, which includes current NYPD field intelligence sergeant Jamie Reagan (Will Estes), detective Danny Reagan (Donnie Wahlberg), district attorney Erin Reagan (Bridget Moynahan), current NYC police commissioner Frank Reagan (Tom Selleck), and former NYC police commissioner Henry Reagan (Len Cariou). Over the years, the family members have solved murders, battled the mob, and even scoped out a secret police society. No matter the situation, they always find time to gather around the Reagan family dinner table for one of those now-famous family meals that have become a well-known fixture of the show.
While the series starts with Jamie becoming an NYPD officer, his brother Danny is in the midst of his career as a detective, working in the Major Case Squad. Just like his siblings, Danny always works to make time for his family. And recently the family ties went beyond the small screen and into real life for Wahlberg.
Wahlberg enjoyed the coincidence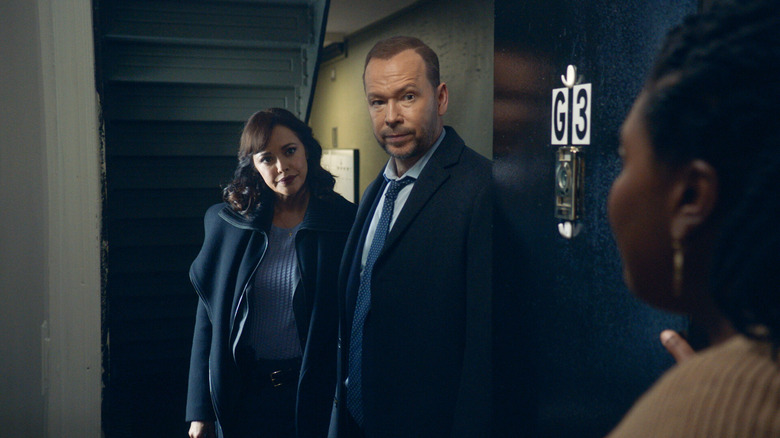 CBS
In Season 13, Episode 6, "On Dangerous Ground," Danny and Jamie are investigating a fatal shooting believed to be tied to a gang. The investigation leads Danny and Jamie to take a teenager named Elijah Martin (Danny Olabi) in for questioning.
Meanwhile, after Frank turns down a speaking engagement at the New York College for Criminal Justice, his father Henry and his friend Sid Gormley (Robert Clohessy) decide to step in. But what seems like just a speaking engagement is actually an event honoring Frank, New York City's longest-serving police commissioner. His father takes to the podium and calls him by his full name, Francis Xavier Reagan. So what's the significance of using the names Elijah and Xavier in the same episode? For Donnie Wahlberg, they're the names of his two sons, and he's calling the whole thing a coincidence.
Wahlberg wrote on Twitter, "The names Xavier and Elijah both mentioned in tonight's episode of 'Blue Bloods.' My sons probably won't like it, but it made me smile." He wasn't the only person that noticed the significance of those names. A fan took to Twitter after noticing the connection. In the exchange on social media, Wahlberg wrote, "It just happened. They love the show but they don't love the extra attention. They have their own paths. Proud of them both."