Scrubs' Best Guest Stars, Ranked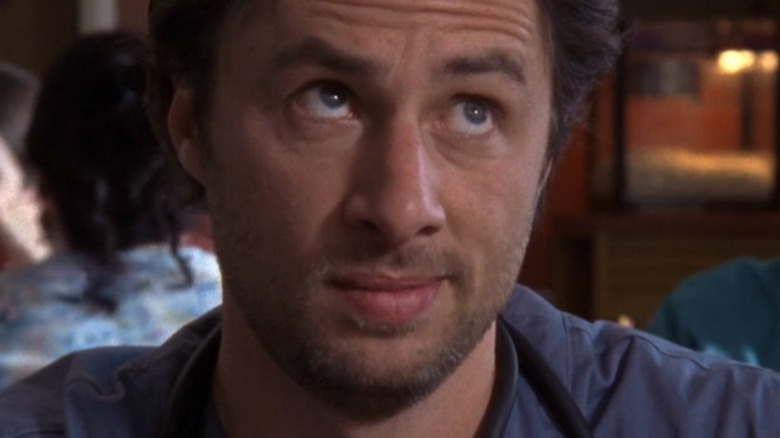 NBC/Hulu
"Scrubs" is a sitcom unlike any other. It's got some elements of a workplace comedy like "The Office," the strange, screwball fantasy skits of "Ally McBeal," and something entirely different that makes it stand above other dramedies, courtesy of the talent behind the camera — creator Bill Lawrence and his team of writers — and a stellar cast in front of it, including Zach Braff, John C. McGinley, Donald Faison, and Sarah Chalke. One thing the show almost always nailed was its weaving in of interesting characters and guest stars from all levels of fame.
It's difficult to narrow down the best of the best guest stars on "Scrubs," though we should give honorable mentions to surly patient Mr. Bragin (Alan Ruck), talkative-yet-tragic EMT Denise Lemmon (Molly Shannon), thrifty hypochondriac Harvey Corman (Richard Kind), and outrageously rude pediatrician Dr. David Norris (Christopher Meloni). But there are some performances that were not only comedically on point, but which also provided the series' main cast with ample opportunities for character growth and a good stretch of their dramatic acting chops.
14. Ryan Reynolds (Spence)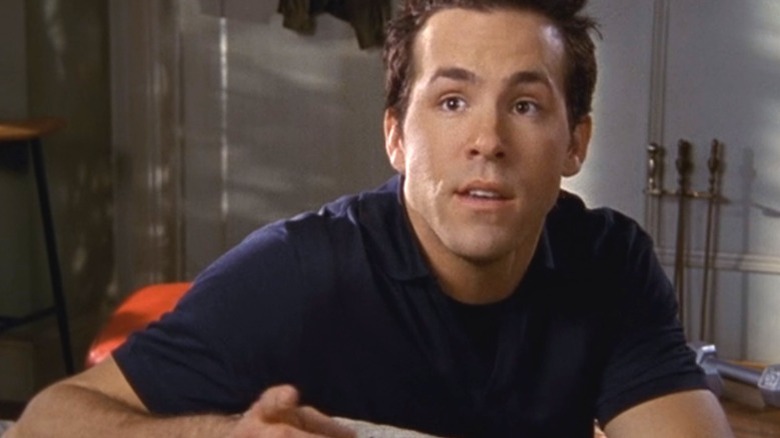 NBC/Hulu
Ryan Reynolds only appears in one episode of "Scrubs" (Season 2, Episode 22, "My Dream Job") and it came years before his meteoric rise as a famous movie star. Spence comes to town and stays with J.D. and Turk in order to attend the wedding of their former fraternity brothers. At this point in their careers (first-year residents), J.D. (Braff) and Turk (Faison) are dealing with all of the negatives and just about none of the perks that come with being doctors, and they spend their time with Spence complaining about their jobs. 
There are some excellent sequences in this episode, including a flashback to college where Spence encourages J.D. to mousse his hair, but the best laugh comes when Spence inadvertently reveals to Dr. Perry Cox (McGinley) that Jack (Andrew Miller) is in fact his biological son, a secret which Dr. Cox's ex-wife, Jordan (Christa Miller), forced J.D. to keep under wraps. It is probably the funniest way that Dr. Cox could have found out about the very intimate and life-changing news and it speaks to the very real phenomenon of sharing secrets with other friends that aren't in the same circle.
13. Sean Hayes (Nick Murdoch)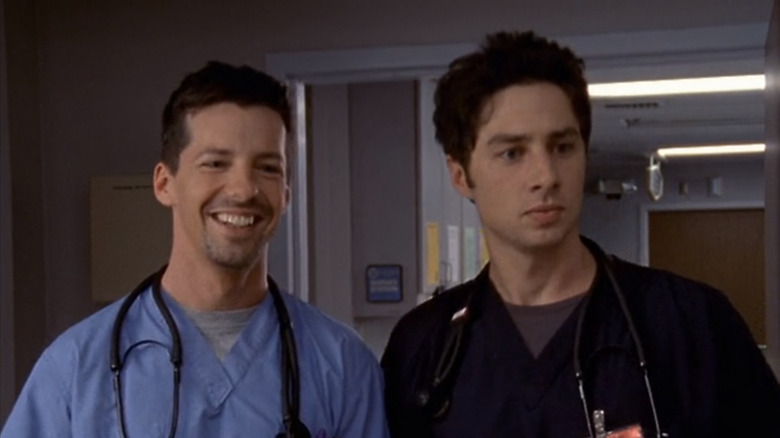 NBC/Hulu
Seasons 1 and 2 saw some of the show's best single-episode guest stars and Sean Hayes is no exception. In Season 1, Episode 7 ("My Super Ego"), Hayes features as Nick Murdoch — another medical intern who has begun to edge out J.D. as the most promising talent in the pack. J.D. spends the episode coming to terms with this, as Nick gets chosen by Dr. Cox for a research paper, becomes Dr. Kelso's (Ken Jenkins) new favorite, and forges ahead with the treatment of an ailing 7-year-old boy, Peter, despite constant setbacks. Just as J.D. realizes that Nick is too nice to hate and decides to fall in line behind him, Nick breaks down.
J.D. and Elliot (Chalke) find Nick after he learns that, once again, Peter hasn't responded to his course of treatment. Nick tells J.D. and Elliot: "There's nothing I can do. Nothing works. Now his parents want to talk to me. What am I supposed to tell them? 'Peter lived a good, long 7 years?'" Hayes gives a great performance as someone who just can't deal with the dark side of being a doctor, and it's an important episode for J.D. and audiences to see that even the strongest and most competent people can struggle sometimes.
12. Phil Lewis (Hooch)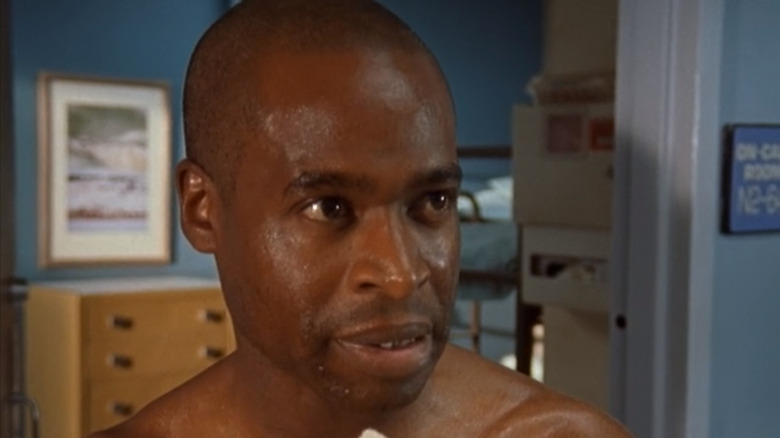 NBC/Hulu
"Scrubs" is well-known for its many long-running gags. The funniest moments on the show are often inside jokes that have been building for several episodes ... or even seasons. A lot of these jokes rely on the performances of guest actors, such as Phil Lewis who plays Hooch — an orthopedic surgeon at Sacred Heart Hospital. We're first introduced to Hooch in Season 4, Episode 20 ("My Boss's Free Haircut"), when Turk and J.D. prank the irritable doctor by finding ways to say his name out of context.
At first, it seems like Hooch is unbothered, but by the end of the episode, he's threatening anyone in the hospital who calls out his name inadvertently. At one point, J.D. urges Elliot to say Hooch's name while they're on the phone together and she is confronted by the surgeon and subsequently spooked. Lewis is brilliant as the unstable Hooch. He's never the center of a storyline, but his work in Season 4 of "Scrubs" has provided some of its funniest material.
11. Nicole Sullivan (Jill Tracy)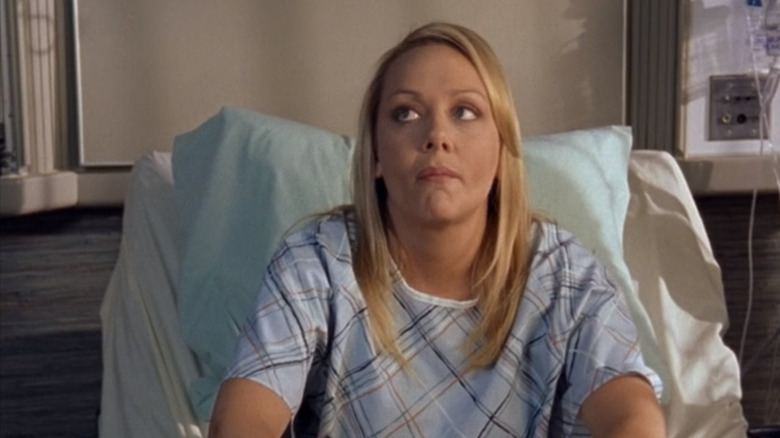 NBC/Hulu
Jill Tracy, a recurring Sacred Heart patient throughout the show, suffers a downward trajectory on "Scrubs." When we first meet Jill in Season 1, Episode 10 ("My Nickname"), she appears to be thriving — she has a bunch of friends, a demanding career, and a bright personality. Eventually, Elliot, who sees a lot of herself in her patient, realizes that Jill is overwhelmed and needs to slow down, or else she'll really hurt herself. When Jill returns in Season 1, Episode 22 ("My Occurrence"), it seems like she's taken Elliot's advice to heart and has quit her job and gotten engaged.
However, when we next see Jill in Season 3, her life is a mess. She's been dumped by her fiancé, is living in a pit, and has no job. By the end of the episode, J.D. and Dr. Cox realize that Jill is sick because she attempted to take her own life. Nicole Sullivan portrays Jill with a manic energy that is easily readable as something that can help and absolutely cause a crash and burn. Her performance as Jill showcases both her comedic skills and dramatic chops.
If you or anyone you know is having suicidal thoughts, please call the National Suicide Prevention Lifeline by dialing 988 or by calling 1-800-273-TALK (8255).
10. Cheryl Hines (Paige Cox)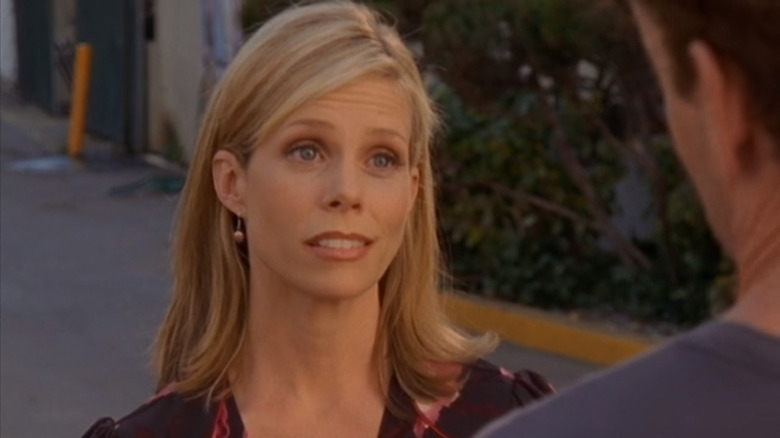 NBC/Hulu
It's always a treat when we get to see a member of one of the main characters' families. In Season 5, Episode 5 ("My New God"), Cheryl Hines guest stars as Perry's sister, Paige Cox. Perry is immediately agitated by Paige's presence, which J.D. later points out doesn't actually make a lot of sense given Perry's equal dislike of just about everyone. At first, we are led to believe that Perry avoids his sister because she has accepted Jesus Christ as her lord and savior, and it seems to check out. Perry is annoyed when Paige refuses to cede her faith to his science and logic, and Hines delivers a particularly funny moment where she gives an uncanny impression of one of Perry's irritated monologues. But there's more to it.
Perry later explains to Paige that he doesn't hate her because of her religion, but rather because seeing her reminds him of the abuse they suffered in their childhood. Paige has obviously come to terms with what they lived through in a way that Perry hasn't, as she gives nothing but understanding and love to her brother. McGinley's acting is heartbreaking in this episode and it's well-buffed by Hines' understated performance.
9. Dick Van Dyke (Dr. Townshend)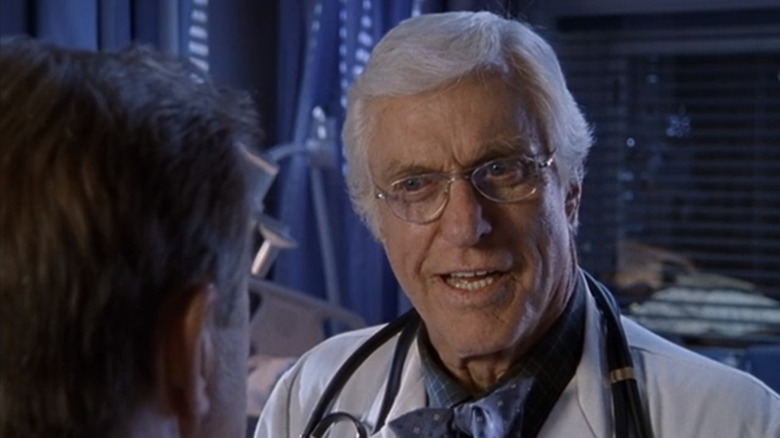 NBC/Hulu
How cool is it that "Scrubs" got Dick Van Dyke to guest star? Despite the fact that Van Dyke was already in his late 70s when he appeared on the show, he still has a fantastic dance sequence in which we learn that his character, Dr. Townshend, is beloved by everyone in the hospital (and that the actor is still almost as spry as he was in "Mary Poppins"). At first, it seems like Dr. Townshend will be particularly important to J.D.'s story, as J.D. starts Season 2, Episode 14 ("My Brother, My Keeper") with a rotation onto the veteran doctor's service, but it's Dr. Townshend's role as a foil for Dr. Kelso that becomes the emotional punch of the episode.
Despite being a favorite of all in the hospital, it soon becomes clear to J.D. that Dr. Townshend is still using medical procedures and treatments that have become obsolete. When J.D. explains to Dr. Kelso that Dr. Townshend forced him to perform one of those outdated procedures, Dr. Kelso is angry at first, but soon realizes that his friend isn't keeping up. Dr. Kelso himself has to attend countless conferences to stay up to speed, and Dr. Townshend explains that he just "doesn't have the energy for all of that stuff." Dr. Kelso unfortunately has to let Dr. Townshend go.
8. John Ritter (Sam Dorian)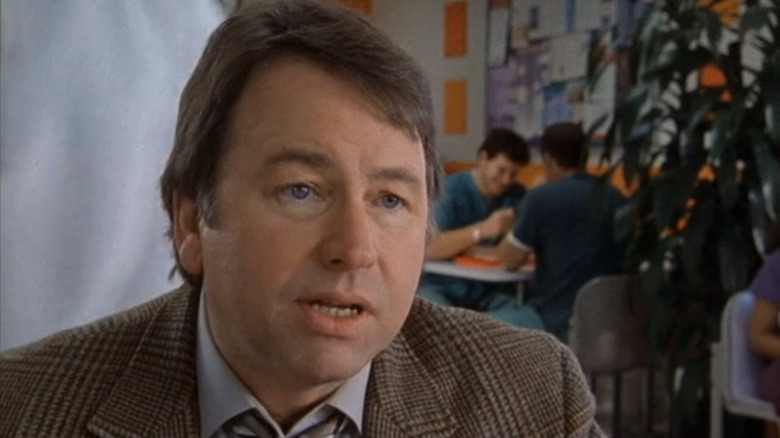 NBC/Hulu
One of the most important things to know about J.D. is that he comes from a working-class background. It clearly informs a lot of J.D.'s hang-ups, characteristics, and struggles throughout the show. John Ritter features in Season 1, Episode 19 ("My Old Man") as J.D.'s father, Sam Dorian — an office supply salesman who has never really been the reliable father figure that J.D. has always wanted. Ritter is obviously a legendary comedic actor, and he commits to some great gags throughout the episode. It's especially poignant to watch him here knowing he passed away just a year after the episode's release.
J.D. grows up in this episode — he realizes that his father is just a person trying to make his way in the world and that there are few things scarier than coming to terms with the humanity (and fallibility) of one's parents. In accepting his father's faults, J.D. is able to appreciate the love that his father has for him and how he shows it. 
7. Keri Russell (Melody O'Harra)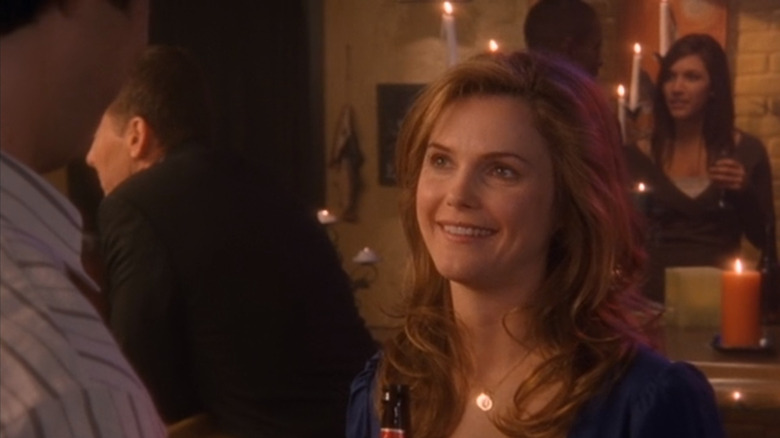 NBC/Hulu
Even though Elliot talks a lot about her past lovers, family, and friends throughout "Scrubs," she is very rarely the one to bring a new face into the Sacred Heart community. However, we do meet her parents a few times, played by Lane Davies and Markie Post (they're pretty much always played for laughs when they actually show up). That's why it's so enjoyable to see Keri Russell star as Elliot's college friend, Melody O'Harra, in two episodes of Season 6. Melody is everything that Elliot wasn't in college — confident, outgoing, and tons of fun, and she's remained much the same. J.D. finds himself jealous of the time Elliot makes to hang out with Melody while she's in town. After Keith Dudemeister (Travis Schuldt) proposes to Elliot, J.D. makes desperate attempts to hook up with Melody.
Melody barely gives J.D. the time of day and when she confronts him about his persistence, J.D. realizes how devastated he is by Elliot's engagement. Bonus points to Russell and the show for reuniting her with fellow "Felicity" alum Donald Faison, who have fun chemistry when they're on screen together.
6. Heather Graham (Dr. Molly Clock)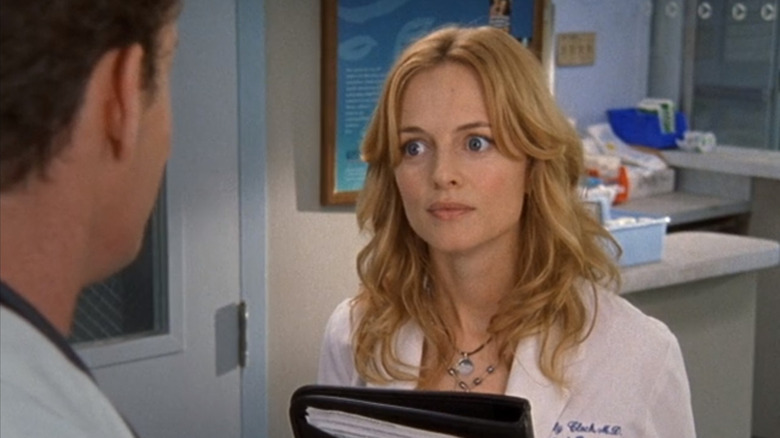 NBC/Hulu
Heather Graham features on "Scrubs" for the first nine episodes of Season 4 as Dr. Molly Clock — Sacred Heart's new and very talented psychiatrist. Dr. Clock gets a lot done in these episodes, interacting with everyone in the hospital at least once and often dropping truth bombs or effortlessly resolving conflicts. She becomes a close friend and mentor to Elliot, something Elliot welcomes after her disastrous break up with J.D. in Season 3, which has also caused some distance between herself and J.D.'s mutual best friends, Turk and Carla (Carla Espinosa). 
In Season 4, Episode 5 ("Her Story"), which is told from Elliot's perspective, she realizes that Dr. Clock isn't perfect (she gravitates toward some pretty messed up guys). Up until this point, Dr. Clock has done almost nothing except solve other people's problems — she uses her psychiatric skills to get Turk to realize he has diabetes, urges The Todd (Robert Maschio) to confront his misogynistic behavior, and teaches Dr. Cox and Dr. Kelso a lesson about how people can be inherently good. It's a shame that Dr. Clock's arc ends with a sudden, last-dash effort from J.D. to sleep with her before she moves away (when she returns, her only purpose is to serve as a temptation for J.D. in another relationship). She deserves more than to leave primarily as one of J.D.'s failed conquests.
5. Brendan Fraser (Ben Sullivan)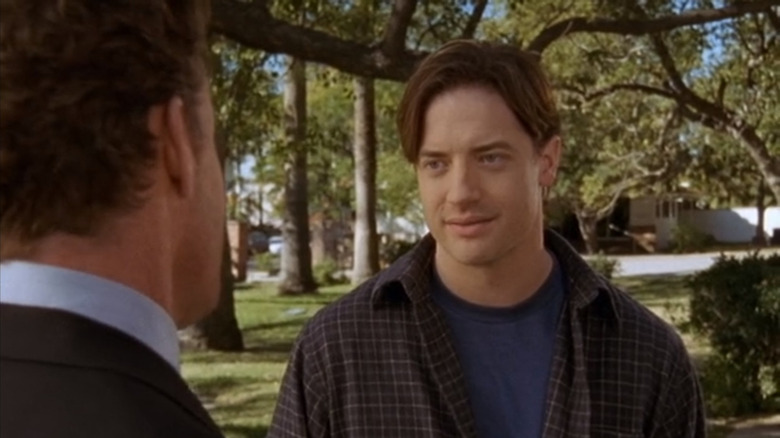 NBC/Hulu
Dr. Cox reveals an emotional side we don't often see when he's visited by Paige in Season 5 — the only other time we do is at the arrival of his best friend (and Jordan's brother) Ben, played by Brendan Fraser. In Season 1, Episode 22 ("My Occurrence"), Ben comes to the hospital for some stitches and jokes around with his best bud. There are some great laughs, especially when Ben tells Jordan that he was forced to choose between her and Dr. Cox after the divorce, to which Jordan replies, "I'm your sister!" Ben is zany and outgoing, unlike Dr. Cox, except for their mutual propensity to always commit to the bit.
J.D. soon discovers that Ben has leukemia, which crushes everyone, particularly Dr. Cox. In the following episode, he works up the courage to support Ben through his treatment and his hesitance in being there is one of the first times J.D. understands that Dr. Cox isn't a perfect doctor or mentor. Ben's full emotional impact doesn't come until Season 3, Episode 14 "My Screw Up"), however, when he returns to the hospital for Jack's first birthday party and to have his first appointment since entering remission. We see Ben spend most of the episode following Dr. Cox around the hospital, and it's chilling to discover at the end of the show that Ben has died, and Dr. Cox has been hallucinating all of the encounters as a result of his shock and grief.
4. Scott Foley (Sean Kelly)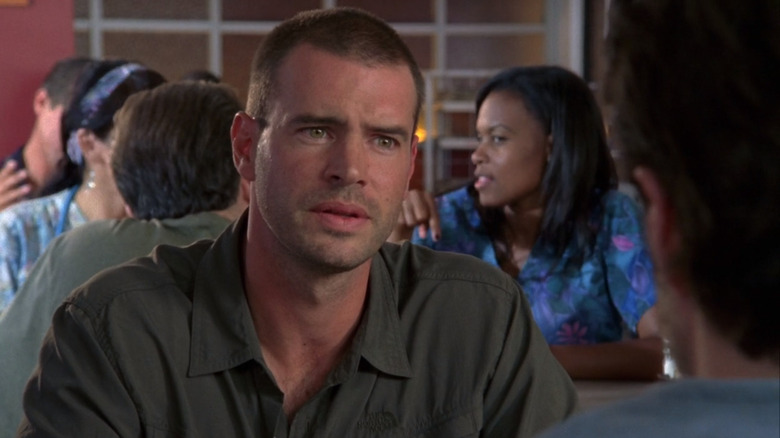 NBC/Hulu
Another "Felicity" alum, Scott Foley, plays an important guest role in the early and final seasons of "Scrubs." In Season 1 Episode 20 ("My Way or the High Way"), Sean Kelly is introduced as a nervous (but incredibly handsome) patient at Sacred Heart. Elliot is immediately smitten and the two date through the next episode, where Elliot realizes that she doesn't have the capacity for a romantic relationship and a medical internship. It's sad to see Elliot miss out on so much happiness, and it feels right that Sean returns to the show in Season 3 when he once again dates Elliot. This time, though, Sean is a long-term guest star, and as such, he has opportunities to interact with Turk and Carla, as well as clash with J.D. over Elliot.
Sean seems too good to be true a lot of the time and even though that can be annoying in a character, it's necessary for the audience to understand just how much Elliot gives up when she breaks up with Sean to be with J.D., who almost immediately realizes he doesn't want to be in a relationship with her. Sean comes full circle when he starts dating Dr. Kim Briggs (Elizabeth Banks) — the mother of J.D.'s son — in Season 8, cementing his irksome presence in J.D.'s life for a long time.
3. Elizabeth Banks (Dr. Kim Briggs)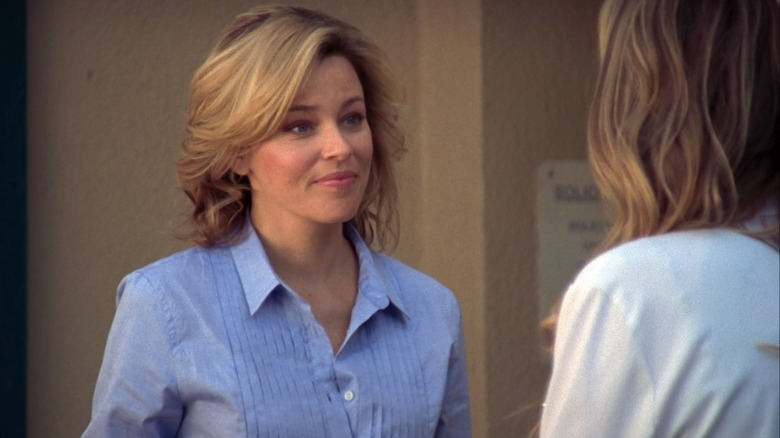 NBC/Hulu
Speaking of Dr. Kim Briggs, Elizabeth Banks is another excellent, long-term guest star who is introduced at the end of Season 5. J.D. is initially infatuated with the charming Sacred Heart urologist and it's not hard for viewers to fall for her as well. Banks weaves herself into the fabric and energy of the show effortlessly — Kim is one of J.D.'s only love interests that is able to keep up with his fast-paced and zany energy, as well as Turk's friendly ribbing, Carla's authoritative sarcasm, and Elliot's shrill monologues and still dish out her own gags (she's especially good at charming, backhanded compliments).
Kim becomes much more than a love interest for J.D. when she discovers that she's pregnant with their child. Despite the fact that they've only just started dating, J.D. and Kim decide to keep the baby and soon commit to a long-distance relationship. It inevitably fails, mostly because Kim literally lies to J.D. about having a miscarriage only to run into him at a medical conference just months later, but J.D. can't forget her as he has done with past girlfriends. Their relationship doesn't last, but they amicably co-parent, and J.D.'s growth is evident in his ability to be friendly with an ex-girlfriend; something he'd only been able to accomplish with Elliot in the past, and that took a lot of work.
2. Michael J. Fox (Dr. Kevin Casey)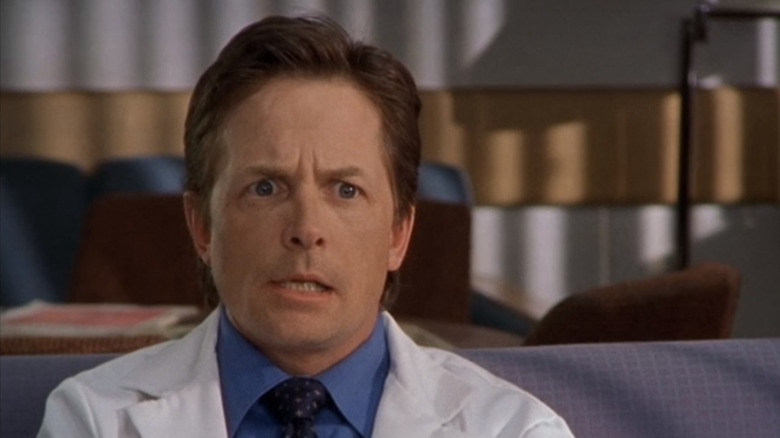 NBC/Hulu
Michael J. Fox appears in "Scrubs" as Dr. Kevin Casey in two episodes of Season 3. Dr. Casey is impressive, having developed the skills to practice both as an attending in internal medicine and in surgery. At first, J.D. is star-struck by Dr. Casey's abilities and determined attitude but soon realizes that he disdains the pedestals upon which J.D. puts so many older doctors and mentors. One of the most dramatic moments of the show comes in Fox's first episode. As Dr. Casey washes his hands after surgery, J.D. approaches him looking to start a fight, only to back down when he realizes that Dr. Casey is still crippled by his obsessive-compulsive disorder (OCD), despite the fact that he has worked hard to appear high-functioning to the outside world.
In Fox's second episode, Dr. Casey is confronted with the Janitor's (Neil Flynn) roof toilet, a spot of contemplation for many and a personal "Everest" for Dr. Casey himself. He also finds a way to help Elliot with her inability to intubate patients (a simple, standard procedure that she learned as an intern) before he goes, and it's heartening to see Michael J. Fox end his "Scrubs" story on a high note.
1. Tom Cavanagh (Dan Dorian)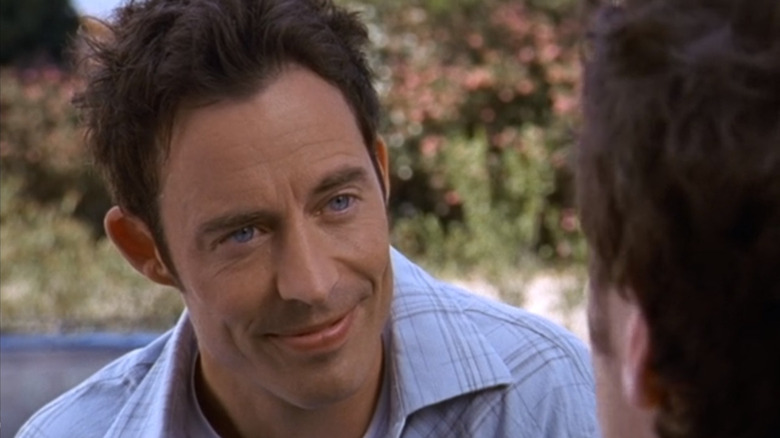 NBC/Hulu
Tom Cavanagh's turn as Dan Dorian is probably one of the best parts of "Scrubs." Viewers first meet Dan in Season 2, Episode 6 ("My Big Brother") when he visits his little brother, J.D., on his way to deliver a car cross-country. J.D.'s dynamic with Dan is similar to his dynamic with his father. Dan is a fratty, over-confident, rude man who peaked in high school, while J.D. is the sensitive, intelligent little brother that Dan never treated well. It's intriguing to watch the characters interact, and it's easy to imagine what their childhood was like. Dan visits his brother many times throughout the show and he has the most interesting character growth outside of the main cast.
J.D. spends a lot of time throughout the show both nurturing his brother's ego and telling him the cold hard truth about his life, and ultimately it is J.D.'s encouragement that forces Dan to get his life together by the end of the show. Dan's best moments, though, are those where he quietly comes through for J.D. It is Dan who convinces Dr. Cox to prevent J.D. from losing his kind heart to the morbid reality of being a doctor, and Dan (along with Dr. Cox) ultimately finds a way to support J.D. through the death of their father despite his own struggle.