Comedy Central Renews Corporate For Second Season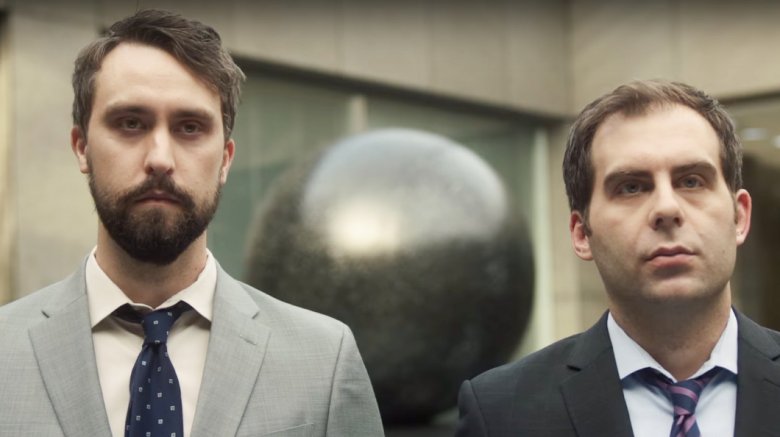 Corporate is heading into a strong second quarter.
Comedy Central has announced it has given a renewal order to freshman satire series Corporate, weeks ahead of its upcoming first season finale. 
The series made its debut on the network on January 17, and has since been meeting and exceeding every target goal the bosses could've dreamed of. According to Deadline, the series was the highest-rated basic-cable primetime comedy of the season among the coveted demographic of males 18–34. Imagine how happy the shareholders will be!
Created by Jake Weisman, Matt Ingebretson, and Pat Bishop, Corporate follows the anti-adventures of the slowly dying employees of Hampton DeVille, a heartless nightmare of a company whose tagline proudly reads "We Don't Make Anything, We Make Everything." If nothing else, they're making us happy as viewers. Sometimes it's fun to watch other people be miserable, you know?
"Thrilled to announce Comedy Central picked up Corporate for SEASON TWO," Ingebretson wrote on Twitter shortly after the announcement. "@weismanjake will be able to afford more food for his cats!" 
"We're absolutely thrilled to continue selling our souls making some more anti-corporate comedy for one of the biggest corporations in the world," Weisman, Ingebretson, and Bishop added in a joint statement, playfully nibbling on the hand that feeds them.
Weisman and Ingebretson co-star in the series playing junior executives-in-training. They are joined by Lance Reddick as the tyrannical CEO, Aparna Nancherla as the refreshingly human human resources rep, and Anne Dudek and Adam Lustick as two brown-nosing factotums. 
The first season of the series has so far included a stacked roster of comedic guest stars, including Natasha Lyonne, Baron Vaughn, Fred Willard, Jon Daly, Eddie Pepitone, Brent Weinbach, Kate Walsh, and more.
Corporate currently airs on Comedy Central on Wednesdays at 10/9c. The final episode of the first 10-episode season will air on Wednesday, March 14.