Yellowstone Season 5 Episode 3 Recap: Water Rising
The following contains spoilers for Season 5, Episode 3, of "Yellowstone"
Welcome back for a "Yellowstone" recap, fans! While last week's two-hour premiere was about as all over the place as a kid shooting buckshot at a paper target for the first time, Episode 3 (titled "A Tall Drink of Water") appeared to focus on dialing things in. We have the ranch hands focused on celebrating Lloyd's (Forrie J. Smith) birthday; we have Beth Dutton (Kelly Reilly) making some major business moves to secure the ranch from her family's enemies. Fans also witness Jamie Dutton (Wes Bentley) overlooking an obvious good lawyer, bad lawyer routine (accurately pointed out by @TJsBizniz on Twitter) happening right in front of his face.
Viewers had some happy moments to enjoy during this episode, despite all of the serious chess moves and trauma processing. That heartwarming scene when Carter (Finn Little) was feeding the calf a bottle of milk and worrying about its fate — and Rip (Cole Hauser) reminding him that orphans don't get shipped out very often around the Dutton ranch — was a stiff tug on the ol' heartstrings. Seeing everyone dancing and happy at the bar was a welcome reprieve. But events have been set in motion over the past three episodes, hinting at dark things for the main characters. And some of those hints are less subtle than others.
The foreshadowing is strong this season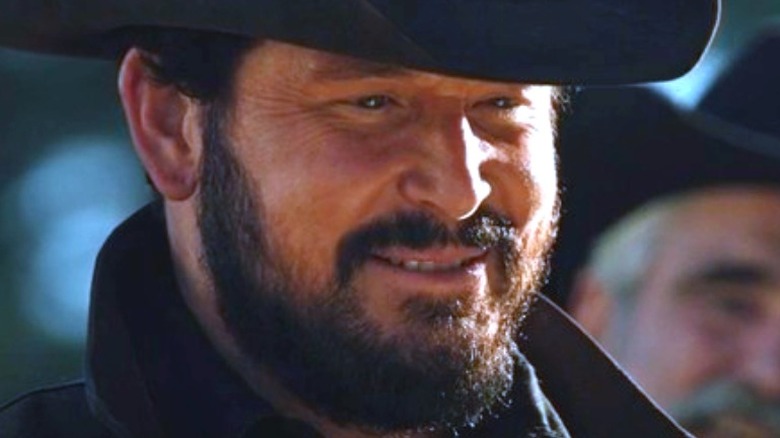 Paramount Network
After watching this episode, fans now know that the ending shot of Episode 2 — which focused on the wolf collar attached to a piece of driftwood getting caught up on the riverbank — wasn't just an artsy shot of a river for the sake of admiring nature. It was an omen of things to come. Now Rip is essentially babysitting a couple of Fish and Wildlife officers and trying his best to keep them distracted while the rest of the cowboys scramble to cover their tracks. But those officers still smell foul play and don't seem keen on cutting Rip any slack anytime soon. Rip, and the boys will have their work cut out for them if they have any hope of throwing them off their scent.
Next, let's talk about Beth getting arrested at the end of the episode. It's a little bit uncanny how Sara Atwood (Dawn Olivieri), the lascivious married woman from Sacramento, physically resembles Beth's brunette foil. And let's not forget that earlier in the episode, when Jamie was getting manipulated by Atwood and her sidekick, Ellis (John Emmet Tracy). Jamie facetiously threatened to press battery charges against Ellis for bumping into his secretary and accidentally making her spill Jamie's coffee. Was that accidental incident of battery foreshadowing Beth's very, very intentional incident of battery at the end of the episode? Along with future conflicts between her and Atwood? Only time will tell.
The show reminds us (more than once) that you never say no to Beth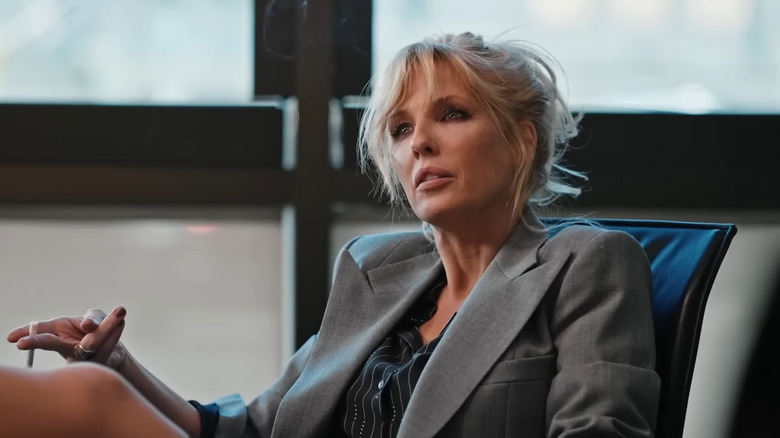 Paramount Network
There's a pivotal scene in this episode featuring Beth not only going against her own judgment to give her father what he wants but also fighting an uphill battle to do so. That scene sees her convince her colleague to accept a controversial business proposal without board approval or consulting a lawyer first. Had it been anyone else, you can bet good money that forking over all of the Schwartz & Meyer land assets so that he could stick it to Market Equities wouldn't have been an easy task. But this is Beth we're talking about. So, of course, she makes it happen.
Later in the episode — in an act of defiance that was noticed by fans on social media — Beth radically rebels against her new husband, Rip, for having the audacity to tell her "no" by redirecting Lloyd's birthday party to a nearby bar. And it (mostly) works. Everyone is drinking shots and having a good time until a frisky part-time resident from California makes the disastrous decision to flirt with Rip. Beth gives the woman what-for and introduces her to the business end of a glass bottle, which triggers a cascade of violence that causes a barroom brawl.
This episode made no attempts at slowing down Beth's brashness. While we are still so early in the season, fans can likely expect more explosiveness from Beth Dutton.
Everyone Hates Monica...but why?
Let's take a look at what happened to Monica (Kelsey Asbille) in this episode. At one point, her grief is so overwhelming that she collapses to the floor while chopping vegetables for breakfast and instead uses the big, sharp kitchen knife to chop off her long hair. Many casual "Yellowstone" viewers — especially those who have no connection to Native culture — might be unaware of the cultural significance of haircutting and how it is often practiced when expressing grief over a tragic loss (via Vox).
During the season premiere, some viewers blamed Monica for the death of her baby. It's believed that trauma victims can often have a habit of wanting to control their circumstances (per Psychology Today). Was driving herself to the hospital while in labor the best decision? There could have possibly been several severe pregnancy complications had she waited for help to arrive (via the National Institute of Health). In that moment of crisis, taking matters into her own hands probably felt like the best decision, even if some found it illogical. Regardless, it will be interesting to see how Monica progresses further as a character this season. If the cutting of her hair is taken as higher symbolism, then perhaps fans will slowly see new layers added to her character.
When does Yellowstone Episode 4 air?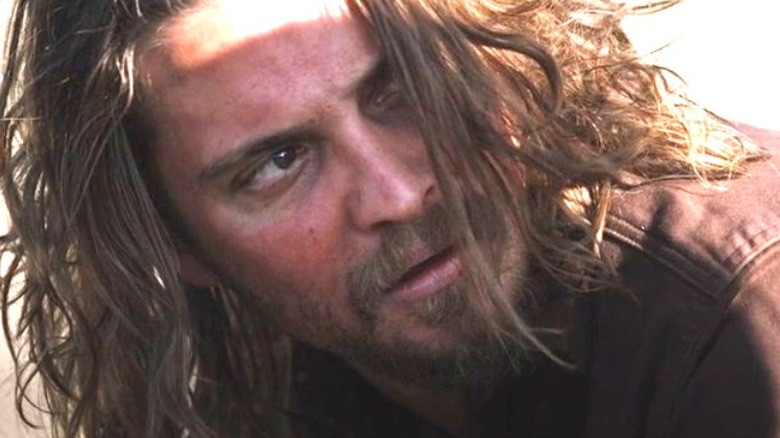 Paramount Network
According to IMDb, Season 5, Episode 4, "Horses in Heaven," is scheduled to air on Paramount Network a week from now, on November 27. It will no doubt air at its regular time of 8 p.m. ET on cable television — but anyone who has cut the cord will have a hard (or expensive) time catching the show. And will cable viewers be yet again inundated by promotional commercials for Tulsa King? That depends on how hard Paramount wants to promote it.
From the title alone, it sounds like all the Monica haters out there will have a bad evening. In this week's episode, Chairman Rainwater explains to Kayce Dutton (Luke Grimes) that the funeral ceremony Monica wants involves a horse spirit riding his deceased infant son's spirit to the other side. They (thankfully!) clarify that this does not involve killing any living horses. But it would be surprising if it isn't a Monica-and-Kayce-centric episode with a fair amount of grief processing.