The Walking Dead Showrunner Explains Carl's Fate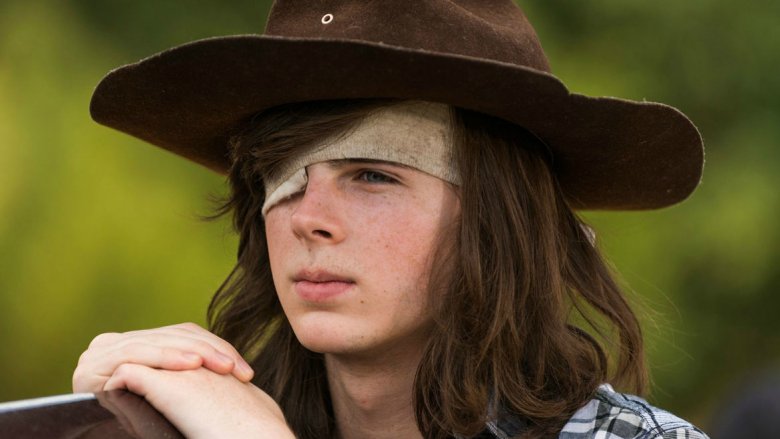 Contains spoilers for The Walking Dead season 8
The Walking Dead isn't a show that's easy on its fans, but the latest shocker was apparently done for a good reason.
We knew from the midseason finale that Carl (Chandler Riggs) wouldn't be long for the world after being bitten by a walker, and in the midseason premiere, "Honor," he opted for a gunshot before he turned. His death has huge ramifications for The Walking Dead, as Carl was one of just a handful of the original characters still around from the first season. It's also a big deviation from Robert Kirkman's comics, in which Carl is still alive and a central figure.
Although the move will surely upset a large faction of fans, showrunner Scott M. Gimple told TV Line that it was necessary. 
"We wanted to tell a version of the comic story that kept emotions similar to what you'd get when reading the [source material] but in different ways, so that the comic-book-reading audience didn't expect what was going to happen," he said. "We plan to do that moving forward as well — sometimes pulling moments from the book in sort of verbatim ways and sometimes in ways that are very different, with the goal of heightening the message in some way. Carl's death fell into that [category]. This in many ways is sort of the ending of an era for The Walking Dead and the starting of a new one."
Sure, that fits with the constant reinvention of The Walking Dead for TV audiences, but why did it have to be Carl to usher in the new era?
"He needed to be the person who pushed the world in a certain direction, who put out a certain message," Gimple said. "That message might even be denied, but we wanted it to have the incredible weight of coming from this young hero in the most serious of circumstances. And [his death] can show that this world is still the world of The Walking Dead, where these things happen. It couldn't have had more gravity [if it had happened to another character]."
Kirkman himself was a little hesitant to kill off Carl, but he recently told Entertainment Weekly that negative fan response is just a sign that the show is doing what it's meant to do. "I know that some fans online have been very upset, but that's by design," he said. "We're not supposed to be happy when these characters die. We are supposed to be worried about what comes next, and anticipating what comes next, and stressing about what comes next. That just shows that you're engaged and you're interested. Our job is to now pay that off and fulfill that interest, and prove that this was a decision worth making. That's what we've got to do."