10 Movies Like Pearl To Watch Next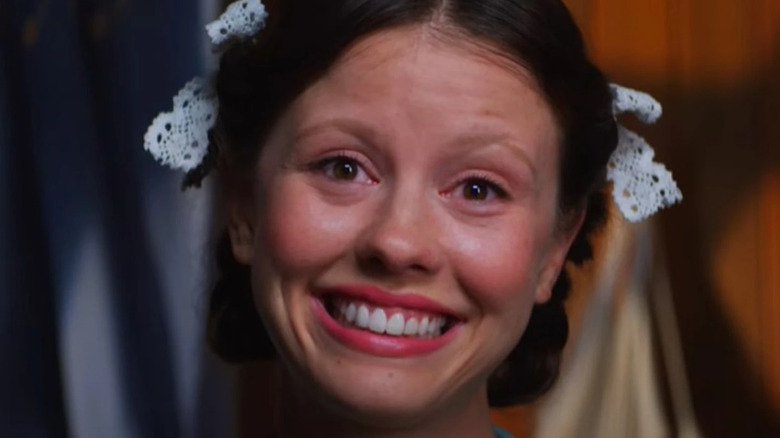 A24
"Pearl" tells the story of the eponymous Pearl, a young woman living in a quiet Texas farmhouse whose life begins to reach a breaking point. With her husband sent off to fight in the First World War, Pearl is left alone to care for both the property and her dying father at the behest of her controlling mother. Yearning for a different life, Pearl nearly manages to break free from her struggles before everything comes crashing down, with disastrous and bloody consequences for everyone in her way.
Part of a larger story that all began with director Ti West's "X," "Pearl" has earned itself equally high praise from just about everyone who's given it a try (via Rotten Tomatoes). The psychological horror nightmare will likely be remembered as a must-watch in the years to come for film buffs, but it's far from the only one. Whether you've been following along since the release of "X" or just finished watching "Pearl" a few minutes ago, below we'll be rounding up some of the films most like Mia Goth's "Pearl" across decades of cinema for you to watch next.
Carrie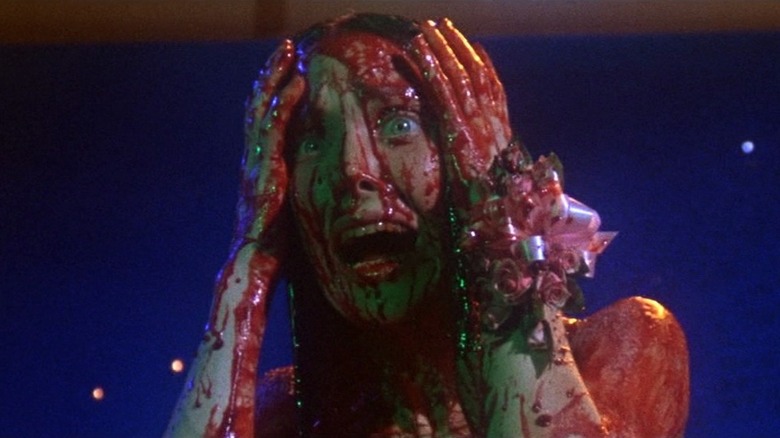 United Artists
Kicking off our list is none other than the horror classic "Carrie," which has been terrifying audiences with its grisly combination of supernatural and real-world frights for decades. The 1976 film starred Sissy Spacek as Carrie White, a troubled teenager who becomes the target of her peers' particularly cruel bullying in the days leading up to the school prom. Her life at home doesn't prove to be any better than her days at school, with her fanatically religious mother believing Carrie to be a sinner in the eyes of God.
The torment finally reaches a head after Carrie inadvertently gets one of her bullies barred from the upcoming dance, leading to her vowing revenge against Carrie. In a now iconic scene involving the school dance and a bucket of pig's blood, Carrie is sent into a rage, revealing previously unknown powers to the world.
The very first of a long list of film adaptations inspired by the works of horror visionary Stephen King, "Carrie" has been a lasting favorite for like-minded fans of all things horror, and one that likely helped inspire a few of the picks on our list. Besides the shared female lead, "Carrie" resembles "Pearl" much more closely through its themes of psychological torment and social rejection, which serve as the catalyst for each film's leads to commit unspeakable acts. Despite its age, "Carrie" still holds up today even for the most novice of film buffs, and deserves to be seen by every fan of "Pearl."
Saint Maud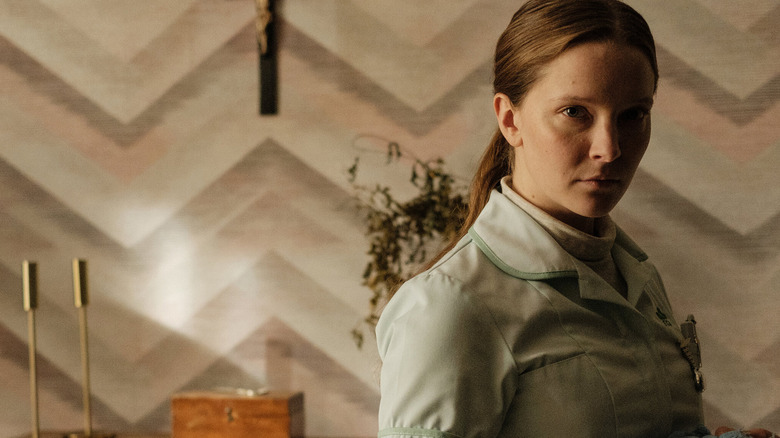 A24
After the death of a patient leaves Katie (Morfydd Clark, perhaps best known as Galadriel in "The Rings of Power") traumatized, she undergoes a dramatic transformation. Rediscovering herself as Nurse Maud, she becomes committed both to her faith and helping others — however, when she crosses paths with one particularly challenging patient, it may prove to unravel her newfound identity entirely.
The patient, Amanda (Jennifer Ehle), is on the brink of death. As the inevitability of her passing draws ever closer, and with secular beliefs at odds with Maud's expectedly religious convictions, Amanda fears what she believes to be the impending end. Inspired to action by Amanda's lack of faith, Maud believes she must do whatever she can to save her patient's soul before it's too late. From there the pair seem to go down a journey of religious discovery not unlike Maud's own, until an unexpected player arrives, throwing a wrench in Maud's plans of salvation for Amanda.
Exploring themes such as the place of faith in one's life and the fear of death, "Saint Maud" is a psychological thriller that'll likely stick with you for a while. Like "Pearl," its subject matter manages to transcend some of the cheaper horror movie storylines and provide something more meaningful, while still keeping it disturbing enough to stay engaging for all horror fans.
Orphan: First Kill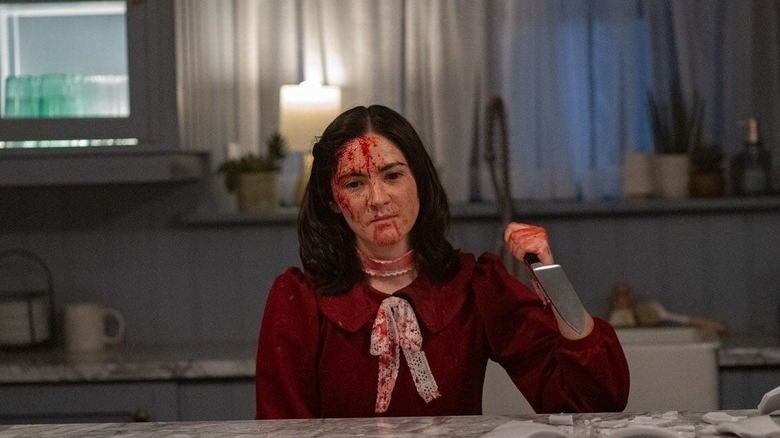 Paramount Players
After escaping from a psychiatric facility in Estonia, 9-year-old Leena Klammer (Isabelle Fuhrman) begins a mysterious journey to the United States. After finding a suitable lookalike from missing persons records, she plans to take on the identity of the missing Esther Albright and integrate herself into the broken family. However, and in a twist that viewers of the original "Orphan" will know all too well, not everything is as it seems with this unusually crafty escapee. It might take the Albright family too long to figure out exactly what that is, though.
Akin to "Pearl's" prequel nature, "Orphan: First Kill" gives fans the backstory to the antagonist first seen in 2009's "Orphan." Audiences who got a kick out of seeing one of the scariest kids in cinema history hack through her unsuspecting victims will find more of the same in this long-awaited prequel. For anyone who hasn't given the series a try yet, there's no better time than right now to catch up. The similarities to "Pearl" don't stop with the story structure for this one, though, as "Orphan: First Kill" similarly finds itself rooted firmly within the genre of psychological horror with its mind-bending twists and turns around every corner.
The Texas Chainsaw Massacre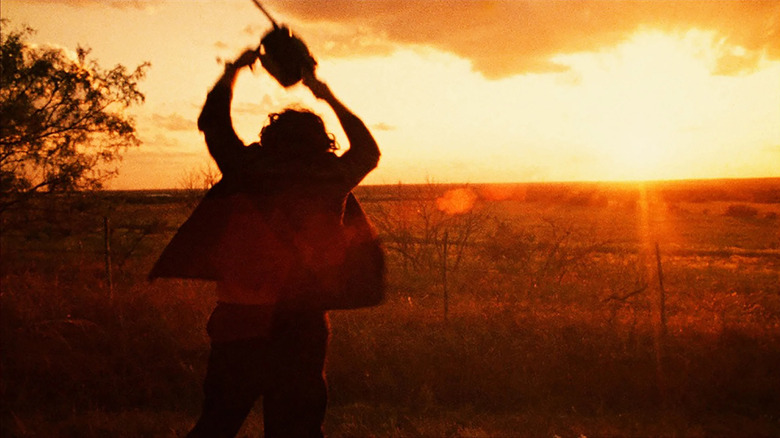 Bryanston Distributing Company
One of the earliest and certainly most famous slasher films of all time, "The Texas Chainsaw Massacre" is likely a film everyone's at least heard of. Remembered for helping to solidify the genre's foothold in American cinema, the chilling story of murder on a Texas farmhouse continues to terrify audiences today.
In an opening that's become something of a staple of the genre, "The Texas Chainsaw Massacre" begins with a group of friends finding themselves piled into a van and plodding through the backcountry on an ill-fated road trip. Their first sign of trouble comes in the form of a skeevy hitchhiker they cross paths with. Second, their car conveniently breaks down at the worst possible time, forcing them to try and take refuge in a nearby home. They don't wind up getting a third warning, as by now, the group has fallen into the trap of their demented killer, Leatherface, as he gets ready to slash his way into pop culture history.
From the obvious similarities like their shared rural Texas setting, to ones somewhat less clear, like their comparably eerie climactic sequences, "Pearl" is packed with homages to "The Texas Chainsaw Massacre" for astute viewers to catch. Even the vibe of "Pearl" (and perhaps even more so director West's sequel film "X") just screams classic slasher flick.
The Purple Rose of Cairo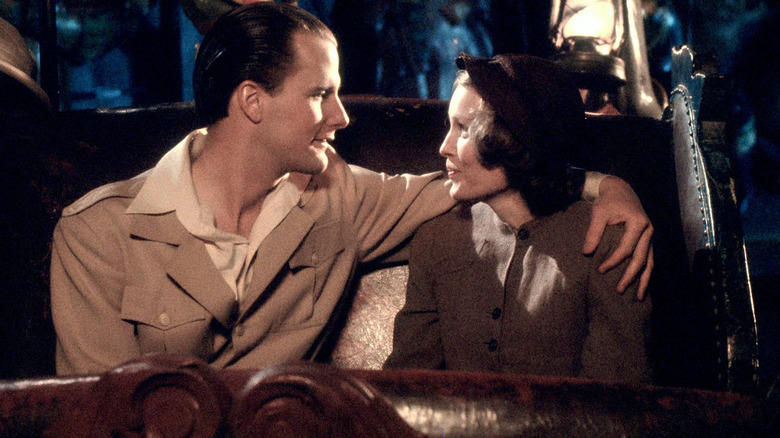 Orion Pictures
It's 1935, and just about everyone is feeling the pain of the Great Depression. Amidst the seemingly unending strife, things are especially depressing for a waitress named Cecelia (Mia Farrow). Between being trapped in a dead-end job and an even worse marriage waiting for her at home, she has few options when it comes to finding outlets to help ease her unhappiness. Just about all Cecelia can do is spend her free time watching movies at the local theater, though she winds up getting far more than she bargained for when the truly unexpected happens one night.
While in attendance for — you guessed it — a film titled "The Purple Rose of Cairo" for the umpteenth time, the boundary between reality and fiction is shattered. Cecelia is shocked when one of the film's leads, Tom Baxter (Jeff Daniels), literally walks out of the film and into her heart. It's not all perfect, however, as the character of Tom's real-life actor descends upon the lovebirds to try and set things straight.
Though this one makes a noteworthy departure from the more horror-themed approach we've been sticking to so far, "The Purple Rose of Cairo" explores similar themes to those presented in "Pearl." Fantasies of grandeur are perhaps the most apparent, with the hardships of the early 20th century being a shared background for both films, driving both Pearl and Cecelia away from reality. If you still aren't sure, enduring praise from both critics and audiences alike should help convince you that "The Purple Rose of Cairo" is worth giving a shot (via Rotten Tomatoes).
Bodies Bodies Bodies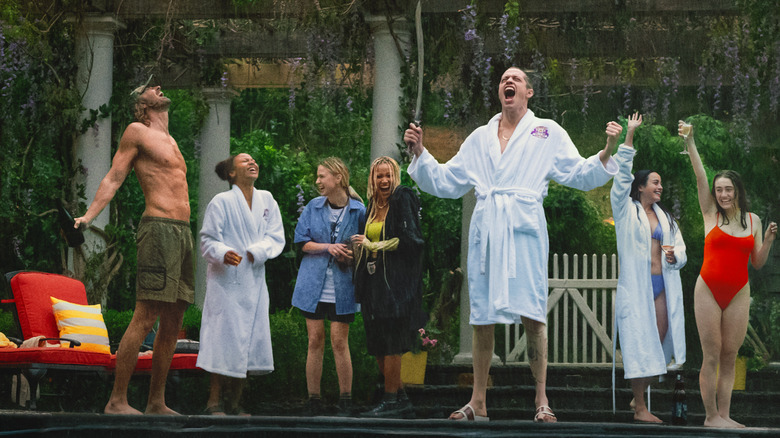 A24
One of the most recently released picks on our lineup, "Bodies Bodies Bodies" fuses horror and comedy in a way that so many other films fail to execute quite as well. Taking place on the grounds of an affluent mansion, the lavish setting serves as the destination for a group of friends who have set out to hold an especially wild party. Pretty soon, though, the crazed celebration turns deadly as one of the guests winds up dead outside the property. Thanks to the mansion's secluded setting, the partygoers realize the killer must be among them, quickly turning on each other as mayhem and hilarity ensue.
One of the latest offerings from arthouse production company A24, "Bodies Bodies Bodies" helped cap off 2022 as one of the company's strongest years for horror since its inception. Though decidedly more comical than other recent releases like "X," "Men," and even "Pearl," "Bodies Bodies Bodies" delivers on the same reputation for quality film that A24 strives for. While it trades the message in "Pearl" for one a bit more cynical about our relationship with technology, "Bodies Bodies Bodies" does similarly provide plenty of slasher gore and then some.
Suspiria (2018)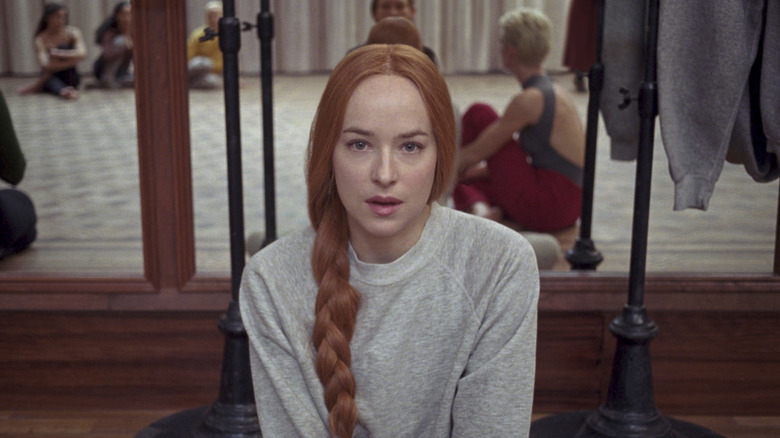 Amazon Studios
All too often the concepts behind some of the greatest films get milked for their ideas with a slew of endless and increasingly terrible sequels to follow. While it's not exclusive to the genre, perhaps none fall victim to this more frequently than that of horror (just take a look at how many "Halloween" and "Friday the 13th" movies there are if you have any doubts). While the original "Suspiria" is rightfully considered one of the greatest horror movies ever made, the 2018 remake is pretty good, too, and actually gives its predecessor a run for its money. Though not enjoying quite the same level of acclaim by critics or audiences, it expanded on the original concept in new and meaningful ways that make it worth giving a try (via Rotten Tomatoes).
Returning to the setting of Germany, this time to West Berlin amidst the Cold War, Susie Bannion (Dakota Johnson) has left her home in the states behind in the hopes of attending the prestigious dance school known as the Markos Dance Company. It becomes clear pretty quickly after she arrives that not all is as it seems, however, with the high profile disappearance of a student being pinned on the school's brooding matrons.
Similarly to "Pearl," horror is paired with a central theme of performance in "Suspiria," as grim secrets are seemingly hidden under the guise of the dance company. In reality, though, the two may be more closely linked than you might expect. The 2018 remake of "Suspiria" manages to surpass the original in a few ways, with its violence being one of the most apparent, but if you managed to make it through "Pearl," you should have the stomach for it.
Hard Candy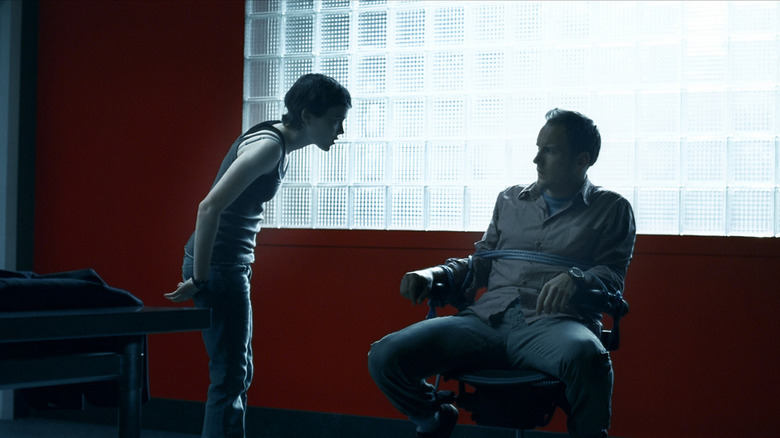 Lionsgate
An early lead role in actor Elliot Page's filmography, "Hard Candy" was a perfect example of the challenging roles that Page could tackle. The same could be said for co-star Patrick Wilson of "Watchmen" and "Insidious" fame, as the pair brought the twisted revenge tale to life.
The disturbing film begins with the forming of an unlikely and seemingly one-sided "friendship." After a short period chatting online, 32-year-old Jeff Kohlver (Patrick Wilson) has managed to convince Hayley Stark (Elliot Page), a teenage girl, to meet him in real life. While the sickening situation seems to be headed down a dark but predictable path, it turns out that Hayley is far from the helpless victim Jeff suspects her to be. Instead, she's keenly aware of exactly what type of person Jeff is, and plans on exacting some pretty brutal punishment for his behavior.
With heavy themes that go beyond the typical blood and guts some of our films feature, "Hard Candy" is probably the toughest entry to sit through that we'll be talking about. Nonetheless, a gripping thriller awaits audiences willing to brave the film's uncomfortable subject matter. As in "Pearl," "Hard Candy's" protagonist blurs the line between good and bad at times, though ultimately can't be faulted too heavily for what she does.
Natural Born Killers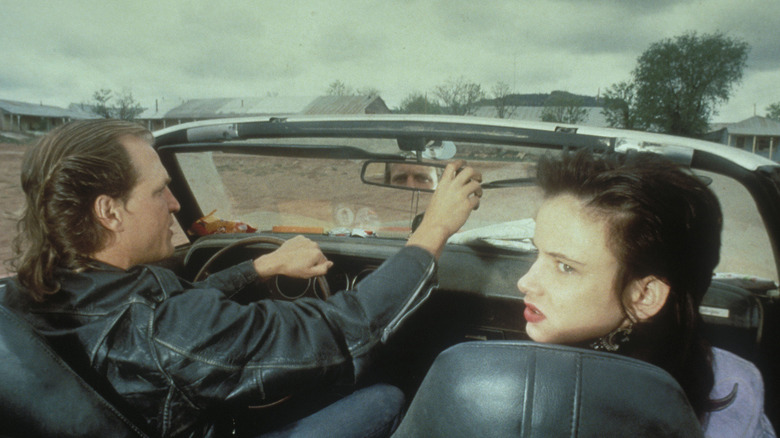 Warner Bros.
In the middle of the New Mexico desert, an isolated restaurant has become the site of a grisly massacre. The slaughter is the first of many audiences witness at the hands of lovers turned killers, Mickey (Woody Harrelson) and Mallory Knox (Juliette Lewis). Hot on their heels is detective Jack Scagnetti (Tom Sizemore), but perhaps just as feverishly pursuing them is the media itself, eager to capitalize on the juicy story. While it's the repressed dreams of fame in "Pearl" that result in her lashing out, "Natural Born Killers" takes that idea and flips it on its head. Instead, it's the total immersion into stardom that Mickey and Mallory experience that emboldens the pair to keep their whirlwind of violence going.
An early lead role for actor Woody Harrelson (and to an extent, co-star Juliette Lewis), "Natural Born Killers" is a pretty wild ride. Acclaimed director Oliver Stone tapped the talents of fellow director Quentin Tarantino to help write the film, which ended up causing quite a stir upon release. Given the legacy left behind by the types of films Tarantino makes, you'd be correct in assuming that the controversy was mainly directed at the scenes of intense violence on which "Natural Born Killers" makes its bread and butter. By the end of its runtime, however, viewers should get a pretty clear understanding that the film's purpose is far deeper than just delivering some cheap thrills.
X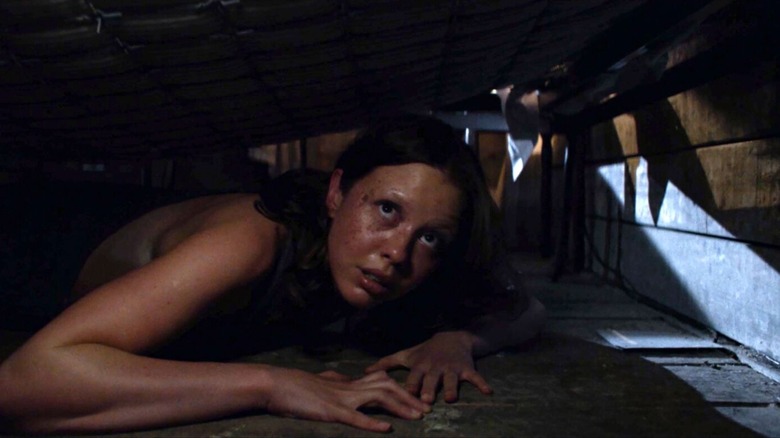 A24
It's tough to name a film more like "Pearl" than Director Ti West's "X." His first entry in what has become an ongoing series, "X" is set years after the massacre that took place in "Pearl," and revisits both Pearl (Mia Goth) and her husband Howard (Stephen Ure) going about their lives on the same quiet Texas homestead. That peace comes to an abrupt end, however, when a group of amateur filmmakers happen upon the property and hope to make the elderly couple's farmhouse the stage for their latest illicit production.
Unbeknownst to the newcomers, their hosts are a far cry from your typical sweet old folks. Pearl's violent tendencies don't seem to have gone away with age, and it turns out they may have even rubbed off on her husband Harold over the years. What follows is a glorious homage to slasher films gone by that goes toe-to-toe with any of "Pearl's" most brutal sequences, and even any across the genre as a whole.
Since this one's brought to us by the same director and part of the same story as "Pearl," you almost can't watch one without the other, though it's a bit tough to say what order that should be in. Either way, any fans of horror should give both of these Ti West projects a try, and it's safe to say we're all excited to see where the series will go from here.