Chris Hemsworth Would Like A Thor Vs. Aquaman Battle In A Marvel/DC Crossover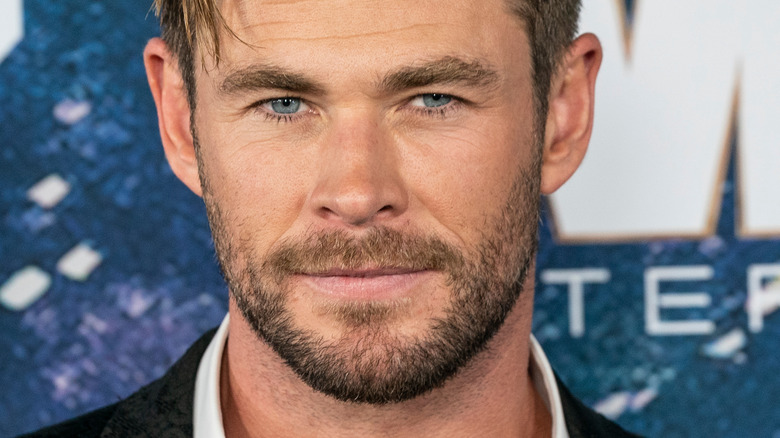 lev radin/Shutterstock
With writer/director James Gunn now heading Warner Bros.' DC Studios alongside producer Peter Safran (via The Hollywood Reporter), there's one individual in particular who's apparently looking forward to a potential Marvel/DC crossover, and that's Thor actor Chris Hemsworth. But is it really plausible?
For starters, Gunn has had an interesting career in superhero cinema. With Marvel Studios, he saw success with the "Guardians of the Galaxy" franchise earning rave reviews and hefty box office returns. Though Gunn was slated to write and direct the threequel in the "Guardians of the Galaxy" franchise, some unsavory tweets were uncovered that resulted in his swift firing in July 2018.
Just a few months later in October 2018, Deadline reported that Warner Bros. offered the filmmaker an opportunity to work on a new "Suicide Squad" movie. Disney would later reconsider in March 2019 when he was brought back to helm "Guardians of the Galaxy Vol. 3." With Gunn working in both DC's and Marvel's camps harmoniously, fans began seeing him as the bridge between the two competing comic book brands, leading many to believe that a major Marvel/DC crossover is possible.
As for Hemsworth and the theoretical crossover, he has named one DC superhero as someone he'd like to fight on-screen in such a project — Aquaman, who is played in the DC Extended Universe films by Jason Momoa.
Chris Hemsworth thinks it'd be fun to see Thor and Aquaman duke it out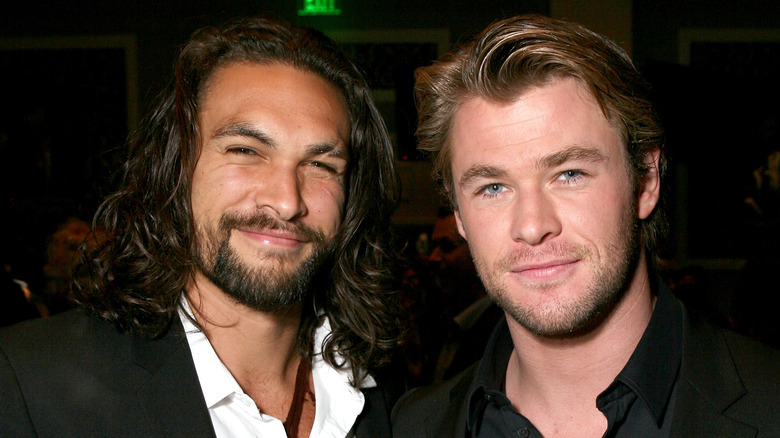 Ryan Miller/Getty Images
In an interview shared on their YouTube channel, Geek House Show spoke to Chris Hemsworth, asking him about James Gunn's recent promotion at DC Studios and a possible Marvel vs. DC movie, asking Hemsworth who he'd like to see his character encounter from DC's roster. Hemsworth believes that Aquaman would be a good opponent, saying, "...Who would be a fun matchup? Thor and Aquaman, that could be fun. You know, Jason [Momoa] is a good friend of mine." Dwayne Johnson's Black Adam was offered as another suggestion, which Hemsworth happily accepted.
Strangely enough, before the DC Studios announcement, GamesRadar spoke with Johnson about a Marvel/DC crossover in August 2022. When asked whether the two comic book titans could one day work together, Johnson remained hopeful before adding that he believes it's inevitable, saying, "To me, they can not only exist but they should, in my mind, cross paths one day."
It would seem, though, that Gunn was way ahead of Hemsworth and the rest of us. In an interview with Jake's Takes from July 2021, when asked if he had ever considered a crossover between Marvel and DC, Gunn revealed that he offhandedly discussed it with the bosses of both companies. "Not only have I thought about that, but I've actually talked about that to the heads of both Marvel and DC," he intimated. "You know, everybody's open to everything, but whether anything would ever happen, who knows?" Gunn would later mention some ideas that he was most excited about, including a Harley Quinn/Groot crossover, among others.