Dan Aykroyd's Indiana Jones Cameo Was Always Hiding In Plain Sight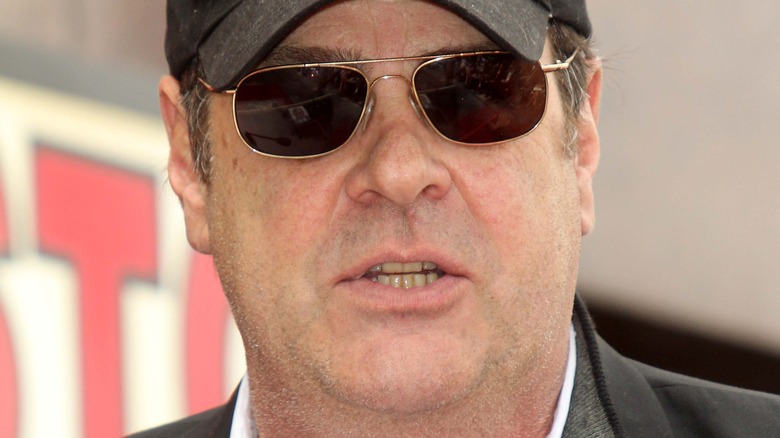 s_bukley/Shutterstock
Dan Aykroyd has had a career that anyone would be proud of. The Canadian-born comedian and actor was part of the inaugural cast of "Saturday Night Live" in 1975, where he originated iconic characters like Elwood Blues, Yortuk Festrunk, and Beldar Conehead. From there, he went on to star in a string of comedies that rank among the best of all time, like "The Blues Brothers" (1980), "Trading Places" (1983), and "Ghostbusters" (1984). 
Altogether, Aykroyd has 112 acting credits on his resume (per IMDb). That includes a brief appearance in 1984's "Indiana Jones and the Temple of Doom," which was directed by Steven Spielberg and based on a story by George Lucas. Aykroyd did the cameo because he and director Steven Spielberg had been friends going back to when they worked together on Spielberg's 1979 World War II comedy "1941." Spielberg also did a cameo for Aykroyd in "The Blues Brothers," playing the clerk at the tax office where Jake and Duke have to bring the money to save the St. Helen of the Blessed Shroud orphanage.
Here's where you can check out Aykroyd in "Temple of Doom."
Dan Aykroyd appears early in Indiana Jones and the Temple of Doom--and he's not the only cameo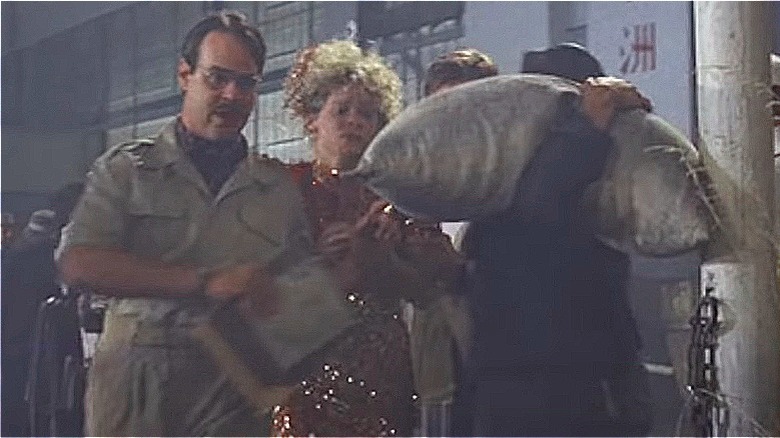 After Indy (Harrison Ford), Willie Scott (Kate Capshaw), and Short Round (Ke Huy Quan) escape the shootout with Lao Che's (Roy Chiao) men at Club Obi-Wan (which is obviously a "Star Wars" Easter egg), they head to the Nang Tao airport to escape Shanghai. There, they meet one of Indy's contacts, a cheerful British man named Earl Weber who's played by Aykroyd. Weber tells Indy that he's found them three seats on a flight out of Shanghai. The only problems are, it's a cargo flight full of chickens, and the plane is owned by Lao Che. It's understandable why Aykroyd's cameo is so easy to miss. He's never shown in closeup and his cameo only lasts 18 seconds. Still, that's him, unconvincing accent and all.
Although the Shanghai exteriors were filmed in Macau, the Nang Tao airport scene was actually filmed at Hamilton Air Force Base, a facility about 30 miles north of San Francisco near the town of Novato. It was built in 1933 and decommissioned a decade before "Temple of Doom" was filmed there (via Movie Locations).
Aykroyd isn't the only big name to have a cameo in this scene. In the background there are four missionaries, who are played by Lucas, associate producer and current Lucasfilm president Kathleen Kennedy, executive producer Frank Marshall, and Spielberg. Even if "Temple of Doom" has its flaws, now you have a reason to give it a rewatch.