Why Quentin Tarantino Is Adamant About Quitting Filmmaking
Noam Galai/Getty Images
Quentin Tarantino is among the most well-known directors in Hollywood history, and for good reason. Since the early 1990s, he's helmed some of the most iconic films to ever grace the silver screen, earning numerous awards and praise from all directions for his efforts. "Reservoir Dogs," "Pulp Fiction," and both volumes of "Kill Bill," among numerous other excellent titles, came from his creative mind. As we go deeper into the 21st century, he's maintained a steady workflow, much to the delight of those who've come to appreciate his narratives, characters, and overall filmmaking style.
Tarantino's latest effort premiered in 2019, "Once Upon a Time in Hollywood," with a cast that includes the likes of Leonardo DiCaprio, Brad Pitt, and Margot Robbie. Set against the backdrop of Los Angeles, California, in 1969, it explores everything from the friendship between a fading movie star and his stunt double to the Manson family's attack on the residence of actress Sharon Tate (Robbie) — all within a fictional context. Overall, audiences and critics alike seemed to enjoy the film that, as it turns out, is one of Tarantino's final directorial efforts, according to the man himself.
Quentin Tarantino has mentioned retirement after directing his 10th film before, and for anyone doubting his plan to do so, he's explained why he's so adamant about it.
Tarantino doesn't want to overstay his welcome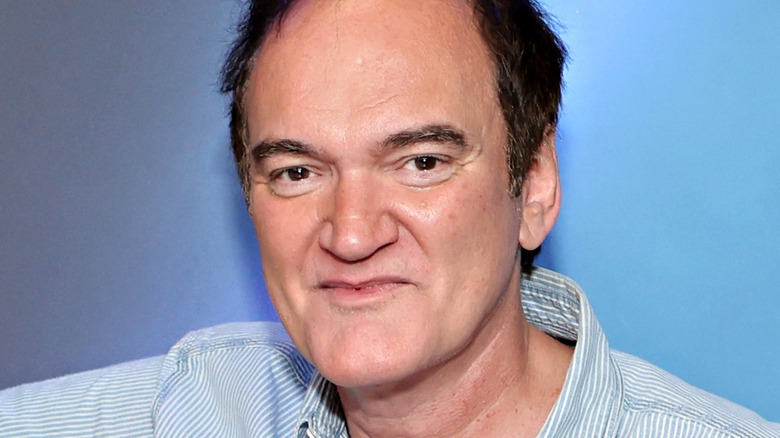 Cindy Ord/Getty Images
Quentin Tarantino recently spoke with CNN's Chris Wallace, touching on the state of his career in 2022. When asked why he plans to take his final bow after his 10th movie, he made it abundantly clear that it has nothing to do with a lack of creativity on his part. "I don't want to work to diminishing returns. I don't want to become this old man who's out of touch...when already, I'm feeling a bit like an old man who's out of touch with the current movies that are out right now," he explained, adding that this is a natural part of the Hollywood journey for everyone who's sat behind the lens before.
Moving on from that, Wallace asked Tarantino if he could offer any hints about what his final feature will entail. Sadly, the famed director didn't have a promising update on what will surely be a landmark movie. Not only is he unsure of what the story will be, but more broadly, he's found himself unsure of what a movie is in the modern media landscape — thanks in large part to the steady rise of streaming services and the increasing scarcity of certain films receiving theatrical releases. Tarantino continues, "Is that something that plays on Netflix? Is that something that plays on Amazon, and people watch it on their couch?" 
One can only hope that Quentin Tarantino will soon figure out how to approach his 10th and final film, and when he does, hopefully, he goes out on a high note.