See Alicia Vikander In Action As Lara Croft In New Tomb Raider Photos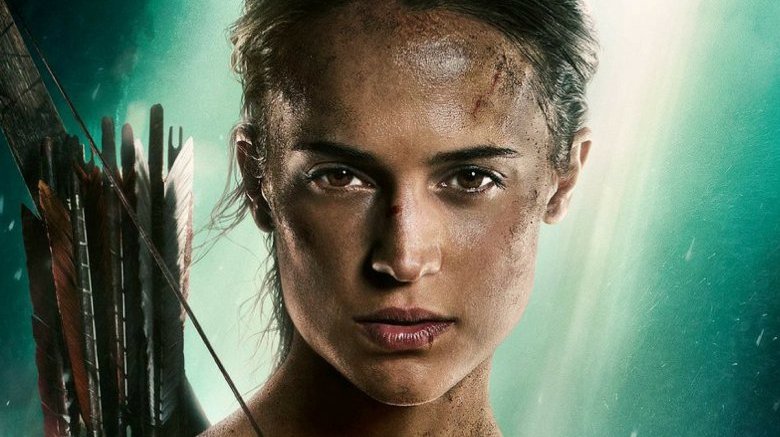 Warner Bros./Metro-Goldwyn-Mayer
How's this for an end-of-week treat?
Warner Bros. just unleashed an enormous wave of photos from its upcoming Alicia Vikander-led film Tomb Raider. Courtesy of Collider, the snaps feature Vikander in action as the titular catacomb-cracking protagonist Lara Croft, seen swinging from insane heights over rushing rapids, biking the streets of London, sprinting through the woods with a sack of arrows strapped to her back, getting serious with her mission partner, training in a boxing ring, and crawling on the shore of a moonlit beach. All this adventure falls in line with the character's video game history, proving that director Roar Uthaug (The Wave) was dedicated to honoring the movie's source material. 
Take a look at the batch of new images below. 
Based on a script by Geneva Robertson-Dworet and Alastair Siddons, Tomb Raider reimagines the Crystal Dynamics-developed, Square Enix-published 2013 video game of the same name and will include a sprinkling of some elements found in the 2015 sequel title Rise of the Tomb Raider. Vikander's Lara is a 21-year-old bike courier living in rainy East London, and is insistent on shying away from her father's legacy, wanting to avoid following his entrepreneurial footsteps. However, when curiosity gets the best of her, Lara transforms from everyday working girl to bonafide tomb raider when she says goodbye to her old life and journeys to find the mythical island upon which her father reportedly disappeared. 
Director Uthaug previously explained that this Tomb Raider will be different from the past film franchise starring Angelina Jolie. "I've seen the [Jolie] films — they were a lot of fun and Angelina Jolie was a terrific Lara Croft," he stated. "We are [making] a very different film, an origin story, and I think fans will love Alicia in the role ... As an origin story, this movie will introduce Lara as a young woman who hasn't yet found her way and her place in the world; a young woman with great spirit and potential. We follow her struggles and her journey toward becoming the person she was meant to be and earning the role of Tomb Raider."
The new movie will also dive into Lara's "origin and development" and explore her humanity rather than just focus on her athletic abilities
Walton Goggins, Daniel Wu, Derek Jacobi, Dominic West, and Kristin Scott Thomas also star in Tomb Raider, which is due out in theaters on March 16.