First Image Released From The Man Who Killed Don Quixote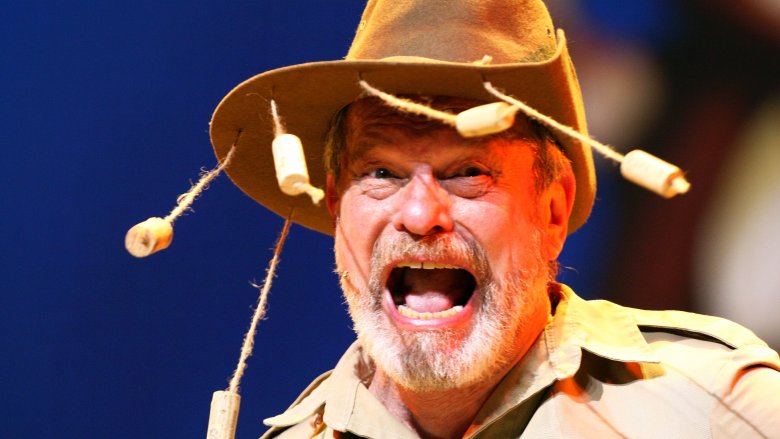 Getty Images
After 19 years, it's finally done.
Over the course of the last 19 years, the entire world has shifted on its axis. Whole lives have been lived. Wars have begun and come to an end. Great advancements in science and technology have changed the daily lives of billions. Entire nations have been made. And all this time, writer-director Terry Gilliam has been trying, and failing, and trying again to make a little movie called The Man Who Killed Don Quixote — and now, today, the film exists, and there is proof. 
Behold, the proof:
around european film market i've got the first official picture from terry gilliam's quixote with adam driver and jonathan pryce #themanwhokilleddonquixote #Berlinale #TerryGilliam pic.twitter.com/5IOmapTqSc

— Andrea Corsini (@andreamtcorsini) February 21, 2018
The image comes courtesy of Andrea Corsini, a filmmaker who was apparently palling around with Gilliam at Berlinale. Why he got the right to post the first look at one of the most notoriously long-in-development movies ever made instead of its director is anyone's guess; maybe Gilliam just isn't taking any chances by doing things alone, at this point.
It's hard to exaggerate just how comically unfortunate the development of The Man Who Killed Don Quixote was, involving multiple cast deaths, disastrous location shooting, destructive monsoons, lawsuits, reshoots, and several different actors playing each main role. Famously, the trials and travails of one attempt to get the movie off the ground with Johnny Depp in the lead role were chronicled in the riveting 2002 documentary Lost in La Mancha, which was only one of the eight attempts it took to get the movie made. After all this time, it is destined to be a literal textbook example of the concept of development hell, if it isn't already — and the thing is finally done. It's real, and we'll get to see it. It doesn't even matter if it's good.
Fortunately, it probably will be fairly entertaining. The movie is a very loose adaptation of the story Don Quixote by Cervantes, with a modern-day twist. Adam Driver stars as Toby Grisoni, a modern-day commercial director who is drawn, perhaps by time travel, to a small Spanish village, where he encounters misadventure and the infamous Don Quixote. Quixote, a delusional adventurer played by Jonathan Pryce, then mistakes the director for his contemporary squire, Sancho Panza, with much comic surrealism to follow. Olga Kurylenko also stars in a lead role as the character Jacqui.
Gilliam's last movie, The Zero Theorem, was released in 2013. Barring world-ending cataclysm, The Man Who Killed Don Quixote is expected to debut this May at the Cannes Film Festival, with a wider release to follow later this year.
The moral of the story is that nothing in life is impossible, friends. Feel free to take as long as you like regarding the slightly blurry miracle down below — and maybe go see The Man Who Killed Don Quixote when it finally sees release at your local cinema, as but a modest thank you for the 19 years of effort that went into its unlikely making. After all, Gilliam did it all for the sake of entertaining you.