NBC Renews Superstore For Season 4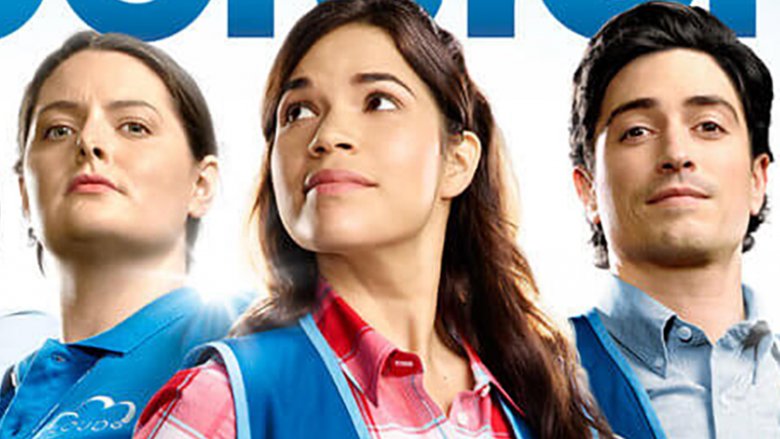 NBC
Superstore is still in business. 
NBC has officially renewed the America Ferrera-led series for a fourth season (via The Hollywood Reporter). The network handed out an order of 22 full episodes, the same amount the current third season holds. 
Outgoing NBC Entertainment president Jennifer Salke made the announcement on Wednesday (February 21), stating, "Superstore is one of our signature NBC comedies, and we're so pleased to be bringing it back for the 2018-19 season." Tracey Pakosta, the co-president of scripted programming at NBC Entertainment, added, "This clever comedy, featuring America Ferrera, Ben Feldman, and an incredibly talented ensemble cast, is a source of pride for the comedy team at NBC, and I'm personally gratified that it has connected with audiences and critics alike" (via Deadline). 
During season three, Superstore has jumped up six percent year-over-year in the make-or-break demographic of adults aged 18 and 49, and has grown three percent in overall viewers, reaching 5.2 million. The series has also continued to perform well across alternative platforms, increasing to a 2.9 in the 18-49 demo when factoring 35 days of non-liner viewership into the overall rating. 
Written and created by Justin Spitzer, Superstore stars Ferrera as Amelia "Amy" Dubanowski, a Honduran-American who has worked at the titular superstore Cloud 9 for 11 years; Ben Feldman as Jonah Simms, a Cloud 9 sales associate and the butt of many of his coworkers' jokes; Lauren Ash as Dina Fox, the assistant store manager of Cloud 9 who doesn't tolerate any funny business; Colton Dunn as Garrett McNeil, a sardonic Cloud 9 sales associate; Nico Santos as Mateo Fernando Aquino Liwanag, an ambitious Cloud 9 associate who has a secret fling with a district manager; and Nichole Bloom as Cheyenne Thompson (née Lee), a 17-year-old Cloud 9 associate who is pregnant at the start of the series. Mark McKinney as Glenn Sturgis, the clueless but kind Cloud 9 store manager, and Lauren Ash as Dina, the aggressive Cloud 9 assistant manager, top off the cast. 
Here's the synopsis for the series: "An oddball family of employees at supersized megastore Cloud 9 tackles the day-to-day grind of rabid bargain hunters, riot-causing sales, and nap-worthy training sessions. Stalwart employee Amy is just trying to hold it all together, despite the best efforts of her daftly clueless manager Glenn and his iron-fisted assistant Dina. Rounding out the crew is new hire Jonah, a dreamy dreamer, sardonic Garrett, ambitious Mateo, and sweet young mother-to-be Cheyenne. From bright-eyed newbies to seen-it-all veterans, bumbling seasonal hires and in-it-for-life managers, they're all going to get through another day — together."
Superstore joins NBC's 2018-19 broadcast roster that includes The Good Place, Will & Grace, This Is Us, and The Gilded Age.