The Devastating Death Of Hogan's Heroes Star Robert Clary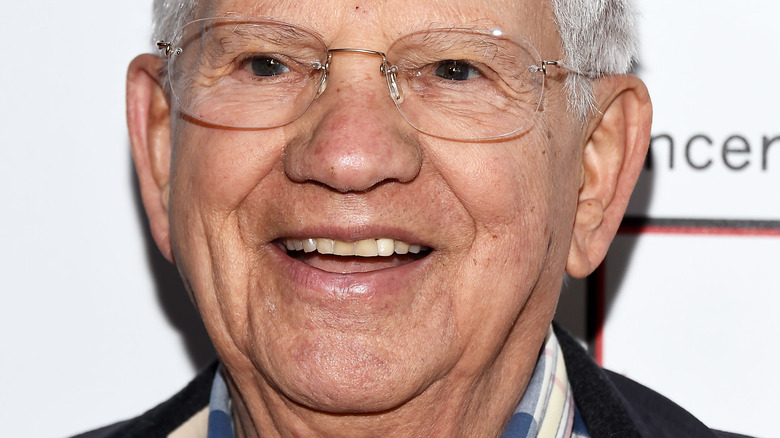 Amanda Edwards/Getty Images
Actor Robert Clary, who made audiences smile as Corporal Louis LeBeau on the legendary sitcom "Hogan's Heroes," died at the age of 96 on November 15. Per a statement released by his granddaughter, Kim Wright, to The Hollywood Reporter, no cause of death was given.
At the time of his passing the actor was the final surviving member of the long-lived sitcom's principal cast; Kenneth Washington, who joined the series during its sixth season as Sgt. Richard Baker, is the last surviving member of the extended cast. LeBeau was the unit's passionate gourmand and wasn't above using his skills in the kitchen to win favors for his imprisoned unit and to score points with Sergeant Hans Schultz (John Banner) and Colonel Wilhelm Klink (Werner Klemperer). LeBeau was a flirtatious character, and he often engaged in flights of fancy when it came to women.  He was also a master of shoving himself into tight crawlspaces, even though he was claustrophobic. LeBeau was extremely proud of his French heritage and spoke with a thick accent, which was an exaggerated version of Clary's own inflection. 
The actor who portrayed him had a robust career both before and after the sitcom aired its final episode in 1971, and he survived an astronomical amount of personal tragedy to claim a spot in Hollywood's hierarchy.
Robert Clary survived two concentration camps to entertain millions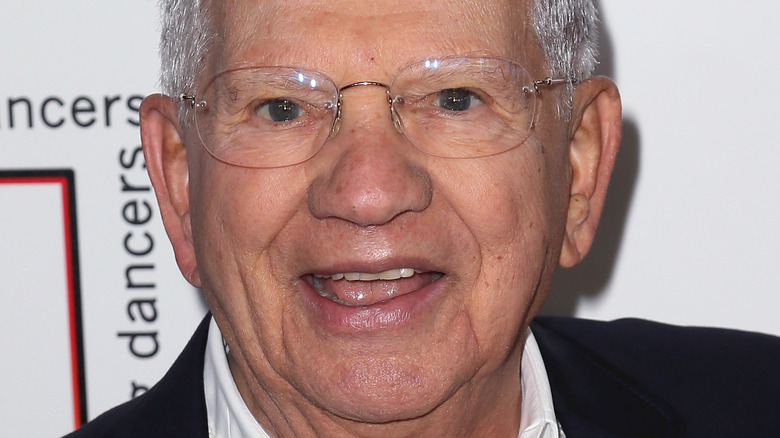 David Livingston/Getty Images
Robert Clary was born Robert Max Widerman in Paris, France, on March 1, 1926. He was one of 14 children in his Orthodox Jewish family. Clary was only 16 when he was imprisoned in a concentration camp at Ottmuth, Poland (per the Florida Sun-Sentinel), and then in Buchenwald. The actor credited his youth, good health, and ability to sing and play music — he had been performing on the radio since he was 12 years old and performed for SS members every other Sunday at Buchenwald — with his survival. 
Clary was initially reluctant to talk of his experiences at Buchenwald but eventually began taking on speaking engagements, traveling the world, and telling his story. "For 36 years I kept these experiences during the war locked up inside myself. But those who are attempting to deny the Holocaust, my suffering and the suffering of millions of others have forced me to speak out," Clary once said, per The Hollywood Reporter. He subsequently wrote a memoir about his life, "From the Holocaust to Hogan's Heroes: The Autobiography of Robert Clary." After 31 months of imprisonment, Clary was liberated with the rest of the camp's surviving prisoners on April 11, 1945.
After returning to Paris to become a nightclub singer, he attracted the attention of Capitol Records, who brought him to Los Angeles to record an album. While in Los Angeles, Clary found himself being mentored by legendary Broadway and Vaudeville performer Eddie Cantor, who helped launched his career as a nightclub singer and Broadway star. Through his mentor, he met Natalie Cantor, one of the actor's five daughters. Cantor and Clary would remain friends for over a decade before marrying. Their union would last for 32 years, until her death in 1997.
Clary was amused by his Hogan's Heroes success
Before taking on his "Hogan's Heroes" role, Clary had a brief film career; he appeared in "A New Kind of Love" with Paul Newman and Joanne Woodward, "Ten Tall Men," and "Thief of Damascus" before becoming LeBeau. When interviewed by The Television Academy for their Foundation Interviews series and asked what made the character special, he said "cuteness" and chuckled. "That's what it was, that's the difference. Here's a Frenchman with a very thick, fake French accent, and he's cute!" he said. Clary also stressed that his own war experience was quite different from what LeBeau lived through. 
That cuteness was something Clary would try to shed as his career expanded beyond the bounds of his star-making sitcom. He would appear in 1975's "The Hindenburg" as a French acrobat, but could not seem to shake that descriptor. "I have a huge stamp on my name. it says in big letters 'TINY FRENCHMAN,'" he said in his autobiography, per The Tablet. After "Hogan's Heroes" shuttered, Clary would go on to act in several soap operas, most notably as Robert LeClair on "Days of Our Lives," where he appeared in over 500 episodes, per IMDb.
When asked by an interviewer for the Television Academy how he'd like to be remembered, he said, "I don't care. I really mean that. I really don't care. They will remember me as a nice person? Fine. Remember me as a dirty Jew? Fine. I don't care because I won't be here. I'm not going to worry about it. ... When I'm dead, I'm dead, who cares? I'll never know. Nobody's gonna tell me, not even God. Is God going to tell me, 'You know what they're talking about you?!"
Clary is survived by his granddaughter.