Cassian's Closing Moment In Andor Episode 11 Was A Total Gut Punch To Fans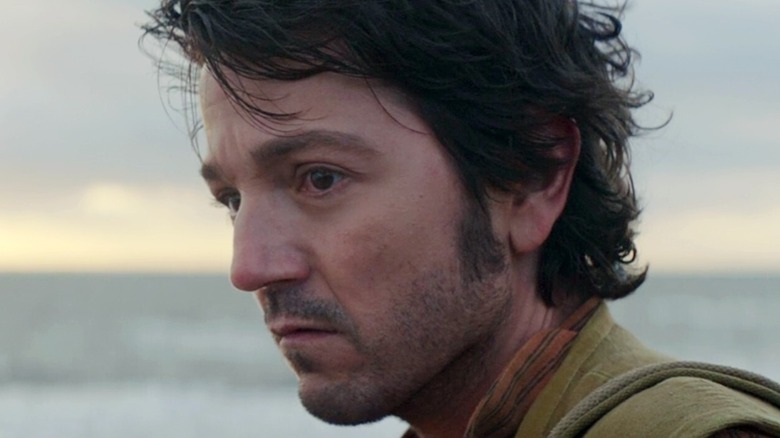 Lucasfilm/Disney+
Warning: Spoilers for "Andor" Episode 11.
This week's episode of "Andor" was more emotional than any fans were probably expecting, continuing the show's dark and dramatic tone. Episode 11 gives fans more information on Mon Mothma's (Genevieve O'Reilly) predicament, revealing she's racked up some severe debt. Luthen (Stellan Skarsgård) gets stuck in a few dangerous situations, including a tense discussion with Saw Gerrera (Forest Whitaker) and a quick battle in space with the Empire.
However, the meat of the episode comes with the revelation of the death of Maarva (Fiona Shaw), Cassian's adoptive mother. Her death takes its toll on Ferrix as she was an influence on many of the citizens. The waterworks begin when B2EMO, the Andor family droid, grieves the loss of Maarva, a mother-like figure for the droid. The dog-like droid refuses to leave the Andor home, even after the insistence of Brasso (Joplin Sibtain).
If you thought the emotions would end there, you are in for a surprise. Episode 11 also rounds out Cassian's (Diego Luna) prison escape, showing the titular character and Melshi (Duncan Pow) getting off Narkina 5 and returning to the beach planet of Niamos. There, Cassian learns of the passing of his mother, and the episode ends, leaving fans heartbroken. The final shot shows Cassian staring off into the sunset on Niamos' beach, alluding to his final scene in "Rogue One: A Star Wars Story."
Andor Episode 11 reflects Cassian's Rogue One ending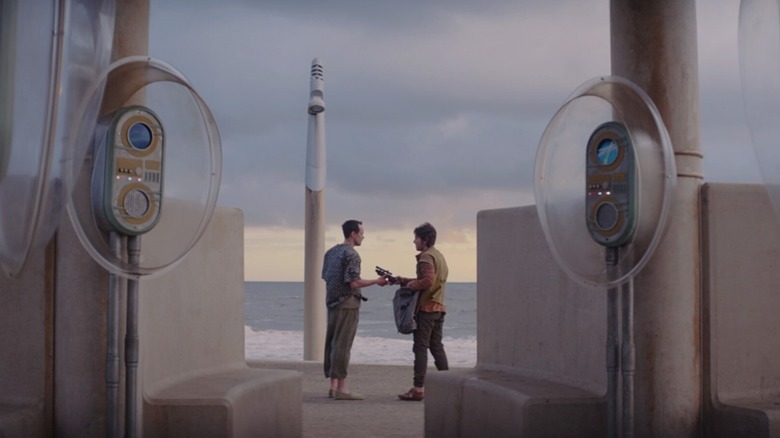 Lucasfilm/Disney+
"Star Wars" fans quickly took to Reddit to express all of their emotions following the premiere of "Andor" Episode 11. While some focused on Luthen's insane military-like tactics as he out-maneuvered the Empire all by himself, most of the thread acted as a therapy session for fans to air out their sadness.
The top comment, written by u/FloppyShellTaco, simply said, "Never thought a droid in grief would make me want to cry." Other users replied, agreeing with the sentiment and drawing comparisons between B2EMO and a sad puppy. Many fans truly felt the droid's grieving process throughout "Andor" Episode 11, relating it to grief from their lives. Needless to say, many fans are hoping Cassian quickly returns to Ferrix to give B2EMO a hug.
Other "Andor" fans focused on the heartbreak that came with the episode's closing scene. U/bta47 noticed how it mirrored the ending of "Rogue One," saying, "In a very upsetting episode, Cassian looking out on a sunset over what while making a crucial, life-changing decision is VERY UPSETTING if you've recently watched 'Rogue One.'" Many agreed that the poetic ending sent them into a tailspin of emotion, but u/howdoesmagnusdie explained the similarities between the endings. In "Andor," Cassian looks out at a sunset over the ocean, feeling truly alone for the first time in his life. "Rogue One" concludes with Cassian staring at a similar sunset as he meets his end, but this time he's fulfilled his purpose and knows he's not alone, having Jyn (Felicity Jones) by his side.
The Season 1 finale of "Andor" hits Disney+ on November 23.