Fantastic Beasts' Jessica Williams Discusses Her Connection To The Wizarding World
The "Fantastic Beasts" series hasn't exactly lit the world on fire in the same way the "Harry Potter" films have. The latest film, "Fantastic Beasts: The Secrets of Dumbledore," grossed a series low of $405 million worldwide (per Box Office Mojo) and received a mixed critical response, garnering a 46% on Rotten Tomatoes. Proper work on a fourth film has yet to materialize, with much of the future of "Fantastic Beasts" up in the air and dependent on how successful Warner Bros. deems "The Secrets of Dumbledore" (per Variety). Added to this is series creator J.K. Rowling's continued controversial statements regarding transgender people (per IndieWire).
Still, for better or worse, the "Harry Potter" name and its "Fantastic Beasts" spin-off remain a popular intellectual property and one with a lot of dedicated fans. Jessica Williams, who portrays Lally Hicks in the "Fantastic Beasts" films, considers herself one of these fans. In fact, during an interview, Williams revealed just how connected she is to the Wizarding World at large and what it means to her.
Jessica Williams has been a fan of Harry Potter since childhood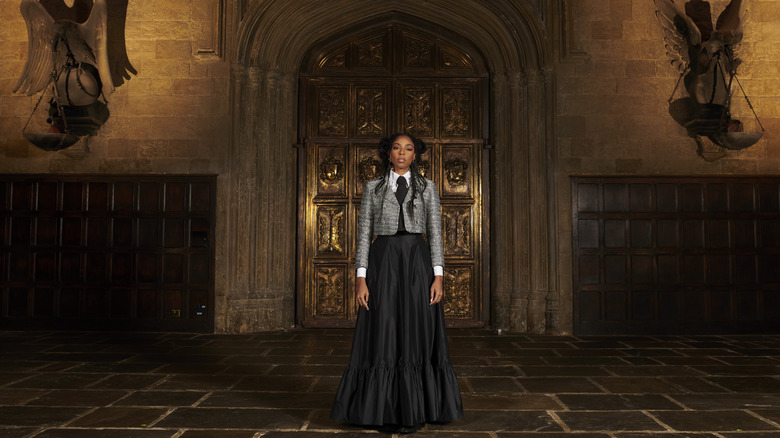 Gareth Cattermole/Getty Images
During an interview with Byrdie earlier this year, Jessica Williams talked about her personal connection to the Wizarding World and just how much the "Harry Potter" books meant to her as a kid. "The Wizarding World has been around for a long time, and I feel like I've been inserted into a huge machine," Williams said. "My teacher read the books to us when I was in the third grade, and I had a Harry Potter tattoo long before I was cast in the film."
Still, despite her love for the franchise, Williams admits that she was a little scared to play the role of Lally Hicks in the "Fantastic Beasts" movies but ultimately found it exciting. "I felt excited and intimidated but was honored to portray Professor Eulalie Hicks, a tenacious, capable, and formidable witch, in this film," she said. Obviously, fans of the series will be thrilled by the news that Williams has the same passion for the Wizarding World that they do. At the end of the day, an acting job is just that: a job. It's not always a guarantee that they're going to share that same adoration for something that viewers bring. However, for Williams, that doesn't appear to be the case at all.