Darby And The Dead - Everything You Need To Know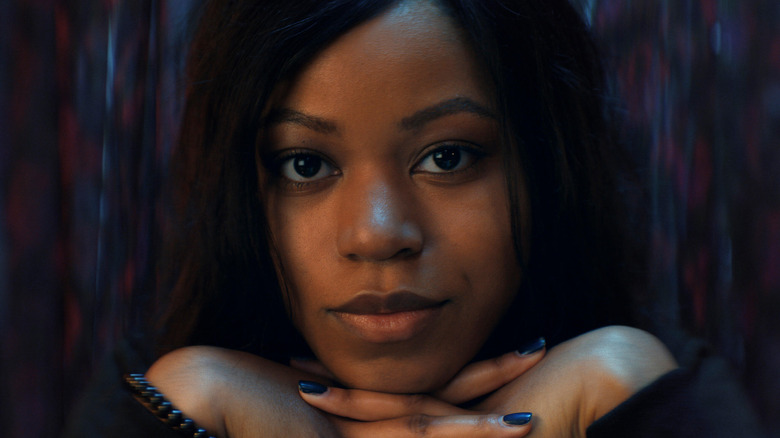 Hulu
Have you ever wondered what might happen if you were to take "The Sixth Sense" and throw it in a blender with "Mean Girls?" Well, wonder no longer because Hulu has answered your question. "Darby and the Dead" hit the streaming service on December 2, 2022, telling the story of a young woman who can talk to ghosts (and break the fourth wall). But instead of going down the straight-up horror route, "Darby and the Dead" tells a comical tale that focuses on the inner cliques and teenage politics of high school — a subject matter that is perhaps even scarier than the undead. If you want to know more about this new horror comedy from Hulu and all its spirits and secrets, then prepare to look through the veil and talk to a few deados as we tell you everything you need to know about "Darby and the Dead."
What is the plot of Darby and the Dead?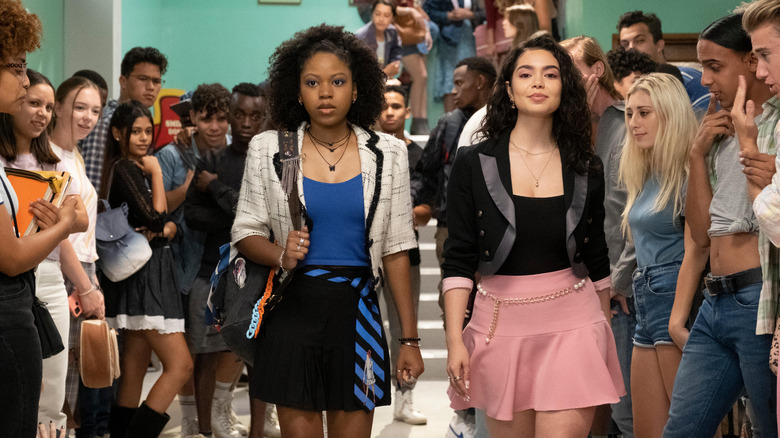 Hulu
Darby Harper can speak to the dead. This curse/gift came about after nearly drowning as a kid. Now an outcast in high school, Darby spends her spare time helping ghosts pass on to the next plane of existence, carrying out tasks for them so they can finally move on. That job becomes a whole lot more difficult when her rival, cheerleader/popular girl Capri, winds up getting electrocuted to death. Having returned from the grave, Capri demands that Darby help her with unfinished business — throwing her wildly over-the-top 17th birthday party. 
Of course, this is easier said than done. If Darby is going to convince Capri's friends that they should still party on, she'll have to shed her loner ways and become one of the cool kids, thanks to Capri's guidance. As Darby undergoes a makeover from beyond, she begins to gain confidence ... while slowly losing herself along the way. Will Darby end up alienating those closest to her? Will she help Capril move on? Will these two rivals ever stop their ghostly bickering? If you want to find out, you can check out the film on Hulu.
Who stars in Darby and the Dead?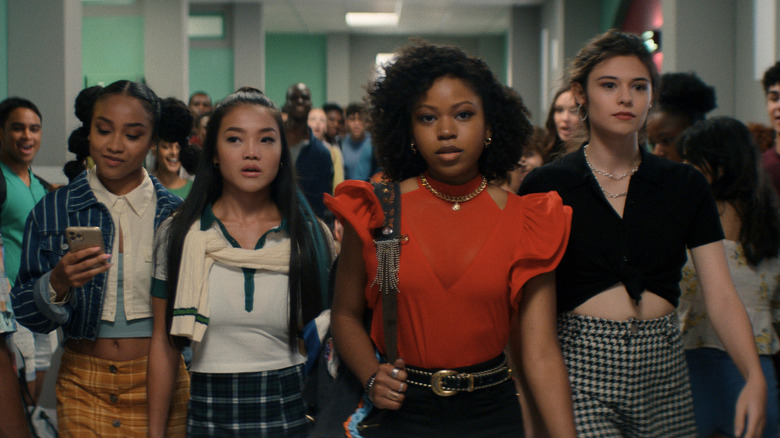 Hulu
"Darby and the Dead" features a wonderful cast of young stars, such as Riele Downs as the titular, spirit-seeing, fourth wall-breaking hero, Darby. She's been a fixture in children's television, and she previously had one of the lead roles in the Nickelodeon sitcom "Henry Danger." Auli'i' Cravahlo plays Capri, Darby's ghostly rival. You'll no doubt recognize Cravahlo's voice as the Hawaii-born star is best known for voicing the title character in "Moana."
Rounding out the high school cast, we've got Asher Angel ("Shazam!"), Chosen Jacobs ("IT"), and Genneya Walton ("BlackAF"). On the adult side of things, you can expect to see Derek Luke ("Captain America: The First Avenger"), Nicole Maines ("Supergirl"), Tony Danza ("Who's the Boss?"), and Wayne Knight ("Seinfeld").
Who wrote and directed Darby and the Dead?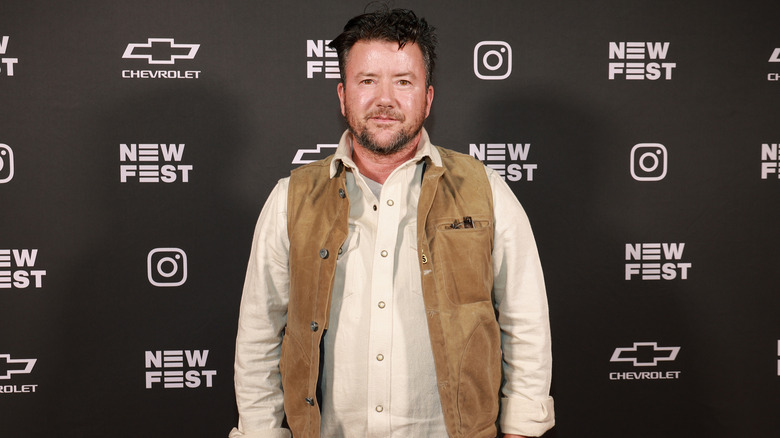 Jason Mendez/Getty Images
The original spec script, which was first titled "Darby Harper Wants You to Know," was written by Wenonah Wilms and Becca Greene. Before "Darby and the Dead," Wilms was most well-known for being the showrunner of "Fem 101," a web series about a teacher who tries to teach feminism to a crew of oddballs. Greene was previously a staff writer on "Good Vibes," the adult animated series about a bunch of beach bums that was co-created by David Gordon Green.
"Darby and the Dead" is directed by Silas Howard. His last feature-length directing credit was "A Kid Like Jake," a drama about parents discovering their son is transgender, and that starred Claire Daines and Jim Parsons. Howard has also directed several episodes of television, including helming nine episodes of "Dickinson."
How are critics and audiences responding to Darby and the Dead?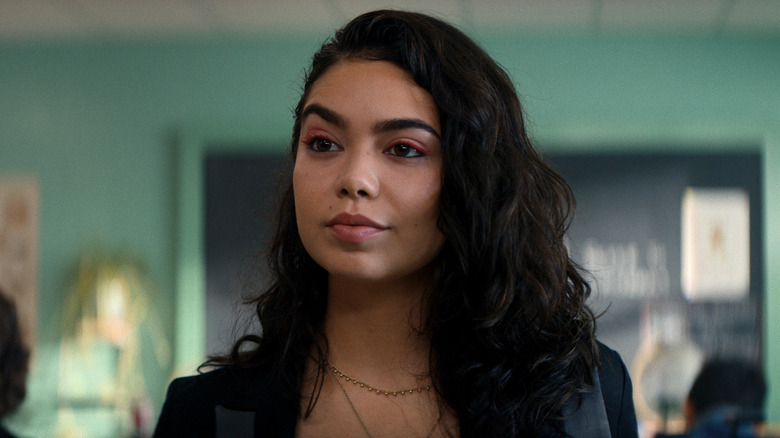 As of this writing, there are 23 reviews for "Darby and the Dead" on Rotten Tomatoes. Unfortunately for the teen flick, most of them are negative, giving the film a 57% critics' rating. Summing up the film's flaws, Jennifer Green of Common Sense Media wrote, "This film features a cast of promising young actors, but it lacks originality and falls into the trap of many high school movies that portray teens as superficial products of worn-out clichés."
On the flip side, Lovia Gyarkye of The Hollywood Reporter had a more positive take, saying, "With a refreshingly diverse cast and a compelling premise, there's a lot to appreciate about 'Darby and the Dead' — even with its muddied execution." It seems most audience members learn more in Gyarkye's direction. Based on 50+ reviews, "Darby and the Dead" has a 76% audience approval rating on Rotten Tomatoes.
What is Darby and the Dead rated?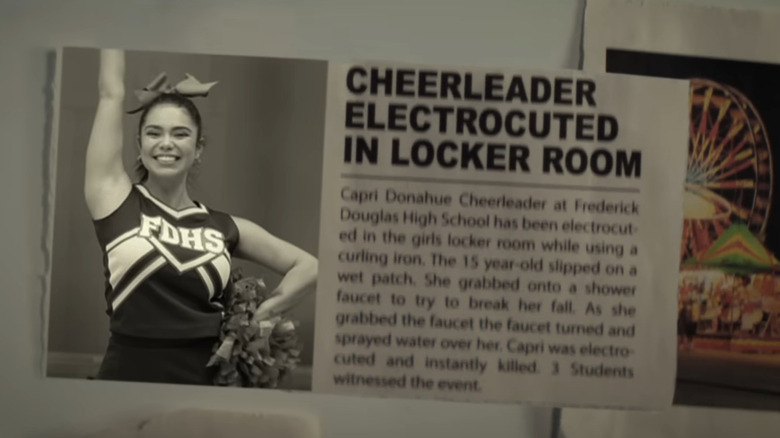 Hulu
Similar to other high school movies about snobby cliques — like "Mean Girls" and "Heathers" — "Darby and the Dead" boasts a PG-13 rating. The film is made for teens, so it definitely has the corresponding language and alcohol use you'd expect in a film like this. The topic of death hovers over the whole movie, and it deals with the subject of grappling with grief. Don't expect any gore or any scares here. While it's a horror-comedy, the emphasis should be on the comedy. In fact, "supernatural comedy" might be a better descriptor, so don't come in expecting M. Night Shyamalan.