How Wakanda Forever's Elite New Team Could Return In Armor Wars
Contains spoilers for "Black Panther: Wakanda Forever"
"Black Panther: Wakanda Forever" had the massive task of continuing the franchise without Chadwick Boseman. The movie masterfully uses its nearly three-hour runtime to pay tribute to the late actor. Instead of recasting the role of T'Challa, director Ryan Coogler shifted the focus to the other members of Wakanda's hierarchy. While Shuri (Letitia Wright) is very much the star of "Wakanda Forever," characters like Queen Ramonda (Angela Bassett), Okoye (Danai Gurira), and newcomer Riri Williams (Dominique Thorne) get their time to shine. 
Okoye, in particular, has an interesting character arc in "Wakanda Forever" that could result in her appearing in various non-Wakandan-based MCU projects. From the beginning of the movie, Shuri teases Okoye with a new high-tech suit she's been developing for the general of the Dora Milaje. However, it isn't until the film's climax, after Ramonda strips Okoye of her ranking, that she and fellow Dora, Aneka (Michaela Coel), finally suit up in the incredible Midnight Angel armor. The suit adds two significant players to Wakanda's side in their battle against Talokan and allows Okoye to match up against Attuma (Alex Livinalli).
Okoye doesn't seem to return to the Dora Milaje at the end of "Wakanda Forever," signaling her new role as the leader of the Midnight Angels. The exciting introduction of the covert team has fans wondering where they could pop up next.
What project could see the return of the Midnight Angels?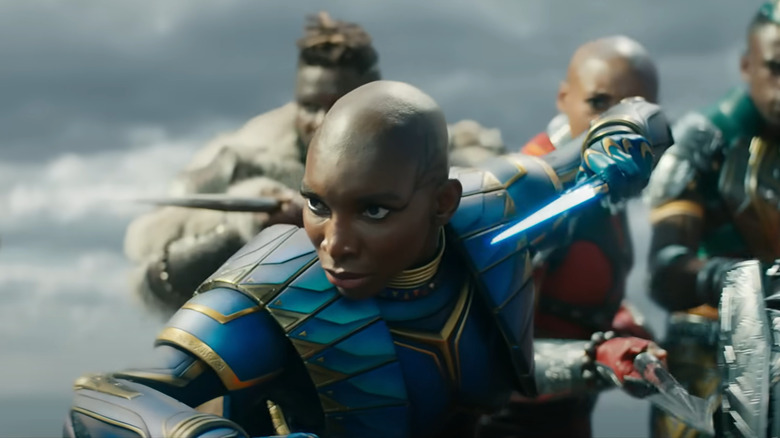 Marvel Entertainment/YouTube
"Black Panther: Wakanda Forever" shows that other countries are fighting to get their hands on vibranium following Wakanda's borders opening at the end of "Black Panther." The movie begins with a meeting of the United Nations discussing vibranium, and Queen Ramonda reveals France's secret plot to steal the resource from a Wakandan ship. This lingering plotline, paired with the Midnight Angels' new vibranium armor, has fans thinking that we'll see more of Wakanda's covert team in "Armor Wars."
Marvel Studios has yet to reveal any information regarding "Armor Wars," in fact, we don't even know where it fits on their massive schedule of releases. After seeing "Wakanda Forever," it seems like a no-brainer that the movie would expand on governments trying to get their hands on vibranium to become the strongest superpower in the world. It would also open the door for returning characters like Valentina Allegra de Fontaine (Julia Louis-Dreyfus), Everett Ross (Martin Freeman), Riri Williams, and the Midnight Angels.
The Midnight Angels' comic book counterpart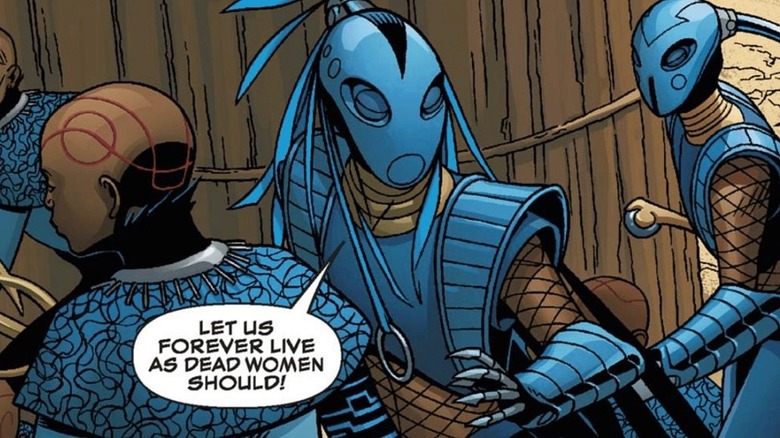 Marvel Comics
It didn't take long for MCU fans to recognize the potential of having the new "Wakanda Forever" team return in Don Cheadle's upcoming flick.  On Reddit, u/GuguMarcos mentioned, "Anyone got the feeling that Midnight Angels is tied to 'Armor Wars' as much as Ironheart is...?" While u/ironwilledstrength speculated that the upcoming movie could feature Valentina starting a vibranium war, where she takes Rhodey's War Machine suit, and frees Justin Hammer from prison to mass produce vibranium Stark tech.
If not "Armor Wars," Marvel Studios could easily spinoff Okoye and Aneka's stories into a Disney+ series focusing on the Midnight Angels. A spinoff featuring the two characters would allow the studio to highlight their stories and further explore how leaving the Dora Milaje affected Okoye.
Like most comic book adaptations, the Midnight Angels slightly differ from their MCU counterparts (so far). Marvel Comics introduced the team in 2010 in "Doomwar" #5, written by Jonathan Maberry and Scot Eaton. The Midnight Angels were originally a subgroup of the Dora Milaje, created by King T'Challa to assist Deadpool in killing Dr. Doom after he stole all of Wakanda's vibranium. Aneka and Ayo were prominent members of the group. Perhaps outside of "Armor Wars" we'll see the Midnight Angels interact with Ryan Reynolds' Deadpool.