Potential Call Of Duty Director Wants Tom Hardy And Chris Pine To Star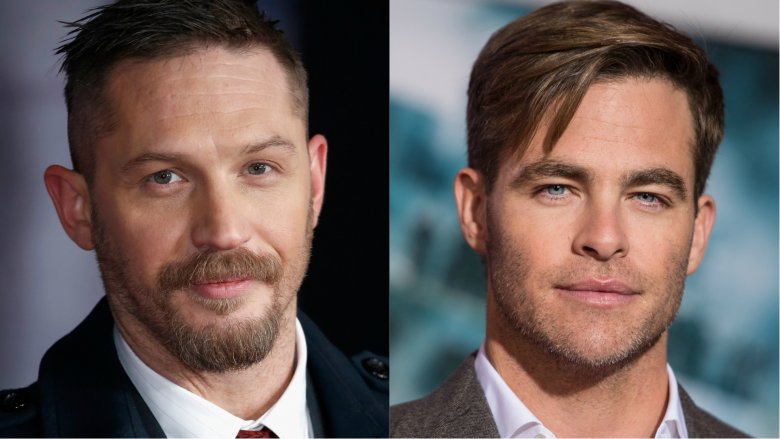 Getty Images
Word got out last week that Sicario 2 director Stefano Sollima is in talks for Activision's live-action Call of Duty movie, and he already knows who he'd like to see on the front lines.
Sollima told the U.K.'s Metro that his wish list is topped by Tom Hardy (Venom, The Dark Knight Rises) and Chris Pine (Star Trek, Wonder Woman). If it happens, it would be a reunion for the actors who co-starred in the 2012 romantic comedy This Means War.
The director said he's liked "almost everything" Hardy has been in and specifically mentioned his performance in Mad Max: Fury Road. But Sollima is also a huge fan of Pine. "He's tough, but he's smart and he can have a sense of humor, but he can [also] be in such a dramatic role," Sollima said. "I like when you feel that an actor can play with different nuances and tone because this means they're a good actor."
Hardy previously played soldiers in Band of Brothers and Black Hawk Down and he portrayed a World War II pilot in Christopher Nolan's Dunkirk. Meanwhile, Pine is best known as Captain Kirk in the rebooted Star Trek movies, but he played a pilot during World War I in Wonder Woman.
Although plot details about Call of Duty are still top secret, it's believed that the movie will be set in present day. However, during an interview with The Guardian last year, Activision Blizzard Studios presidents Stacey Sher and Nick van Dyk said they're planning to build a movie universe that'll draw from the different eras the franchise has covered instead of using existing plots from the games. The idea is to create an expanded cinematic universe like the MCU and DCEU.
"We have plotted out many years," said Sher (via Collider). "We put together this group of writers to talk about where we are going. There'll be a film that feels more like Black Ops, the story behind the story. The Modern Warfare series looks at what it's like to fight a war with the eyes of the world on you. And then maybe something that is more of a hybrid, where you are looking at private, covert operations while a public operation is going on."
Snowden writer Kieran Fitzgerald penned the script for the first Call of Duty movie, but the film still doesn't have a distributor.
Sollima rose to fame as the main director behind the popular Sky Atlantic crime series Gomorrah, based on the 2008 film. The producers of Sicario 2 locked him up to take over that franchise after director Denis Villeneuve left to make Blade Runner 2049.