The Best Amazon Prime Original Movies Of 2022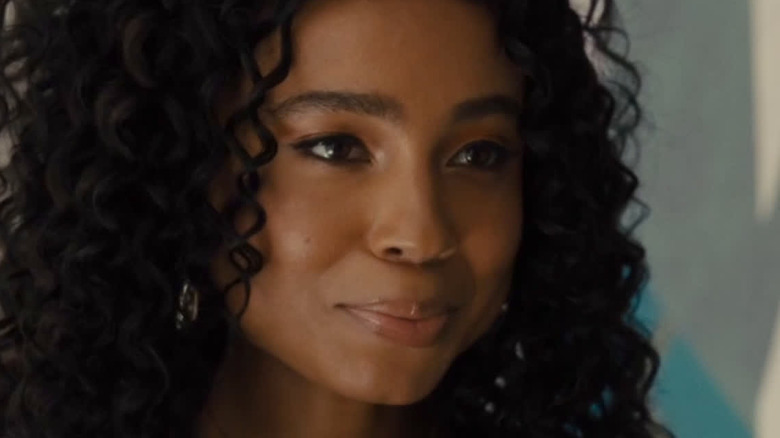 Amazon Studios
In other years, Amazon Studios has made some absolutely mystifying films. It's the same production company that made "You Were Never Really Here," "Sound of Metal," and "One Night in Miami...," titles that have earned immense critical acclaim and Academy Award nominations. In the wake of Netflix's reign, Amazon Prime has attempted to level the playing field with great pictures of its own.
Sadly, 2022 hasn't been the most exemplary year for the streaming titan, with many of its original movies clocking in beneath 50% on Rotten Tomatoes. The field is lacking any kind of urgency, with only three films having a Rotten Tomatoes score above 80%. Luckily, the high scorers are great and will land on many year-end lists.
While other streaming services like Netflix and HBO Max also registered lackluster catalogs of movies this year, Amazon remains active with original, standout features. From career resurgences to unique horror flicks to romantic comedies, here are the best Amazon Prime original films of the year to date.
Samaritan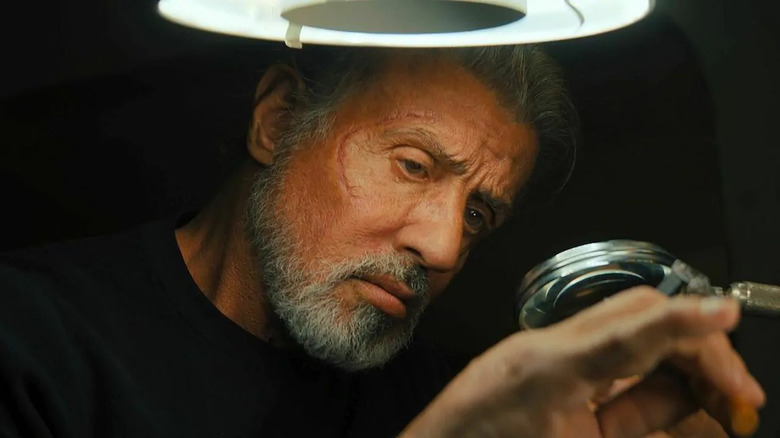 Amazon Studios
On paper, "Samaritan" had the potential of being a great film. With Sylvester Stallone at the helm, playing Joe Smith, the reclusive, garbage collector neighbor of a young Sam Cleary (Javon Walton), the pieces are there. Walton gained popularity after playing Ashtray in "Euphoria" and Stan in "The Umbrella Academy," but this is his first live-action film credit. Stallone is forever a magnet, with even his weakest performances being fun. After reprising his infamous role of Rocky Balboa in "Creed" and "Creed II," Stallone has been in a career renaissance, as his turn here in "Samaritan" pairs well with his new starring role in the "Tulsa King" series on Paramount+.
In "Samaritan," Joe Smith is harboring a great secret: He is Samaritan, the vigilante superhero and twin brother of Granite City's greatest villain, Nemesis. The only issue is, Samaritan was pronounced dead 20 years ago. But the young Sam is on to Joe, though, suspicious about his past identity. New antagonists, the gang leader Cyrus (Pilou Asbaek) and member Reza (Moises Arias), along with the mystical Nemesis, are back to wreak havoc on Granite City, and it's up to Sam to pull Joe out of his shell so he can save the day again, like old times.
"Samaritan" is a good superhero flick, especially in the sense of it branching away from the genre stalwarts of DC Comics and Marvel. Though it didn't register a good critical response, clocking in at a 39% on Rotten Tomatoes, it's fun seeing Stallone in the saddle again, having a good time beating people up in the name of justice.
Goodnight Mommy
Amazon Studios
It's a shame that "Goodnight Mommy" didn't have a better script because Naomi Watts is easily one of the most underrated actresses working today. Matt Sobel's film is a remake of Veronika Franz and Severin Fiala's Austrian original from 2014.
The film focuses on twin brothers Elias (Cameron Crovetti) and Lukas (Nicholas Crovetti), who are the children of divorce and visit their mom (Watts) at her home. When they get there, she's wearing a full bandage on her head. She just had cosmetic surgery, supposedly, but her sons believe she might not be the same mother they once knew. It's a cool premise, but Franz and Fiala's original take on the story was much more engrossing and gruesome. Sobel's version is just as grim, but not as spell-binding.
"Goodnight Mommy" didn't need a remake, but it happened anyway, and Watts does her best to make it a great picture. Unfortunately, Kyle Warren's screenplay does it no favors. In a limited pool of original English films from Amazon Studios, however, "Goodnight Mommy" has its place. Critic Christy Lemire, in her review for FilmWeek, called it "not nearly as intense or terrifying" as the original production, while Clarisse Loughrey said the film took "a telephone game approach to repurposing art" in The Independent. Here's to hoping Watts' next film does more justice to her immense, show-stopping talent.
My Policeman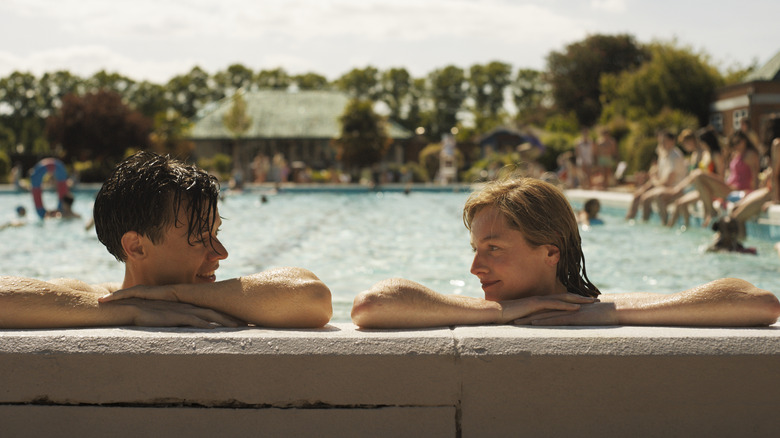 Amazon Studios
Pop megastar Harry Styles hasn't had a very good 2022 in the acting department. After a very small role in Christopher Nolan's "Dunkirk" in 2017, it took five years for Hollywood to start trying to make Styles a movie star. Unfortunately, both Olivia Wilde's "Don't Worry Darling" and Michael Grandage's "My Policeman" fail to register any kind of emotional resonance. The latter, adapted from Bethan Roberts' 2012 novel, is, however, important in its on-screen depictions of LGBTQ+ sex scenes and the film makes an earnest attempt at cataloging the historical emotions toward gay people from the British government in the mid-20th-century.
"My Policeman" stars Styles as Tom Burgess, a policeman in the U.K. Tom is married to Marion (Emma Corrin), but is having a passionate love affair with museum curator Patrick Hazlewood (David Dawson). The brightest part of the film is Dawson, who gives a terrific performance. Though Corrin is supposedly playing a lead role, their character is rarely even featured, which is a shame, given how terrific and electrifying an actor the young Corrin is. That being said, "My Policeman" is fully Styles and Dawson's ship to navigate. Styles gives some very stiff line reads, while Dawson pumps subtle charm into every scene he's in.
"My Policeman" is a flop, but only because of the hype that comes with Styles' star-power. It's a standard romantic genre about forbidden love. However, given how little Marion is in the story, the ending feels unearned. 
Don't Make Me Go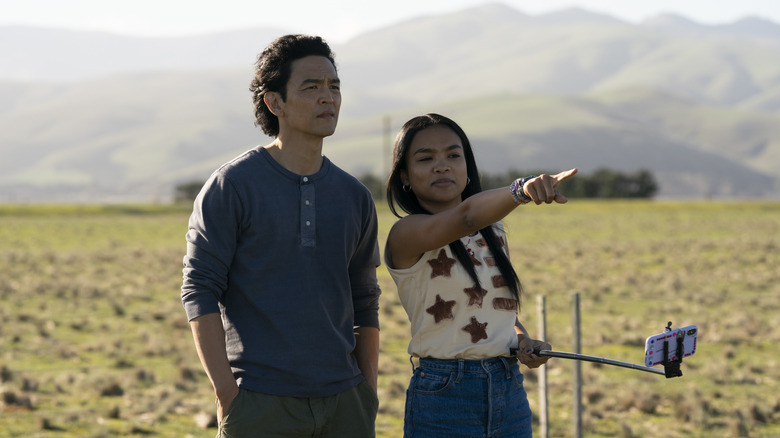 Amazon Studios
Hannah Marks' third film, "Don't Make Me Go," is much better than what the reviews suggest. Though it clocks in at 51% on Rotten Tomatoes, the film features two leads, John Cho and Mia Isaac, who are terrific and bring life to a subpar script. There's warmth in the emotions the two actors exhibit, and their chemistry is unrelenting and powerful.
The story of "Don't Make Me Go" follows a father-daughter road trip. It's a premise that isn't new, but Cho and Isaac make it fresh. Single dad Max (Cho) is terminally ill and knows his time on Earth is running out, so he wants to give his daughter Wally (Isaac) a full, loving life in just a few days. In response to his diagnosis, he takes Wally on a trip from California to New Orleans, on the promise that he will teach her how to drive. Waiting for Max in New Orleans is a class reunion, but there's a catch: Max hopes he can leave her with her mother so she won't have to be alone after he passes.
It's a career-defining performance for Cho and establishes Isaac as a young actor to look out for in the coming years. Marks displays a very budding potential, as she can craft a unique take on a well-tapped narrative. She's set to direct the adaptation of John Green's "Turtles All the Way Down," where she can build on the emotional story of "Don't Make Me Go."
My Best Friend's Exorcism
Amazon Studios
There is no doubt that young actor Elsie Fisher, who made first made waves as Kayla in Bo Burham's "Eighth Grade" and recently starred as Lila in David Blue Garcia's "Texas Chainsaw Massacre," is set to be one of Hollywood's next great stars. In Damon Thomas' adaptation of Grady Hendrix's 2016 novel "My Best Friend's Exorcism," Fisher stars alongside Amiah Miller, who played Nova in "War for the Planet of the Apes" in 2017.
Set in 1988, Abby (Fisher) and Gretchen (Miller) are best friends who've been inseparable for years. After Gretchen moves away, the two teens reunite at a friend's family lake house one weekend and find themselves in an abandoned shack where satanic rituals took place. Spooked by a giant eye, the girls try to escape, but Gretchen is attacked and possessed by something and Abby spends the rest of the movie trying to save her from the ravages of the unknown.
The film has everything and plays into the phenomena of the era while giving audiences a nostalgia trip that works. The movie could've used a few more kills, but it plays much harder into the supernatural part of the horror. Fisher and Miller will continue being big players in Hollywood, while Thomas is primed to be a household directorial name soon.
Run Sweetheart Run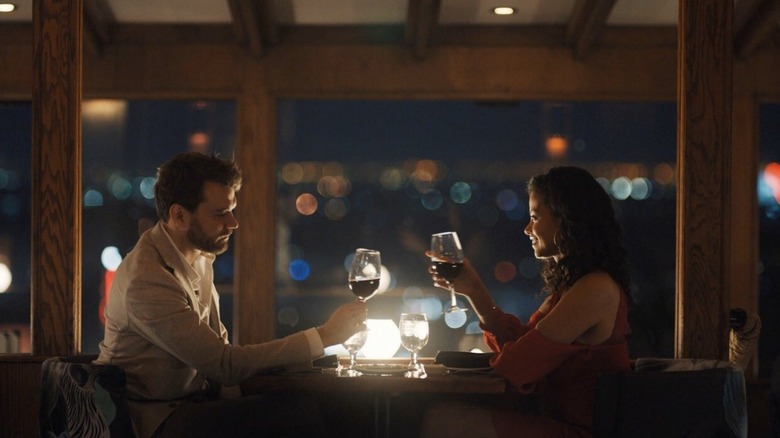 Blumhouse Productions/Amazon Studios
Though it was made and debuted at Sundance Film Festival in 2020, Shana Feste's "Run Sweetheart Run" didn't see a major release until this October when it landed on Amazon Prime. Produced by big-time horror company Blumhouse Productions, the film is a mirage of unpredictable thrills. Holding at 62% on Rotten Tomatoes, "Run Sweetheart Run" has ambition and is well-made, and, with a cast headlined by Ella Balinska and Pilou Asbaek who give terrific performances.
"Run Sweetheart Run" has a familiar premise: A seemingly nice guy and a woman go on a date, only for the man to secretly be a violent killer. However, Feste employs a good bunch of terror, as single mom Cherie (Balinska) and businessman Ethan (Asbaek) have good chemistry in their cat-and-mouse game of bloodshed and mystery.
Most Blumhouse movies toe the middle of the line, which is especially true for the recent "Halloween Ends," but "Run Sweetheart Run" shines with good twists and solid storytelling. The tropes of the film are overdone, sure, but "Run Sweetheart Run" doesn't try to be "American Psycho." Instead, it makes its own space in horror, with a great cast and a refreshing amount of craft, and proves that its release was worth the wait.
Master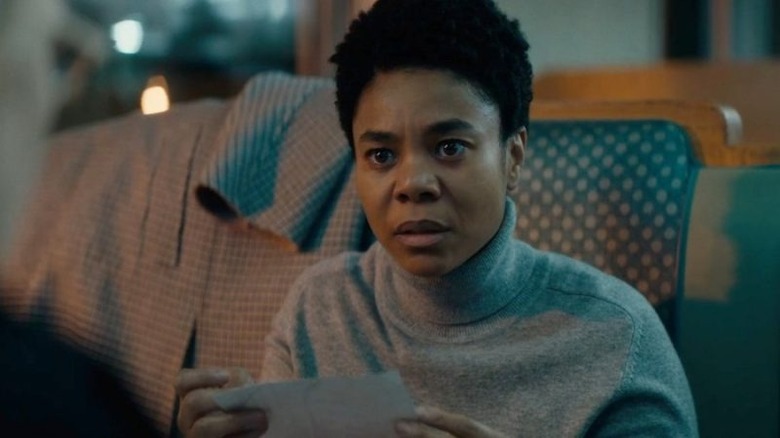 Amazon Studios
Underrated comedian Regina Hall finally gets her chance to shine in Mariama Diallo's "Master." After first garnering attention for her recurring role of Brenda in the "Scary Movie" franchise, Hall settled into a television career, with performances in "Ally McBeal," "Law & Order: LA," and "Black Monday." Her 2018 film "Support the Girls" was a hit, and she won the New York Film Critics Award for best actress, becoming the first Black actor to do so.
"Master" is fully Hall's show. Hall plays Gail Bishop, the first Black master of Ancaster University, who is believed to be cursed by Margaret Millet's ghost. Millet was accused of witchcraft years ago. In parallel, freshman student Jasmine Moore (Zoe Renee) moves into a dorm room once occupied by a Black student who hanged herself in the dorm in 1965. The film works because it entails real-world horrors still happening in 2022. There are depictions of politics, privilege, and racism, all of which take shape at a New England school built on the ruins of Salem. The demons wreaking havoc on Gail and Jasmine are much scarier because they look and sound like folks walking the Earth in the modern day.
Diallo's directorial debut sets her up as a horror showrunner who will have a long career in the genre. Of course, Hall delights and captivates. But, Renee brings young promise and poise to an all-around talented cast. "Master" is a horror triumph in a year full of great scary movies, and, with a 74% score on Rotten Tomatoes, critics tend to agree.
If you or anyone you know is having suicidal thoughts, please call the National Suicide Prevention Lifeline​ by dialing 988 or by calling 1-800-273-TALK (8255)​.
Anything's Possible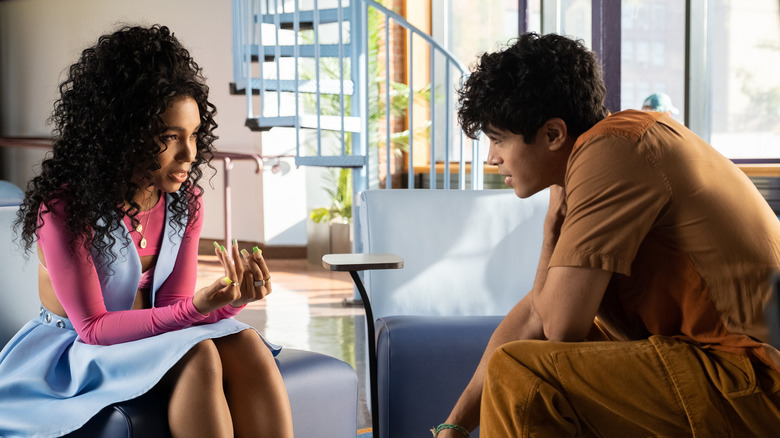 Amazon Studios
Hollywood isn't lacking coming-of-age romantic comedies, but it's always a joy when a title comes around that does something new and imaginative. "Pose" star Billy Porter's directorial debut, "Anything's Possible," does just that. It's the first Gen-Z rom-com that doesn't romanticize the generational tropes that TikTok might have you believe are fact. It's a film full of warmth and inclusion, a story that can reach anyone and should.
"Anything's Possible" follows Kelsa (Eva Reign) and Khal (Abubakr Ali) as they grapple with their senior year of high school. Kelsa is trans, and Khal has a crush on her. When he asks her out, unshaken by what possible drama might follow from their classmates, the two embark on a romance that is beautiful and joyful. Porter's direction sets the film's sights on young love instead of any kind of focus that might saturate Kelsa's identity. The film's 85% on Rotten Tomatoes is wholly accurate, as "Anything Goes" is one of the most realistic and tender rom-coms of the year, and maybe the decade, so far.
I Want You Back
Amazon Studios
Who knew that the comedic duo of Jenny Slate and Charlie Day would be so perfect? Each of them imposes a charisma that is as chaotic as it is wholesome, and, in Jason Orley's "I Want You Back," they both shine brighter than ever before. It's safe to say that this is Day's greatest film performance to date, while it's a toss-up between this and "Obvious Child" for Slate. Nonetheless, the two comedians have perfect chemistry and refuse to slow down in "I Want You Back."
The film revolves around total strangers Peter (Day) and Emma (Slate) who were both, coincidentally, dumped by their partners, Anne (Gina Rodriguez) and Noah (Scott Eastwood), at the same time. Rather than make Peter and Emma fall madly in love with each other on the precipice of fate, Orley instead does something more on-par with "When Harry Met Sally," as the two 30-year-olds help each other win their exes back.
"I Want You Back" is a refreshing rom-com that brings something new to the genre, built on top of the absolute radiance of its juggernaut cast. Day has never been better, and Slate has solidified herself as a force in comedy, even more so than she already had. With a one-two-punch of this and the beautiful "Marcel the Shell with Shoes On," Slate has turned in one of the best single-year performances in film in recent years. "I Want You Back" will remain a powerful player in the genre for years to come.
Emergency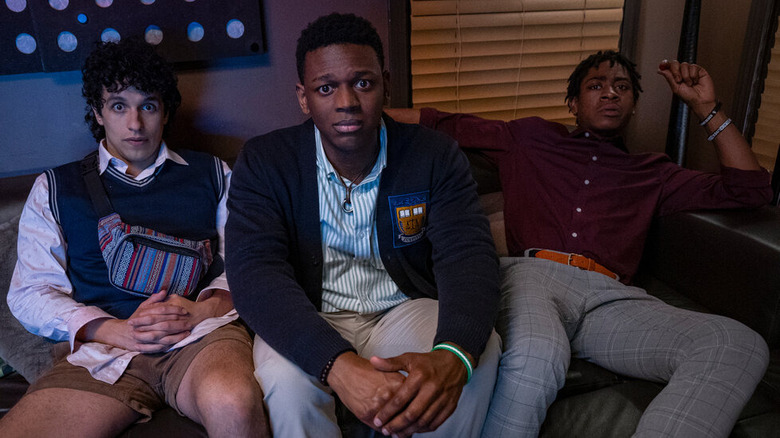 Amazon Studios
The best Amazon film of 2022 belongs to Carey Williams' "Emergency." A dramedy about college life during spring break, "Emergency" is a smart powerhouse of laughs that upends the traditional narratives of college comedies. Centered on two best friends, Kunle (Donald Elise Watkins) and Sean (RJ Cyler), "Emergency" is more than just a buddy movie about partying. Instead, it's a story about prejudices against minorities told right with an earnestness that's often ditched or exploited on-screen.
When Emma (Maddie Nichols), a drunk and semi-conscious woman, crashes into their oblivious, video game-playing roommate Carlos's (Sebastian Chacon) room, Kunle and Sean grapple with whether or not to call the cops. They realize that being two Black men and one Latino man in the presence of an inebriated, unconscious white woman poses a great personal safety risk if they involve the police. Instead, the trio opts to take her someplace safe. At the same time Maddy (Sabrina Carpenter), Emma's sister, is trying to track her down after realizing she left the party they were at by using Emma's phone location.
"Emergency" is a laugh-out-loud agent of chaos, catalyzed by the incredible chemistry of Watkins and Cyler. Flipping the gratuitous depictions of college sex culture on its head, "Emergency" ditches the tropes in favor of something tender and wholesome while offering important commentary on the stereotypes and violence enacted on people of color. The only Amazon Studios film to register a score above 90% on Rotten Tomatoes, "Emergency" is a triumph.