The Eminem-Starring Grand Theft Auto Movie You'll Never Get To See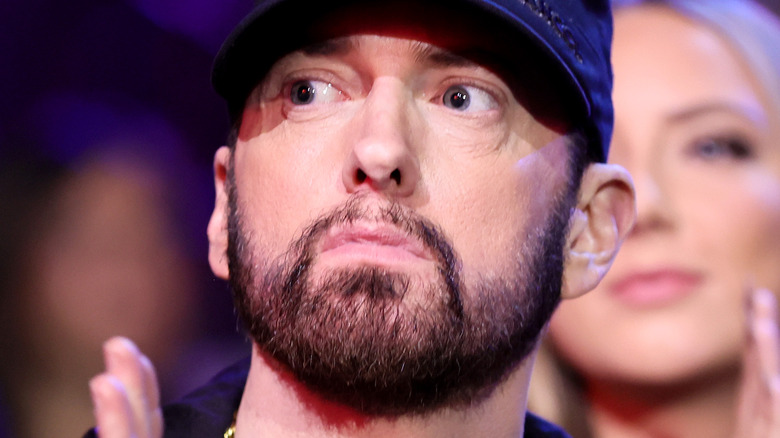 Theo Wargo/Getty Images
In an era where Hollywood is adapting what seems like every property they can get their hands on, many fans are probably wondering why there has never been a "Grand Theft Auto" movie made, given how it is one of the highest-selling video game franchises out there (via Gamespot). While an interpretation has still yet to grace the silver screen, there was a point in time when moviegoers almost got a "GTA" movie starring international rap superstar Eminem.
There have been many video game flicks, some better than others, and while a solid number of titles have been successful at the box office, translating the console fun into an entertaining cinematic endeavor has always been widely considered to be a tricky business. Just because a franchise does well with gamers or offers a next-level gameplay experience attracting millions of users doesn't mean things are guaranteed to always work out at the box office. But some would argue that a "Grand Theft Auto" feature is a no-brainer. Everything the game has to offer could arguably be turned into a thrilling, action-packed crime drama. Anyone who has played any of the iterations released over the years knows there is plenty of wild mayhem and stellar stories that could make for a worthwhile movie night.
It isn't like Rockstar Games, the makers of the beloved crime-ridden franchise, hasn't gotten offers to bring their property to the big screen. There was even a moment when the controversial Grammy-winning artist was even pitched as a star of a "Grand Theft Auto" motion picture.
The real Slim Shady almost stood up in a GTA flick
According to Kirk Ewing, a seasoned player in the gaming industry, shortly after "Grand Theft Auto III" came out, he spoke with "GTA" co-creator Sam Houser about a possible film adaptation, and then an alluring offer came into play. ​​"I remember taking a call at about 4 am from one of the producers in LA with an offer to make a film, and he said: 'Kirk, we've got Eminem to star, and it's a Tony Scott film, five million on the nose, are you interested?'" Ewing said on the BBC podcast Bugzy Malone's Grandest Game. But when he told Houser about it, he was shocked when the "GTA" head honcho said he was "not interested." After that, the idea of the game making the jump to the big screen disappeared.
For those that don't remember, "GTA III" came out in 2001. At the time, Eminem was riding the success of "The Marshall Mathers LP" and was getting into the acting game with a starring role in the critically acclaimed feature "8 Mile" (via Rotten Tomatoes). "Top Gun" director, Tony Scott, had films like "Enemy of the State" and "Spy Game" released in that era (via IMDb), adding to the many reasons the two were presumably chosen. But it appears they weren't what was bothering Houser; it was the money. In an interview with Empire, he revealed why "GTA" hadn't received the movie treatment. "We've been offered, many times, and it's never appealed. The money's never been close to be worth risking one's crown jewels." It seems Hollywood will have to make Rockstar an offer they can't refuse if they ever want to get a "Grand Theft Auto" movie made.