See Steven Spielberg On The Set Of Ready Player One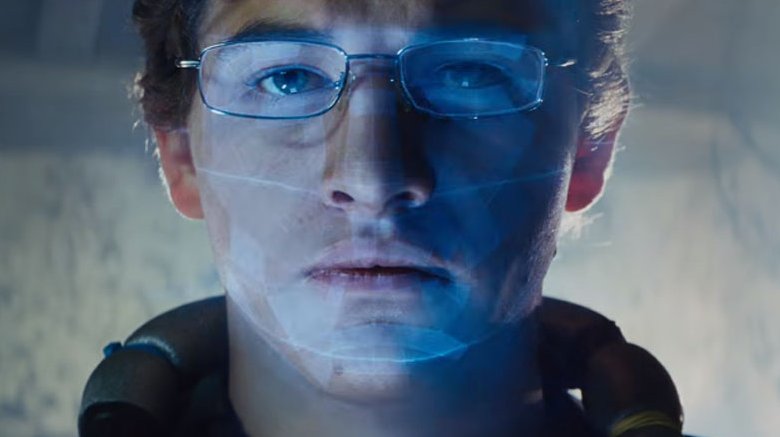 Warner Bros. is a little over a month away from launching Ready Player One, the sci-fi action-adventure film that marks director Steven Spielberg's long-anticipated return to blockbuster filmmaking. To boost hype for the premiere, Empire treated fans to a glimpse of Spielberg hard at work on the film's set, releasing on Tuesday a pair of exclusive behind-the-scenes photos. 
The first set snap shows Spielberg speaking with Ben Mendelsohn, who plays the film's antagonist, Nolan Sorrento. Both are surrounded by futuristic set pieces, with Mendelsohn sitting in an enormous orange chair and Spielberg backlit by a row of glowing panels. Contrarily, the second photo definitely appears to be from a flashback scene, as it features stars Simon Pegg and Mark Rylance rocking unkempt hair and casual clothes. Pegg and Rylance portray Ogden Morrow/Og and James Donovan Halliday/Anorak, respectively; their characters are the creators of the OASIS, a virtual reality universe that serves as the central world of Ready Player One.
Take a look below.
Based on author Ernest Cline's acclaimed novel of the same name, with a screenplay co-written by by Cline and Zak Penn, Ready Player One features Tye Sheridan as Wade Owen Watts/Parzival, Olivia Cooke as Samantha Evelyn Cook/Art3mis, T.J. Miller as i-R0k, Win Morisaki as Daito, Lena Waithe as Aech, Philip Zhao as Shoto, Ralph Ineson as Rick, and Letitia Wright as Reb. Hannah John-Kamen and McKenna Grace also star.
Here's the plot synopsis for the film: "The film is set in 2045, with the world on the brink of chaos and collapse. But the people have found salvation in the OASIS, an expansive virtual reality universe created by the brilliant and eccentric James Halliday (Mark Rylance). When Halliday dies, he leaves his immense fortune to the first person to find a digital Easter egg he has hidden somewhere in the OASIS, sparking a contest that grips the entire world. When an unlikely young hero named Wade Watts (Tye Sheridan) decides to join the contest, he is hurled into a breakneck, reality-bending treasure hunt through a fantastical universe of mystery, discovery and danger."
Ready Player One is set for release on March 29.