Everything Coming To Amazon Prime In March 2018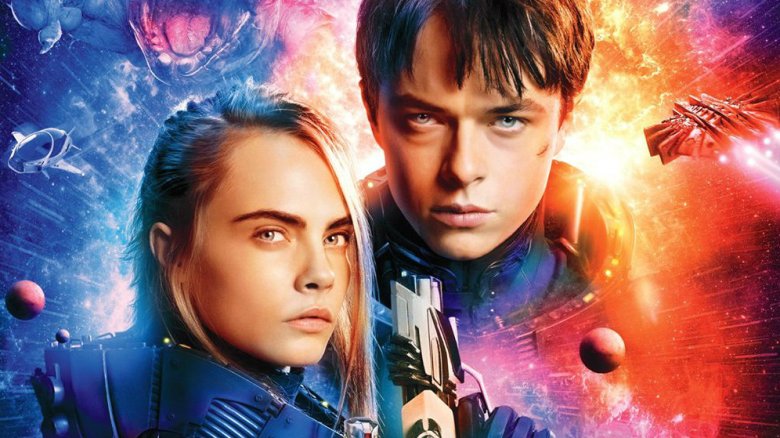 STXfilms
The box office results indicate there are still plenty of people who haven't seen Valerian and the City of a Thousand Planets yet, and Amazon Prime is giving you another shot.
The streaming service revealed its list of new releases for March, and it includes Luc Besson's divisive space opera based on the French comic book series. Although it only has a 49 percent approval rating on Rotten Tomatoes, lots of critics praised its striking visuals, so it's worth a click to see how you feel about it. 
Other movies coming to Amazon Prime include the reboot of Power Rangers, Vin Diesel's xXx and the Ice Cube-starring xXx: State of the Union, a bunch of James Bond flicks like A View to Kill and Goldeneye, and the medieval comedy The Little Hours with Alison Brie and Dave Franco.
On the TV side, Prime will have the second season of the con-man series Sneaky Pete, a series based on the acclaimed The Dangerous Book for Boys, and the first season of The Infinite Worlds of H.G. Wells. 
Check out everything coming to Amazon Prime below.
March 1 
Human Trafficking: Season 1
The Color of Magic: Season 1
The Infinite Worlds of H.G. Wells: Season 1
The Odyssey: Season 1
1984 (1984) 
A Feast at Midnight (1997) 
A Guy Thing (2003) 
A View to a Kill (1985) 
Amélie (2001) 
Antitrust (2001) 
Bad Influence (1990) 
Bad News Bears (2005) 
Billy the Kid (2013) 
Body of Evidence (1993) 
Breakdown (1997) 
Bye Bye Birdie (1995) 
Captivity (2007) 
Carriers (2009) 
Chaplin (1992) 
Criminal Law (1989) 
Die Another Day (2002) 
Dirty Rotten Scoundrels (1988) 
Dreamkeeper (2003) 
Earth Girls Are Easy (1988) 
F/X (1986) 
F/X 2 (1991) 
Fatal Instinct (1993) 
Finder's Fee (2003)
Fire With Fire (2012) 
Fluke (1995) 
For Your Eyes Only (1981) 
Forces of Nature (1999) 
Goldeneye (1995) 
Hackers (1995) 
Hanoi Hilton (1987) 
Hart's War (2002) 
Home of the Brave (2006) 
I'm Gonna Git You Sucka (1988) 
Imagine That (2009) 
Jeff Who Lives at Home (2012) 
Jennifer 8 (1992) 
Kingpin (1996) 
Licence to Kill (1989) 
Little Ghost (1997) 
Moonraker (1979) 
Mr. Majestyk (1974) 
National Lampoon's Dirty Movie (2011) 
National Lampoon's Dorm Daze 2: College @ Sea (2006) 
On Her Majesty's Secret Service (1969) 
Regarding Henry (1991) 
Southie (1998) 
Sprung (1997) 
The Accused (1988) 
The Devil Inside (2012) 
The Doors (1991) 
The Living Daylights (1987) 
The Million Dollar Hotel (2001) 
The Music Never Stopped (2011) 
The Secret of N.I.M.H. (1982) 
The World Is Not Enough (1999) 
Tomorrow Never Dies (1997) 
Valerian and the City of a Thousand Planets (2017) 
xXx (2002) 
xXx: State of the Union (2005) 
Young Adults (2011) 
Zathura: A Space Adventure (2005) 
March 2
Brad's Status (2017) 
March 3 
The Nut Job 2 (2017) 
March 8
Aftermath (2017) 
March 9
Sneaky Pete: Season 2
The Remix: Season 1
The Tunnel: Season 2
Power Rangers (2017) 
March 10
November Criminals (2017) 
March 14
Tommy's Honour (2017) 
March 15
LOL (2012) 
March 17
Crooked House (2017) 
March 26
The Durrells in Corfu: Season 2
Let There Be Light (2017) 
March 27
The Little Hours (2017) 
March 31
A Suitable Girl (2017) 
Bitter Harvest (2017) 
Flames (2017) 
Ice Mother (2017) 
Imperium (2016) 
The Blue Lagoon (1980) 
The Departure (2017) 
Thirst Street (2017)